New Era in Land Use Planning
The Bureau of Land Management (BLM) is leveraging information technology to create more efficient business practices and encourage an open and collaborative process. This project initiative delivers planning information that consists of integrated text with intelligent and interactive maps and map layers. The development of this program—the E-Gov for Planning and NEPA Project—marks a new era in land use planning.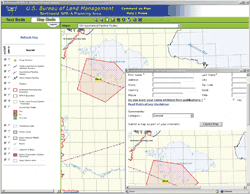 End users can submit custom maps with written comments.
The BLM, an agency of the United States Department of the Interior, administers 261 million acres of America's public lands, which are located primarily in 12 western states. The BLM administers public lands in a manner that sustains the health, diversity, and productivity of these lands for the use and enjoyment of present and future generations.
BLM has partnered with Esri to build a common planning data model and core land management tools for the BLM enterprise. The recently completed pilot project for the E-Gov for Planning and NEPA Project, also known as ePlanning, is being run by the Planning, Assessment and Community Support Group in the BLM's Washington, D.C., office; the BLM National Science and Technology Center in Denver, Colorado; and the BLM Alaska state office in Anchorage, Alaska.
Geography is central to planning, and ePlanning makes geographic data available to anyone with a computer and an Internet connection. Two Esri software programs, ArcIMS and ArcSDE, supply the tools for ePlanning that deliver planning information as fully integrated text combined with intelligent and interactive maps and map layers. The tools and technology supplied by ePlanning let planning teams create integrated documents easily. Related project goals include
Providing a common look, feel, and functionality for BLM planning and National Environmental Policy Act (NEPA) documents through enterprise solutions
Giving the public a new and efficient method for participating and collaborating in the planning process
Supplying a consistent and supported technology implementation across BLM
Supporting common and reproducible work flow processes
Creating reusable data for processing post-planning actions
Transitioning land use planning from a project to a process
ePlanning establishes a new mechanism for land use planning that allows for an openly participative, collaborative, and community-based land use planning system. Dynamic Web-based documents let BLM users and the public read land use plans, view maps related to the plans, and submit comments. Interactive documents link specific sections of text to specific features on maps and allow users to click on map features to view relevant text. Users can also select specific document text to identify the associated features. The public can comment on those documents online as well.
Working with a team from Esri, BLM completed and launched a pilot project Web site (www.ak.blm.gov/nwnpra), which demonstrates ePlanning tools and the integrated document concept. The Northwest National Petroleum Reserve–Alaska Integrated Activity Plan/Environmental Impact Statement was the land use project chosen for the pilot program. The site can be viewed in text mode, which provides planning documents, or map mode, which displays associated spatial data. Comment submission tools are available.
The planning team in Alaska is currently using the comment analysis tools developed by Esri as part of this project to sort, track, and prepare responses to public comments received on the draft plan/environmental impact statement. Esri consultants will design, build, test, and transfer the ePlanning modules to the ePlanning system. These tools will allow BLM employees working in many disciplines to use the ePlanning system as an interface for developing dynamic and interactive land use plans.
The long-term goal of extending the one-stop portal concept into other federal agencies will require recruiting more federal partners and publishing land use plans on the Web using GIS. BLM is currently focused on transitioning ePlanning from a pilot project to an enterprise solution. Other long-term goals include increasing the use of the Internet for building and publishing planning and NEPA documents, collaborating with constituents, increasing partnerships with other land management agencies, and modernizing data management to support interactive digital publication while maintaining traditional paper output.
This approach promises to change the way BLM uses GIS in support of land use planning. By making land use planning and NEPA documents available digitally, ePlanning fulfills a critical component of the President's Management Agenda by fostering the government-to-government and government-to-citizen data and services interchange that is consistent with the E-Government initiative.
For more information, contact
Carl Zulick, ePlanning Project Manager
Bureau of Land Management
Planning, Assessment, and Community Support
Tel.: 202-452-5158
E-mail: Carl_Zulick@blm.gov
Web site for pilot project: www.ak.blm.gov/nwnpra