Now Open for Business
Editor's note: After developing an easy-to-use Web application for updating and querying data on available real estate, the city of Westerville, Ohio, took advantage of ArcWeb Services and Esri reports to deliver robust, current, and low-cost data that further supports economic development in the city.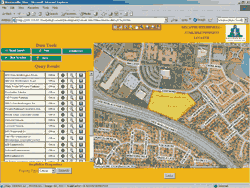 The Web site allows the city to respond to information requests efficiently, manifest interest in new business, show the city's technological capabilities, and demonstrate the level of service businesses can expect from the city of Westerville.
To encourage stable economic development in the city of Westerville, its economic development coordinator regularly provides interested businesses with information about available properties. In spring 2001, the city streamlined this task by creating two GIS Web applications. One application enables city staff to input and post information about available properties. The other application allows interested professionals, such as real estate agents and brokers, developers, and Chamber of Commerce members, to query the available properties database at any time.
Finding Available Properties
Using an Active Server Pages (ASP)-based interactive data entry form, Jayme McKenzie from the city manager's office now enters available property locations into a commercially available database. McKenzie uses the application to search for an address. She zooms to it or manually navigates around the map to click on the desired location. A form appears in a separate window, with the x,y coordinate and property identification number fields populated. McKenzie inputs additional information describing the property, such as location; owner's name; information about tax incentives; price, size, and property description; information about lease terms, availability, and zoning; and contact information for the listing real estate agent. The path to the image location is hard coded within the application so McKenzie only needs to type in the image name. Once she has entered all relevant information, McKenzie simply clicks the Submit button to add the data to the database. With these simple steps completed, the property is ready to be queried.
The site is updated weekly and can be viewed by visiting www.westerville.org and clicking on the Doing Business button. Click on the Available Buildings and Sites link and select the desired property type. Visitors can view, create, and print maps; search and view available properties; review zoning codes; print property records; and view an image of the property. The application runs a query against the database to select the relevant property records. Simultaneously, the results display in the Query Result frame of the browser, and the record's x,y coordinates are used to perform a spatial query on the parcel layer. The selected parcel is rendered, showing the site's location on the map.
The property name and type are displayed in a query results table accompanied by several icons. Selecting the information icon displays extensive tabular data describing the property and an image of the property. When a visitor clicks on zoning, the site automatically opens an HTML version of the city's Zoning Code and displays the ordinance that applies to the selected property. The property identification number is linked to the Delaware County Auditor's Web site, which contains a property profile and appraisal information.
New Kinds of Questions
Although interested professionals had direct access to a great deal of information on available properties, calls to the economic development coordinator did not dwindle. Instead the calls dealt with questions on specific properties or relate to deals on specific properties instead of general questions about a property's cost, availability, zoning, or other descriptive information that was handled through the Web site.
Westerville's GIS manager Todd Jackson determined that linking each available property to data that added location intelligence, analysis, and reporting was the next logical step. Jackson attended a session on Business Analyst Online from Esri at the 2003 Esri International User Conference and then contacted Dave Wieseler, director of Esri Business Solutions, to discuss ideas generated from the session presentation. Wieseler suggested a package of reports from Business Analyst Online suited to economic development. A private label version of Business Analyst Online was then customized for the city of Westerville as a proof of concept.
Business Analyst Online and its underlying Web services produce reports and maps relative to a specified location. In this case Westerville licensed Web services that produce economic development reports and maps for sites in the city. Reports and maps can be generated for sites referenced by address, latitude and longitude, and places as well as geographic areas such as states, counties, and ZIP Codes. Location-based reports can be generated for rings, drive-time polygons, and user-defined map polygons (i.e., hand drawn areas around a given site).
The private label Web site and the reports have been customized with logos and unique images of Westerville. Interested professionals can study the available data at different resolutions and review data vertically from local site specific information that is maintained by the city of Westerville to regional demographic information that is maintained by Esri and its partners. Using this service, professionals are now better prepared to make an informed decision. By providing easy access to this essential information, the city of Westerville will become an even more desirable community for businesses to locate operations and their employees to raise families.
Garnering Support
In September 2003, Jackson presented this idea and a prototype Private Label site to Westerville City Manager Dave Lindimore and Shannon Hammons, the economic development coordinator. He demonstrated the capabilities of the service and described its potential benefits to the city's economic development efforts. He also tied the service to the existing business process.
"Too many times GIS professionals get caught up in the technology when talking with the decision makers," said Jackson. He believes the best strategy is to explain what an application or service has to offer so that GIS will be seen as a tool for conducting business. "Just be certain that you are prepared for the ramifications of decision makers understanding what GIS has to offer. They will need more information faster than ever before," he warned.
Realizing Business Analyst Online's potential, it was decided to present the service at the Westerville Community Partnership meeting. Representatives from the Westerville City School District, Westerville Chamber of Commerce, Otterbein College, and the city of Westerville (including one city council member) met in late September 2003. The demonstration was well received. The service's practical applications became apparent when it was used to answer questions during the presentations made by two other partners. By using the service to answer questions during the meeting, the group could take appropriate action without delegating additional tasks to the members and save valuable time and resources. "By creating accounts for each community partner and the Westerville Public Library, it is my vision the service will become not only a resource for the city of Westerville staff but also a community resource that our partners will use to make more informed decisions in less time, making the community as a whole more economically stable and appealing," said Jackson.
Soon after the presentation to the Community Partnership, the service was used to provide demographic reports at the request of a developer on behalf of a potential company moving into Westar Center of Business, a mixed use commercial district in northwest Westerville. The request would typically have taken Hammons nearly two days using traditional business processes and resources. Using the new service, demographic reports and a map using drive time polygons from a specific property of interest were generated and delivered to Hammons via e-mail in five minutes. She reviewed and analyzed the demographic reports from Business Analyst Online and the site specific data maintained by the city of Westerville and wrote the synopsis that was included with the reports. The complete process took less than one hour.
High Levels of Service and Savings
The Business Analyst Web service is cost effective and appealing in many ways. Low-cost rapid deployment; fast reporting and mapping capabilities; desktop quality maps; quality and current data with no additional software or hardware required, which affects both return on investment (ROI) and total cost of ownership (TCO); custom solution with little effort; and system redundancy and reliability (24/7) have made it an appealing solution.
"With a staff of two and a modest budget, it would be impossible to develop and support a service such as this," according to Jackson. Currently the city is working with Esri BIS to link the service to the city's existing economic development Web site so that real estate professionals can initiate report or map requests directly from the site using data stored in the city's database and have the option of working with the city to obtain additional information on a property or purchase additional reports from Esri BIS that are not included in the city's subscription.
The service will allow the city to respond to information requests efficiently, manifest interest in new business, show the city's technological capabilities, and demonstrate the level of service businesses can expect from the city of Westerville. "We are very excited about the resource and benefits Business Analyst Online will provide the city of Westerville, our customers—residents as well as businesses—and the Westerville Community Partnership," said Jackson. "We anticipate the service will enable us to serve the community more effectively and provide the city of Westerville with a competitive edge in the highly competitive central Ohio economic development market." For more information, contact
Todd Jackson, GIS Manager
City of Westerville, Ohio
Tel.: 614-901-6693
E-mail: tjackson@westerville.org