Keeping An Eye on Government Services

Online mapping services create a dashboard for managers
By Keith Mann, Esri Writer
Summary
Covering 841 square miles, Jacksonville, Florida, is the largest city in area in the continental United States and has approximately 850,000 residents. Jacksonville uses GIS in nearly every department. JAXGIS, a centralized division in the Information Technology department, is staffed with GIS experts and applications developers who have developed more than 45 applications. In 2007, JAXGIS received a Special Achievement in GIS award for this work. This article describes how JAXGIS has developed dashboard applications using ArcIMS 9.2, Oracle 10g, and the .NET framework.
Citizens of the City of Jacksonville, Florida, who make a request for government service or register a complaint, are assigned an issue number, and the problem is automatically routed to the appropriate agency and department. Behind the scenes, this problem is geocoded and added to a GIS-based online system that monitors aspects of local government operations.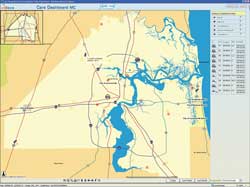 The CARE Solid Waste Compliants Status Dashboard is used by operations managers and department heads to monitor the status of complaints and requests for services. It provides a continuous update of cases as they are received by the call center.
JAXGIS, the GIS group serving the consolidated governments of Jacksonville and Duvall County, has developed the JAXGIS Map Board, a suite of applications that has two sides. The internal facing side is a collection of custom ArcIMS applications used by local government executives and managers to track ongoing operations. The external facing side is a set of custom ArcIMS Web sites that members of the public can use to explore their community.
The dashboard-like system of Map Board custom ArcIMS applications displays dynamic information as points on a map for the city/county area. Metrics, views, and standard navigational tools help people understand and explore the information.
Interpreting Information at a Glance
Local government managers looking at the internal facing applications can quickly assess and investigate the status of services being requested and delivered. "We wanted division or operations managers to be able to glance at an application that sits on their desktop, like a screen saver, and, based on the metrics and map information in front of them, easily perceive whether or not service requests were being adequately addressed," explained N. George Chakhtoura, GIS manager for JAXGIS.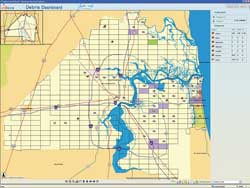 A customized ArcIMS viewer, the JAXGIS Debris Dashboard shows a map of the county divided into a grid system and the location of debris collection crews. Grid cells and collection crews are color-coded to indicate current progress. Disposal site locations are also shown along with capacity statistics that allow managers to better plan debris collection and disposal operations.
Service requests and citizen complaints are made by local residents via telephone, e-mail, or online. Their issues are handled by the Citizen Active Response Effort (CARE), a call center that receives the requests, then routes them to the appropriate agencies and departments. For example, the city's Solid Waste division processes an average of 200 complaints or requests for service per day. As the requests come in, they are grouped into case types that range from trash, recycling, and yard waste pickup to bulk waste removal. Each request is prioritized, then added to the Solid Waste Complaints Status Dashboard.
Complaints are color-coded on the map. Newly received requests are green, active requests are red, and completed requests are yellow. The status application is monitored by various departmental operations managers. Since the estimated completion time for each case type has a predetermined threshold, operations managers can assess how well the complaints are being handled simply by looking at the application. The view of the geographic distribution of request points can be changed to show just one day or the accumulated activity for the previous week or month.
Managers also use the system to anticipate developing problems. They check the volume of requests coming in at certain times of the day and compare it to the patterns of point data in the map. If the number of requests is unusually high, managers look to the map to see what is going on. An even distribution of points across the county might indicate that it is going to be a busy day. However, if the high volume of new or active complaints starts clustering in a particular neighborhood or concentrating along a particular street segment, a manager will need to gather more information and possibly redirect resources or field crews to that location. Since its inception in May 2005, the JAXGIS online CARE applications have processed more than 73,000 service requests, resulting in an estimated 30 percent improvement in the level of service.
Variations on a Theme
The JAXGIS Auto Vehicle Locator system has processed more than three million records since March 2006.
The JAXGIS executive Map Board system is a rapidly growing program of online mapping applications. In addition to the CARE Solid Waste Complaints Status Dashboard, the program includes the Debris Dashboard. This application tracks the full life cycle of debris collection and post-hurricane cleanup. As part of Jacksonville's overall hurricane preparedness and recovery efforts, it helps the city comply with Federal Emergency Management Agency (FEMA) regulations by ensuring the appropriate tracking of debris collection. The program maximizes the city's opportunities and eligibility for FEMA reimbursement funds.
The Auto Vehicle Locator (AVL) Dashboard lets fleet managers track mobile assets throughout the county and monitor vehicles' locations, speed, and routes. By looking at the map, managers can tell when the vehicle is off or on, which street sweepers' brooms are up or down, which trash truck compactors are activated, or when fuel trucks' pumps are engaged. Program administrators report that the AVL Dash Board is improving the efficiency of vehicle resource allocation, helping with vehicle maintenance scheduling, and giving them the information necessary for optimizing service routes.
JAXGIS provides the City of Jacksonville and Duval County with additional ArcIMS-powered dashboards for monitoring mosquito control, animal management, incident reporting, and tracking the loss of library books caused by storm damage.
Making a Connection with Residents
Over the last two years, JAXGIS has developed a series of public-facing ArcIMS Web sites that connect Duval County residents to their local government. My Neighborhood, one of the most popular sites, allows visitors to find a parcel by searching on a house number or property owner's last name and generates a detailed map and a comprehensive list of neighborhood amenities such as solid waste pickup schedules, contact information for the nearest schools, libraries and parks, and links to local representatives from the city council to Congress. Dozens of GIS layers, ranging from hospitals to voting precincts to two-foot aerial imagery, can be added to the map.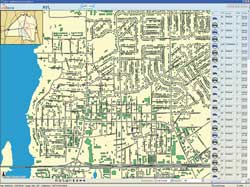 My Neighborhood is a popular ArcIMS Web site used by residents to find the location and description of commonly used neighborhood amenities and city assets.
The public response has been overwhelmingly positive. "When we have people telling us, the mayor, and other government administrators that My Neighborhood is a good site, it makes a difference that cannot always be measured in dollars and cents," said Chakhtoura. "Add to that the fact that the tourist industry in town relies heavily on our Web site, and tax preparers, real estate agents, and other professionals are making use of it, too. The return on investment translates into improved service to the community we serve."
JAXGIS maintains additional public-facing sites that work similarly. Each has a specific focus. The Duval Maps site provides public information about properties and streets in Duval County. Visitors can find and view parcels in relation to land use, zoning, council districts, airport noise zones, and evacuation routes. All administered permits based on street, parcel, permit number, or area of interest can be found using the Permits and Inspection site. The Crime Statistics site supplies a breakdown of crimes by time period within a half mile of a selected address or location chosen interactively from a map. People can find out about street closures and alternative routes at the Event Traffic site. The Downtown Jacksonville site identifies buildings and landmarks in the downtown area. Information on Duval County schools and services is available at the Asset Mapping site. New JAXGIS users can watch an online orientation video that describes the site's tools and how to use them.
Customer Satisfaction
Because all JAXGIS applications were developed in-house, the cost has been minimized. In 2006, the local government invested in high-resolution digital aerial photography of the city and surrounding areas with the express purpose of extracting numerous GIS data layers such as edge of pavement, building footprints, driveways, parking lots, sidewalks, pools, management ponds, and fences. When department managers saw the quality and quantity of vector data being produced and realized it could be queried and manipulated using GIS, they began asking how they could take advantage of the GIS database and how they could use it to automate processes. As a result, more dashboard-like applications are being developed.
JAXGIS has responded to this increased demand for online mapping applications with a traditional application development process. When developing a new application, the team uses comparisons, metrics, and benchmarks. These findings are presented to the management team. An initial needs assessment ensures that customer requirements for the application are understood. The assessment determines if the project will repackage existing information and/or blend capabilities from existing applications in a different way or if it will require creating something completely new.
The JAXGIS team takes the project through a development period, meeting regularly with the requesting department to discuss and demonstrate the prototype. After implementation on a testing server, the new application is vigorously tested using real data and scenarios. When it can perform to specifications, it is deployed on the production server. This comprehensive approach has received a very positive response. For more information about JAXGIS, go to maps.coj.net.