Applications Meet the Challenge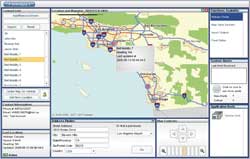 Argo Navigation's first place application manages mobile workforces online.
The three winning Web applications were selected from among 29 entries in the ArcWeb Services Challenge. These applications, created by Argo Navigation, Ecology and Environment, and Sportsim, won based on their utility, ease of use, and originality.
Argo Navigation (www.binspy.com) placed first with its application for managing mobile workforces. Fleetspy3 allows organizations of all sizes to manage fleets with an easy-to-use online software application. This robust application handles real-time location, historical location, messaging, reporting, billing, route finding, and address management.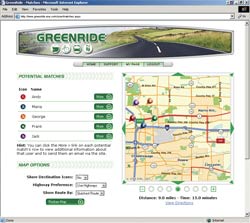 Greenride, the second place application, helps reduce automobile dependency by promoting alternative transportation modes.
Second place was captured by Ecology and Environment (www.greenride.com), an environmental engineering firm. Its application, Greenride, reduces automobile dependency and promotes the use of alternative transportation modes by helping users find suitable car pool partners; locate park-n-ride lots; and obtain information on bus, rail, and bike routes. It generates printable maps with routing information. Because it is Web-based, it requires no special software. This application is attractive to public agencies and companies because it is easy to administer and provides long-term cost savings because it is hosted off-site.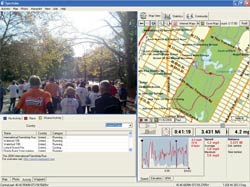 Sportsim's application, the third-place winner, lets athletes record and share performance information.
Sportsim (www.Sportsim.com), the third-place winner, created a free GPS-based application that lets athletes record and share performance information, such as distance, time, speed, and heart rate, that can be displayed by activity or cumulatively. This information can be displayed along with maps showing route locations and time-stamped photographs, hyperlinked points of interest, and personal comments. Both individuals and training clubs should find this innovative software valuable for setting up GPS-based races and training courses.
The ArcWeb Services Challenge was started by Esri to encourage new, more creative applications for ArcWeb Services. Esri's ArcWeb Services are a subset of Web services that provide access to datasets and online GIS functionality. These services can be consumed on demand and do not require either developers or end users to create functionality or maintain data.
These applications are both self-contained and self-describing and are published on the Web where they can be located by other Web services and invoked. Because ArcWeb Services are built using industry standards, they can be deployed using standard Web protocols and languages. ArcWeb Services use the XML-based Simple Object Access Protocol (SOAP) to communicate and, therefore, are compatible with the majority of Web services. ArcWeb Services application programming interfaces (APIs) are fully documented. Developers don't need to learn new languages or environments, and popular frameworks, such as Microsoft .NET or webMethods Glue, can be used to create sites quickly. The help system includes method and object descriptions, tutorials, code samples, and live client samples.
End users can subscribe to ArcWeb Services and use the ArcWeb Services toolbar for ArcMap to download the most current geospatial data, such as near-real-time data for weather and traffic count, and add it directly to ArcMap. ArcWeb Services can provide focused solutions such as Business Analyst Online and Flood Map Report. To subscribe or learn more about ArcWeb Services, visit www.esri.com/arcwebservices.