GIS for the New West

Continued...
The Role of Conservation
Income from nonlabor earnings has increased.
Overall, more than half the land in the West is publicly owned, but that percentage can climb to more than 90 percent in some counties. Therefore, it is no surprise that the debate over managing these lands frequently makes headlines. Westerners argue about which form of management will most effectively stimulate the economy of western communities—conservation or commercial use.
This debate prompted one of the SocioEconomics Program's first projects. This project realized the full potential of the program's new GIS capabilities. Utilizing map layers representing landownership, transportation infrastructure, population centers, and economic indicators of growth, the SocioEconomics Program staff analyzed the relationship between protected public lands and economic growth.
The project results have helped dispel the myth that environmental protection and economic growth are at odds. Wilderness, national parks, national monuments, and other protected public lands can and do play an important role in stimulating economic growth and the more protected an area is, the greater its contribution. Counties with historic dependence on resource extraction industries have the slowest long-term growth rates while diverse economies-especially those with high-end service industries such as finance, engineering, real estate, and business services-grow most rapidly. Western communities with easy access to large markets and nearby protected public lands are ideally located to attract these types of industries. The West's competitive advantage in a global marketplace is its unique landscape and quality of life. A copy of this study is available from the Sonoran Institute's Web site at www.sonoran.org/programs/prosperity.html.
Learning from Peers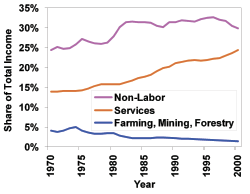 Declines in farming, mining, and forestry have been accompanied by significant increases in service employment and nonlabor income.
There are many important pieces of the economic development puzzle. Not all communities can benefit from the same economic strategy. Some western communities, in spite of being surrounded by spectacular scenery and abundant recreational opportunities, struggle. What is different about these places?
To answer these questions, SocioEconomics Program staff used GIS-based peer communities tools. Peer communities are regions with similar socioeconomic characteristics. These communities can learn from each other and discover economic development strategies that work and those that do not. The SocioEconomics Program's tools for identifying peer communities range from county classifications to automated ArcMap tools written in Visual Basic.
The "Three Wests" is one of the SocioEconomics Program's novel approaches to identifying peer communities. This approach groups Western counties based on access to markets via road and air. Using GIS criteria, Western counties fall into one of three classes: metropolitan areas or those within a metropolitan commuter shed, rural areas with access to airports that have daily commercial flights to metropolitan areas, and isolated rural areas.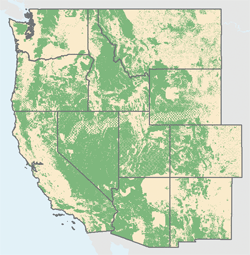 More than 50 percent of land in the West is publicly owned.
This classification helped staff members understand why certain communities benefited more from the presence of protected public lands than others. They discovered that rural areas with access to metropolitan areas tend to share other socioeconomic characteristics such as an educated workforce and a population of newcomers. Communities with these assets can use protected lands as part of an economic development strategy. While communities without these assets can benefit from protected lands, this benefit is not sufficient and these counties must work on providing a transportation infrastructure, the arts, an educated workforce, and other factors that attract high-wage occupations.
Conclusion
The people and economy of the West are undergoing a significant transformation. The Sonoran Institute is helping communities emerge from this transition with economic vitality and healthy landscapes. GIS is helping the SocioEconomics Program generate and test hypotheses, conduct analyses, and communicate important information about community development and land stewardship to a wider audience than ever before. Other Sonoran Institute programs use GIS for community education and technical assistance with land-use planning and growth management. With the help of GIS, the Sonoran Institute is working toward the day when people embrace stewardship as a fundamental value by caring for their communities, economies, and natural landscapes.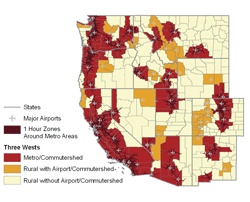 This map groups counties by access to markets using the "Three Wests" approach.
For more information, contact Patricia Gude at patty@sonoran.org or visit one of the following Web sites: www.sonoran.org/econ for information about the Sonoran Institute's SocioEconomics Program or www.sonoran.org/eps for information about the Economic Profile System.
About the Author
Patricia Gude, a researcher at the Sonoran Institute, holds a master's degree in ecology from Montana State University.