Esri Press Expands Your Reading List with Four New Titles, including GIS for Science and Smarter Government
Whether you are interested in learning how GIS can be applied in science, government, conservation, utilities, public safety, homeland security, or other fields, Esri Press has a book for you.
The four latest titles focus on science, government, the 2020 Census, and geodatabases and will be published as print editions and e-books this month or in July. If you attend the Esri User Conference in San Diego, California, next month, be sure to drop by the Esri Store to browse for books about GIS and other related topics that appeal to you.
GIS for Science: Applying Mapping and Spatial Analytics
One book that's sure to garner interest in the scientific community will be GIS for Science: Applying Mapping and Spatial Analytics. It's a compilation of stories written by scientists and other researchers who are using GIS technology on projects as diverse as mapping global ecosystems; analyzing landslides, tsunamis, and other natural hazards; studying issues such as climate change; mapping ancient settlements; and studying the surface of Mars.
"This book is full of examples that show how GIS advances rigorous scientific research," Esri president Jack Dangermond and Esri chief scientist Dawn Wright said in the book's introduction. "It shows how many science-based organizations use ArcGIS [software] as a comprehensive geospatial platform to support spatial analysis and visualization, open data distribution, and communication."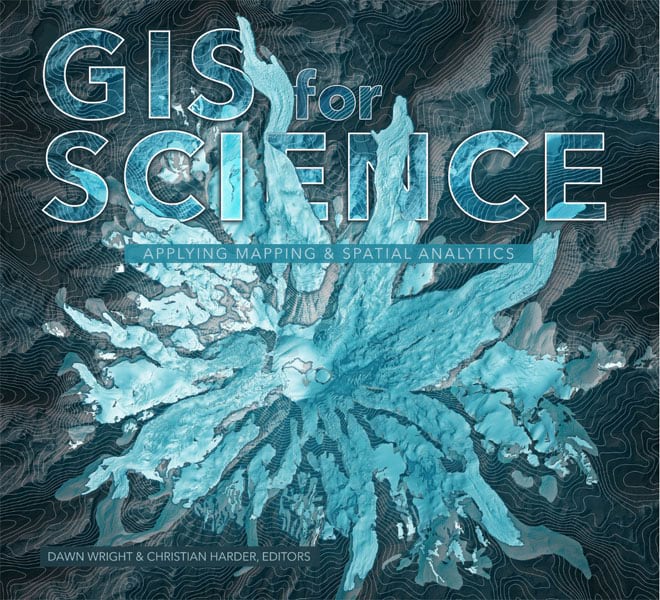 One story, "Mapping Ancient Landscapes," was written by Jason Ur, professor of anthropology and the director of the Center for Geographic Analysis at Harvard University, and Jeffrey Blossom, the center's GIS service manager. They documented how a team of archaeologists from around the world used GIS, historical satellite imagery, georeferenced drone imagery, and archaeological fieldwork to study the ancient settlements of the Assyrian Empire in what's now the Kurdish-controlled region of Iraq. Some archaeological sites are located near growing communities, and the archaeologists need to work quickly in some cases, as new houses are going up fast.
These archaeologists practice an emerging discipline, called landscape archaeology, to study the Assyrians, employing technology such as GIS and remote sensing to answer geographic questions about the Assyrian Empire and its people.
The shift, therefore, isn't on specific objects but on what Ur and Blossom call a "broader dataset" that includes sites, landscape features, and artifacts. Satellites, aircraft, and now drones capture imagery of the sites, features, and artifacts, which can then be analyzed in time and 3D space.  "The origins of landscape archaeology were in the realization that the distribution of surface artifacts on a site was meaningful, and the arrangement of sites across a landscape could give important clues to the nature of past society, including its economic, political, and even religious structures," wrote Ur and Blossom.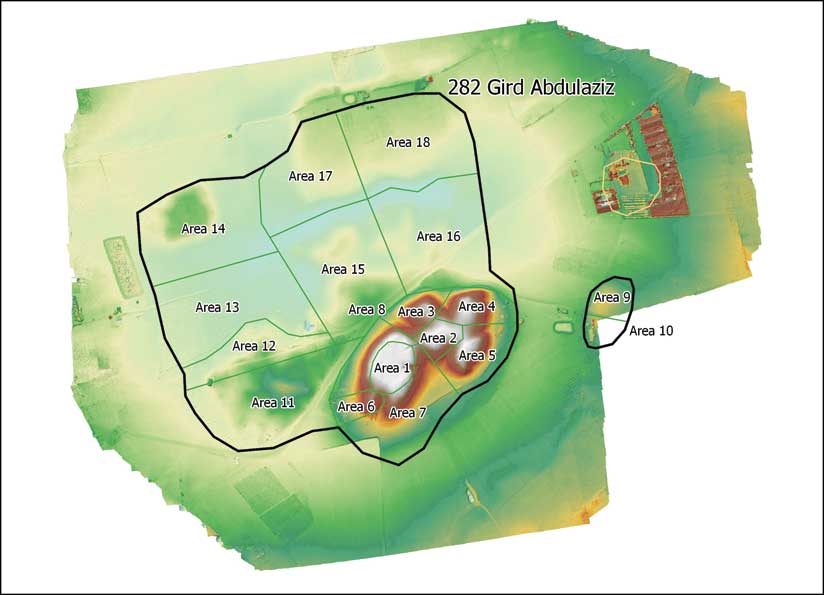 Whether studying glacial retreat, super volcanoes, seagrass habitats, or the response of birds to the changing climate, more scientists today are turning to GIS, drones, remote sensing, machine learning, and other technologies to better understand how the planet works. "The book is beautiful as well as illuminating, and it dramatizes the ways in which the new science of geospatial information in enriching and empowering all other scientific disciplines," James Fallows, a staff writer for The Atlantic, wrote about GIS for Science.
Edited by Wright and Esri author Christian Harder, the beautifully illustrated GIS for Science includes more than case studies. The last section features vignettes on GIS technologies, including the Sentinel Explorer application for viewing imagery over time and the National Water Model for simulating and forecasting water movement in the rivers and streams of the United States.
A companion website at GISforScience.com provides readers with data and other resources such as maps, apps, story maps, and videos.
Jessica Hellmann, director of the Institute on the Environment at the University of Minnesota, lauded GIS for Science. "There is no better tool to understand our place in the world than GIS, and this book puts its power on beautiful display," she said. "It's a book for scientists and all of Earth's stewards."
(Print edition ISBN: 9781589485303, $39.99; e-book edition ISBN: 9781589485310, $39.99)
Smarter Government: How to Govern for Results in the Information Age
When Martin O'Malley served as mayor of Baltimore, Maryland, from 1999 to 2007 and then as the state's governor for two terms, he demanded accountability and results. To reduce violent crime, fix potholes, decrease absenteeism among city workers, and clean up the Chesapeake Bay, he adopted data- and analysis-based performance management systems such as CitiStat, StateStat, and BayStat to solve some tough problems and increase government transparency. The effort was a resounding success.
Now O'Malley is sharing the methods, technologies, and leadership practices that worked well in Maryland in Smarter Government: How to Govern for Results in the Information Age. According to O'Malley, the keys to successfully creating a data-driven decision making and accountability system for better governance include good executive leadership, timely and accurate data, and GIS technology for analysis and mapping.
"This book is about the data, the map, and the method for achieving dramatic public-sector progress," wrote O'Malley in the book's preface. "This book is not so much a user's manual for Stat or GIS but rather a practitioner's guide for collaborative leadership in the Information Age."
The book includes firsthand recollections from O'Malley of crises he faced and how where questions always came into play. Where was the location of a derailed train that caused the Baltimore Howard Street Tunnel in July 2001, and where was the fire burning? Where were the security vulnerabilities in the city after the terrorist attacks on September 11, 2001?
It was during the Baltimore Howard Street Tunnel fire that O'Malley said he learned the importance of establishing a unified command supported by mapping. "At the center [of a unified command] is the map, a common frame of reference that helps all emergency management and public safety personnel maintain situational awareness during an incident," he wrote.
O'Malley is a great believer in using technologies such as GIS to thoroughly analyze issues, share information with the public, and produce results.
"Whether it is fighting crime, filling in potholes, or ensuring the trash gets picked up on time, these and a thousand other tasks are the day-to-day operations that make up the work of any city government," he wrote in Smarter Government. "Now, thanks to new technologies—primarily, [GIS] and the Internet of Things [IoT]—these issues can all be mapped, managed, and measured with greater speed and accuracy than ever before. City services can be delivered with greater openness and transparency than ever before. Our governments can operate with greater efficiency and effectiveness than ever before."
Every elected leader can use O'Malley's blueprint he lays out in Smarter Government to make government services more efficient and effective. But it requires a commitment to transparency, the courage to follow the data wherever it might lead, and the resolve to measure the way government works. It is all about producing better results—in real time, for real people.
(Print edition ISBN: 9781589485242, $39.99, e-book edition ISBN: 9781589485259, $39.99)
GIS and the 2020 Census: Modernizing Official Statistics
In less than one year, the 2020 Census will get under way in the United States, and GIS technology will play a critical role in conducting the count. As Ron Jarmin, deputy director of the US Census Bureau, said at the 2019 Esri Federal GIS Conference, "Geography is at the center of all we do at the Census Bureau."
GIS and the 2020 Census: Modernizing Official Statistics is meant to guide national statistical offices (NSOs) in how to use GIS, cloud computing, GPS, imagery, sensor networks, and spatial analytics when planning and conducting censuses.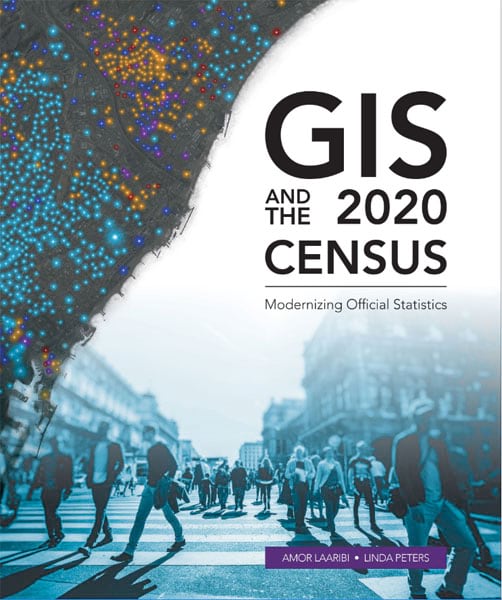 The book isn't meant to teach readers how to use GIS or related technologies—Esri has an array of textbooks to do that—but it answers critical questions that relate to the process of setting up a GIS-based census program. Chapters cover topics such as how to use GIS to prepare for and carry out the census, how to build a geodatabase for a census; how useful aerial imagery is in the census process; and how geospatial tools can be used during the planning, counting, and analysis phases.
According to Timothy Trainor, former chief geospatial scientist for the US Census Bureau, location information is key to a successful census count. "Geospatial information is needed for each phase of the census—collecting the data, tabulating the counted household numbers, disseminating aggregated tabulations, and analyzing the results of the census," he wrote in the book's foreword. "For many countries, a census is foundational—it provides data and information on current conditions as well as future opportunities and challenges. However, the numbers on their own are not relevant without an association to location. This is where geography plays its vital role. . . . Knowing the 'where' of a population's characteristics offers an important and interesting view on a community's conditions and trends. The data collected during a census, when combined with location, starts the journey of a transformation to valuable information."
GIS and the 2020 Census was written by Amor Laaribi and Linda Peters. Laaribi is an international independent consultant in geospatial information and statistics. He worked for the United Nations (UN) Statistics Division for many years, most recently as a senior statistician in charge of geospatial information in support of the global indicator framework for the UN's Sustainable Development Goals.  Peters works in global business development at Esri, consulting with national governments and  national statistical offices on how to apply geography methods and analysis to census and statistical work.
(Print edition ISBN: 9781589485044, $49.99; e-book edition ISBN: 9781589485051, $49.99)
Focus on Geodatabases in ArcGIS Pro
Geodatabases rarely grab headlines, in either articles or books about geospatial technology. Usually it's all about the software or apps. Not this time. In Focus on Geodatabases in ArcGIS Pro, author David W. Allen introduces his readers to the geodatabase, the comprehensive information model that's used to represent and manage geographic information throughout the ArcGIS platform.
"Within the database, you can store points, lines, polygons, tables, and other features for practically any application," Allen wrote in the book's introduction. "As spatial data becomes more prolific across many platforms, the issue of maintaining the quality of both existing and newly created data has come to the forefront. Those in charge of managing these spatial datasets need the ability to control how they are created and edited to maintain this quality."
The premise of the book is to do just that—teach readers how to build, edit, and maintain a high-quality geodatabase.
Focus on Geodatabases in ArcGIS Pro shares best practices for creating and maintaining data integrity. Chapters cover topics such as how to design the geodatabase schema, build a geodatabase that includes data integrity rules, populate the geodatabase with data, share the geodatabase, put the data in your geodatabase online or in a secure portal, create 3D scenes with 2D data, and create new features. While the book covers the major concepts , readers mainly will learn by doing, following the book's step-by-step tutorials and Your Turn exercises.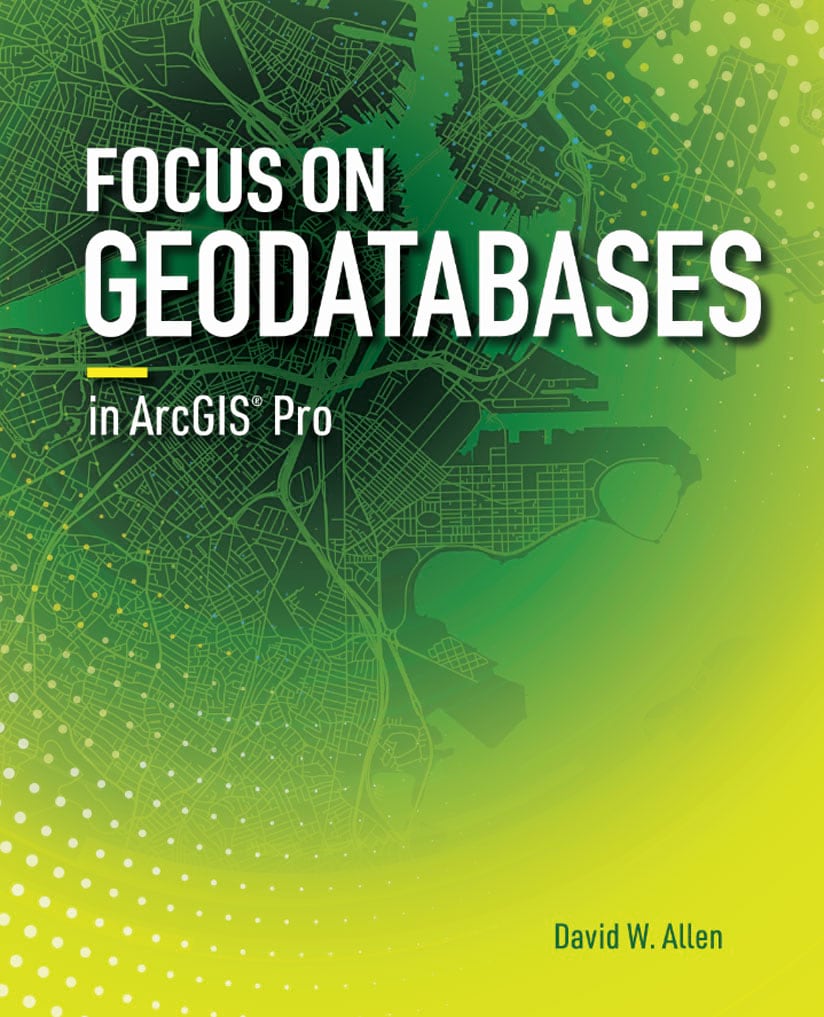 Allen works as the GIS manager for the City of Euless, Texas, and has taught GIS at Tarrant County College, where he helped launch one of the first GIS programs in the state. He has written two other GIS books published by Esri, Getting to Know ArcGIS ModelBuilder and GIS Tutorial 2: Spatial Analysis Workbook.
(Print edition ISBN 9781589484450, $59.99; e-book edition ISBN 9781589484467, $59.99)
GIS for Science: Applying Matting and Spatial Analytics; Smarter Government: How to Govern for Results in the Information Age; GIS and the 2020 Census: Modernizing Official Statistics; and Focus on Geodatabases in ArcGIS Pro can be purchased from online retailers worldwide by calling 1-800-447-9778. Visit the Esri Press website to learn about the full list of current and forthcoming books from Esri.