Tracker for ArcGIS Is Now Available in ArcGIS Online
When organizations send personnel into the field on assignment, "out of sight, out of mind" can easily mean "out of sight, out of control." Without knowing where their field personnel are, fire captains have a harder time accounting for their crews, delivery managers risk the wrath of customers waiting for goods or services, and field workforce supervisors may overlook gaps in their territories. In each scenario, there is a negative and potentially costly consequence for the organization.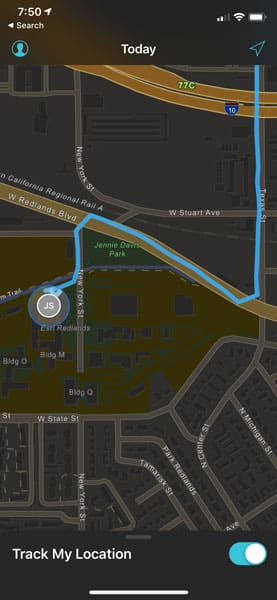 The Tracker for ArcGIS mobile app from Esri enables organizations to keep better track of their fieldworkers, which makes the workforce more agile and quickens response times. The app, which was previously only available in ArcGIS Enterprise , is now available in ArcGIS Online, providing the benefits of a fully hosted solution to many more organizations that need this type of app.
Tracker for ArcGIS, available on Google Play or the App Store for iPhones and iPads, records the location tracks of field personnel, and the corresponding Track Viewer web app lets authorized supervisors view them. The web app leverages the location tracking layer that's now available in both ArcGIS Online and ArcGIS Enterprise.
Using Tracker for ArcGIS helps organizations better support supervisors, managers, fieldworkers, and customers in the following ways:
It improves efficiency in the field. Location track analysis can identify where coverage of an area is either missing or oversaturated, which enables field resources to be more effectively allocated. Track analysis can also reveal more specific patterns—for example, in productivity, regulatory compliance, or speed violations.
It shows proof of work. Track history can be used to verify where and when an asset or site was last visited, the duration of the visit, and who made the visit. Organizations can rely on this information to verify that service level agreements are being met and that they are following other compliance requirements.
It helps supervisors know where everyone is. By sharing their locations, fieldworkers empower supervisors to better respond to unanticipated events. Tracker for ArcGIS gives everyone an understanding of where staff resources are in relation to needs and also gives office staff the ability to monitor fieldworkers' safety.
Staff in the field who use the Tracker mobile app are in complete control of when location tracking is on. A simple tap of a button within the app starts or stops location track capturing. The app is optimized to minimize battery drain as well. Users have the option to set reminders for when it's time to start and stop recording their location. Once location tracking is activated, track data is recorded directly to the mobile device and then synced automatically to ArcGIS Online in connected environments or as soon as connectivity is available. Only those who have permission to view tracks—typically managers or supervisors—can observe and interrogate location track data.
To sign in to the app, users need a premium app license for Tracker for ArcGIS. The Track Viewer web app can be used by ArcGIS administrators to create track views, as well as by any authorized supervisor to view tracks. Tracker for ArcGIS is a premium app that can be added to any ArcGIS user type license.