Authors and editors at Esri Press were busy this past year preparing to publish a new collection of books that demonstrate the use of GIS technology in a wide variety of fields. Four of the books were released recently.
Modern Policing Using ArcGIS Pro introduces readers to the tools and techniques used to map and analyze crime with ArcGIS Pro. Mapping America's National Parks: Preserving Our Natural and Cultural Treasures chronicles how the United States National Park Service manages and protects national parks by using geospatial technology. Another book, entitled Dealing with Disasters: GIS for Emergency Management, is the latest in the Applying GIS series. And a children's book, called The Playground Problem, is focused on developing mapping and spatial-thinking skills.
If you are interested in topics such as policing, national park management and preservation, or disaster preparedness and emergency management—or if you are a teacher, parent, or grandparent who wants to get a child interested in mapping and geography—one of these books might be for you.
Modern Policing Using ArcGIS Pro
Modern Policing Using ArcGIS Pro introduces crime analysts to the tools and techniques used to map and analyze crime with ArcGIS Pro software.
Eric L. Piza and Captain Jonas Baughman, the book's authors, have real-world experience in GIS and crime and intelligence analysis at police departments.
Topics covered include geoprocessing and selecting data, creating and editing feature layers, identifying crime hot spots, tracking crime in target areas, incorporating time in spatial analysis, using spatial statistics to identify relationships, and automating crime analysis tasks.
Readers will delve into case studies and applied research projects to learn techniques to support evidence-based policing. Each case study's findings are discussed in a section that highlights research and crime analysis. Readers also can do self-guided exercises that take them through each step of the analysis.
Piza is associate professor at John Jay College of Criminal Justice, City University of New York. He worked as a GIS specialist for the Newark Police Department in New Jersey and was research director for crime analytics at the Rutgers Center on Public Security.
Baughman has worked for the Kansas City Police Department in Missouri for more than 17 years. Though he has been assigned to various positions throughout his career, including patrol and administration, he says that crime analysis is his professional passion.
(Print edition ISBN: 9781589485976, $49.99; e-book ISBN: 9781589485983, $49.99)
Mapping America's National Parks: Preserving Our Natural and Cultural Treasures
When people arrive at a national park site they often pick up a brochure that includes a map that will guide them to points of interest such as bird watching areas and hiking trails—or even the best spots to go snorkeling, such as at Dry Tortugas National Park, near Key West, Florida.
But producing visitor maps are just one way in which the United States National Park Service (NPS) puts geospatial data and mapping to use.
"The visitor map is the public-facing side of NPS cartography," writes Tom Patterson, a retired NPS cartographer, in the introduction to the book Mapping America's National Parks: Preserving Our Natural and Cultural Treasures. "Even more important are the maps and geospatial analysis that the public largely does not see, which serve the critical preservation needs of the NPS mission."
To manage and protect the nation's more than 420 national park sites, NPS uses GIS technology in a wide variety of ways including the following:
Managing fires including wildfires and prescribed burns
Protecting the parks and park visitors from hazards
Responding to emergencies, including conducting search and rescue operations
Preserving archaeological sites, historic buildings, and cultural resources
Creating transportation plans
Planning for and setting up infrastructure including facilities such as visitor centers, campgrounds, and restrooms
The contributors to Mapping America's National Parks, many of whom work for NPS, share stories about how Esri ArcGIS software, drones, and more—such as Global Positioning System (GPS) and Global Navigation Satellite System (GNSS) technologies—are being used to manage and protect the parks. The book is illustrated with more than 240 full-color maps and photographs of national parks, monuments, battlefields, historic sites, lakeshores, seashores, scenic rivers, and trails.
The first chapter is devoted to NPS cartography, including a 3D map of Russell Cave National Monument in Alabama and a 3D panoramic view of Katmai National Park and Preserve in Alaska. Readers also will find a series of Yellowstone National Park maps, including one from 1957 that shows the points of interest, physical features, and roads, and a 2018 map that focuses on park features and uses GIS data to generate shaded relief. Readers also will see the many ways the NPS uses ArcGIS software to collect, analyze, and map data and tell stories. For example, ArcGIS StoryMaps was used to describe and map the 1775–1776 journey of hundreds of colonists led by Colonel Juan Bautista de Anza as they traveled north—with 10,000 heads of cattle—from Sonora, Mexico, to what is now San Francisco, California.
Another chapter is devoted to managing fire response with GIS before, during, and after an incident. For example, readers will get to view fire information and progression maps for the 2018 Ferguson Fire in Yosemite National Park. NPS also used ArcGIS software to show the paths of Hurricanes Irma and Maria and map the cultural resources impacted by them in the United States Virgin Islands, Puerto Rico, and Florida. The book also includes a map that shows the visibility of proposed wind turbines as seen from a location at Homestead National Monument of America, in Nebraska. According to contributor Matthew Colwin of the NPS, the need to know how wind turbines will affect viewsheds in parks will increase as more wind farms are proposed and built.
Through the stories, maps, and photographs, Mapping America's National Parks takes readers into the heart of the nation's national park sites to experience how GIS software helps the NPS both preserve parks and keep them enjoyable for people.
(Print edition ISBN: 9781589485464, $39.99; e-book ISBN: 9781589485471, $39.99)
Dealing with Disasters: GIS for Emergency Management
The latest book in the Applying GIS series gives readers the opportunity to experience and perhaps emulate how cities, emergency management agencies, fire departments, and other organizations use GIS to manage and support response to natural disasters and other crises.
Dealing with Disasters: GIS for Emergency Management is a collection of case studies that show GIS in action during disaster preparedness, response, and recovery. In the first section of the book, readers learn how GIS helps give decision-makers data-driven insights when they prepare for events like tornados, floods, and wildfires. The second section covers the use of GIS to respond to emergencies ranging from hurricanes to the recent COVID-19 pandemic. The third section focuses on the role of GIS in recovering from disasters or humanitarian crises.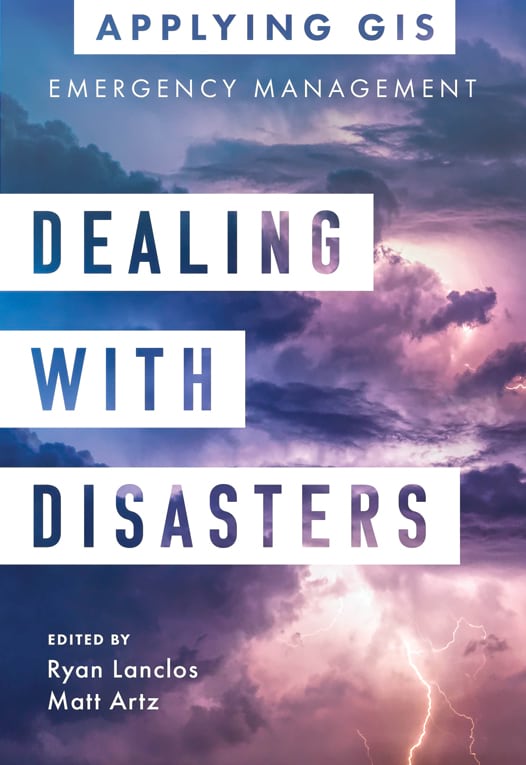 The book's introduction zeroes in on the book's core message: as threats and hazards become more destructive, complex in nature, and costly, decision-makers need the location intelligence that GIS provides to plan for and mitigate disasters.
The case studies will be of interest to a wide range of professionals who are involved in various aspects of emergency management and deal with many different types of situations. For example, the Tuscaloosa County Emergency Management Agency in Alabama used Esri ArcGIS software to collect location data and other information on the county's tornado sirens, map these assets, and better manage inspections and maintenance on them.
The National Science and Technology Center for Disaster Reduction in Taiwan used several Esri software products—including ArcGIS Enterprise, ArcGIS Pro, and ArcGIS API for JavaScript—to create the Flooding Wargame Simulation Platform for Training and Emergency Response. The 3D GIS platform, which simulates different kinds of flooding disasters, is used to analyze flood risk and preparedness.
Another interesting project in which ArcGIS software was utilized was a nuclear disaster simulation exercise in Lithuania. The Lithuanian Fire and Rescue Department led and participated in the exercise, using ArcGIS to create interactive maps to tell residents which areas would be affected if there were a radiation leak at a nuclear power plant in neighboring Belarus. The plant is supposed to become fully operational in 2022. ArcGIS also was used during the exercise to collect data in the field and display information on operational dashboards.
Each of the three parts of the book includes a section that provides readers with ideas, strategies, and tools that will be useful in implementing GIS into their emergency management workflows. The book includes a link to complementary online resources, including stories, maps and apps, and other downloadable tools and content.
The book was edited by Ryan Lanclos, director of public safety solutions at Esri, and Matt Artz, content strategist for Esri Press.
(Print edition ISBN: 9781589486393, $19.99; e-book edition ISBN: 9781589486409,$19.99)
The Playground Problem
All children benefit from acquiring spatial knowledge early in life. According to research, using spatial reasoning at a young age speeds up children's competence in science, technology, engineering, and mathematics (STEM) fields. The Playground Problem teaches kids basic mapping skills and how to think spatially—in a very entertaining way.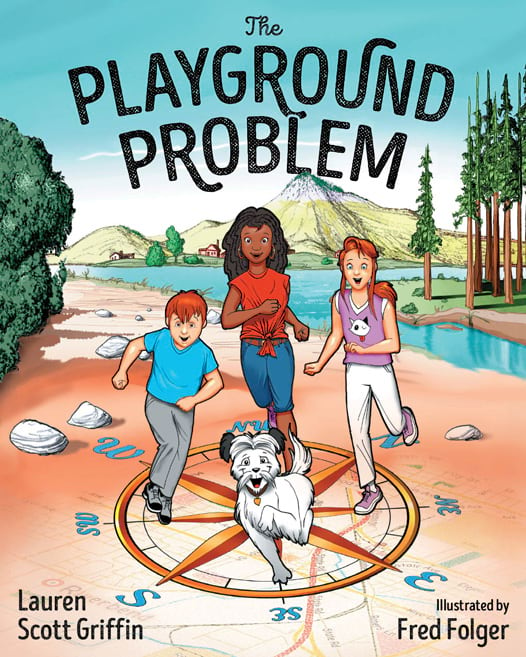 Aimed at children aged 6–10 years and written and illustrated as a graphic novel/activity book, The Playground Problem follows sister and brother characters Emma and David as they learn about mapping and spatial analysis from their friend Kayla. Kayla works with maps, data, and spatial analysis tools for fun.
The main story revolves around the closure of a playground in a local park that developers plan to turn into a shopping center. Emma and David are devastated and turn to Kayla for help. Kayla shows them how spatial analysis and mapping can be used to do things such as see where forestland is healthy or unhealthy, find the best location to open a bike shop, and—yes—even find a new place for a park.
During their adventure trying to find a new park location, Emma and David learn how to use compass directions, understand distance, and apply spatial reasoning. They also see how GIS software is used to analyze and visualize on a map all the data they have collected on possible park locations.
The story takes a few twists and turns, and the book includes activities to do and puzzles to solve.
The Playground Problem was authored by Lauren Scott Griffin, an Esri employee with more than 33 years of GIS and software development experience. The book was illustrated by artist Fred Folger, who has worked in special effects for television shows such as Star Trek: The Next Generation and movies such as Independence Day.
(Print edition ISBN: 9781589485686, $14.99)