Three New Books Focus on Geospatial Technology Use in Government, Conservation, and Health
With our personal and professional commitments consuming a big chunk of our days, it's sometimes difficult to set aside time to read a book. And when we do, we may be tempted to read a popular novel rather than a GIS book. But think again. Reading books about GIS—along with taking training courses—will give you the knowledge and inspiration you need to excel at your job, keep up with the fast-changing technology, and help your organization implement GIS in the best way possible to make informed decisions and be successful.
Three new books from Esri Press will feed that hunger for knowledge and inspiration:
Building a Smarter Community: GIS for State and Local Government
What is a "smart community?" It's a community that uses technology, data that's timely and accurate, and scientific methods to tackle and solve problems. GIS is one of the technologies that smart communities use for data-driven decision-making.
Building a Smarter Community: GIS for State and Local Government, the latest title in the Applying GIS series from Esri Press, tells the stories of how 16 government entities used GIS and location intelligence to plan and design downtowns and neighborhoods, make operations more efficient, measure and assess performance, and foster civic inclusion.
One of the stories in the book focuses on the City of Oshkosh, Wisconsin, which used 3D GIS to envision a proposal to retain the Oshkosh Corporation by locating the company and its global headquarters on a waterfront section of the city's municipal golf course. Esri partner Houseal Lavigne Associates used ArcGIS CityEngine software from Esri to create a 3D web map that let the public, Oshkosh Corporation Board members, and city officials clearly see what the redevelopment plan would look like. It involved selling part of the golf course to Oshkosh Corporation and turning another part of the property into a community park. GIS played a critical role in getting residents involved in the planning process and making sure their concerns were taken into account.
Another story shows how ArcGIS Collector, along with the Arrow Gold GNSS receiver from Esri partner Eos Positioning Systems, is being used to accurately capture location data about the City of Santa Barbara's 27,500 water meters. That data is then mapped using ArcGIS Online.
In a drought, it's especially important to know where the water meters,—along with new fire hydrants and water valves that are also being mapped—are located. "Leaks need to be located quickly and addressed promptly," said Theresa Lancy, water distribution supervisor for the City of Santa Barbara. "Having the right tools to identify, locate, and document repairs means better customer service and reliability—which is very important to us."
The City of San Rafael in California also put GIS technology to work during the COVID-19 pandemic to highlight restaurants that were open for business, including minority-owned eateries. The city had the restaurants fill out a form using ArcGIS Survey123 that included the business's location, hours, and phone number. That data was then added to a web map on the city's website. A separate layer highlighted the minority-owned businesses, which were hard hit by the pandemic.
The book features more than a dozen other stories from government organizations such as King County, Washington; the City of Topeka, Kansas; Ontwa Township, Michigan; the City of Coral Gables, Florida; and the Texas Parks and Wildlife Department.
The authors of Building a Smarter Community: GIS for State and Local Government are Christopher Thomas, director of government marketing at Esri, and Keith Mann, a writer and content strategist for Esri Press. Thomas is a subject matter expert in GIS, government, technology, marketing, and global business development. Mann is editing the Applying GIS book series, which has included the recently published Delivering Water and Power: GIS for Utilities.
This latest book comes with online GIS resources related to state and local governments. Access the resources, which include additional case studies, Learn ArcGIS lessons, and ArcGIS solutions at go.esri.com/bsc-resources.
(Print edition ISBN: 9781589486843, $19.99; ebook edition ISBN: 9781589486850, $19.99)
Protecting the Places We Love: Conservation Strategies for Entrusted Lands and Parks
Breece Robertson spent nearly two decades at The Trust for Public Land, working as an executive in GIS, planning, and research for the nonprofit group that creates parks and conserves land throughout the United States.
Today she is director of partnerships and strategy at the Center for Geospatial Solutions at the Lincoln Institute of Land Policy and the author of the new Esri Press book Protecting the Places We Love: Conservation Strategies for Entrusted Lands and Parks.
Robertson writes about her lifelong passion for nature and maps and presents a road map for how to use GIS in the mission to protect land. The intended audiences for her message include staff at small- to medium-sized conservation organizations, park agencies, and land trusts that may be new to GIS. Citizens with a passion for conservation would also find the book useful in their advocacy work.
Topics covered in the book's 10 chapters include the role of maps in conserving land; how to use GIS to enhance urban park and green space systems with a focus on equity, biodiversity, and other factors; and evaluating and tracking the impacts of conservation using GIS, data, and science.
"This book will provide field-tested approaches for creating or using maps, apps, and land protection planning methodologies," Robertson wrote. "Drawing on my 20 years as a conservation professional, I'll explain different ways to approach challenges by using the power of storytelling and GIS analysis, including methods on how to map, model, and analyze specific land protection subjects such as biodiversity and park access."
Using GIS is within reach, even for small organizations, according to Robertson. "Many people think GIS is too expensive or too sophisticated and difficult to integrate, but that is no longer the case," she wrote. "GIS is becoming increasingly democratized through the move from desktop to web- and cloud-based computing."
Esri cofounder Laura Dangermond wrote the book's foreword. She underscored the personal commitment both she and Esri president Jack Dangermond have toward land conservation. She wrote that she was impressed by Robertson's inspiring work over the years with The Trust for Public Land and her creative thinking skills. She called Robertson's ideas in the book "bold strategies" that she and her husband embrace.
"Breece will show you how to expand your use of GIS for strategic land protection and increase the pace and scale of the efforts needed before it's too late and some of our lands are lost forever," Laura Dangermond wrote.
(Print edition ISBN: 9781589486164, $29.99; ebook edition ISBN: 9781589486171, $29.99)
GIS Tutorial for Health for ArcGIS Desktop
The COVID-19 pandemic brought the use of GIS in public health front and center in the news. For example, a team at Johns Hopkins University used GIS to create its COVID-19 dashboard to map disease cases and deaths in 2020, later adding vaccination and testing rate data.
GIS can be used to prepare, visualize, and analyze many other types of health data, too, making GIS Tutorial for Health for ArcGIS Desktop 10.8 an important resource for health and human services professionals.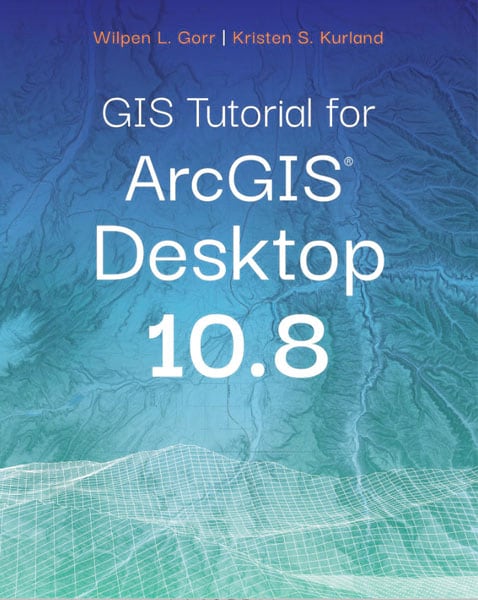 Readers will be introduced to mapmaking basics within the context of health applications. They will use ArcGIS Desktop 10.8 software from Esri to do the following:
Visualize health data
Design maps for a health study
Project, download, and use spatial data
Geocode tabular data
Process and analyze spatial data
Transform data using approximate methods
Use the ArcGIS Spatial Analyst extension for demand estimation
The final two chapters in the book give readers the chance to put their new GIS skills to use in two independent case studies. They will, for example, map cases of a food-borne disease outbreak in a community and then assess which areas and populations are vulnerable to the outbreak.
The book will be especially helpful to health-care managers, health management students and practitioners, information technology specialists, and health researchers.
The sixth edition of GIS Tutorial for Health includes access to a 180-day trial of ArcGIS Desktop 10.8 software.
The authors of the book are Kristen S. Kurland and Wilpen L. Gorr. Kurland is a teaching professor of architecture, information systems, and public policy at the H. John Heinz III College and School of Architecture, Carnegie Mellon University (CMU). Gorr is emeritus professor of public policy and management information systems at the School of Public Policy and Management at the H. John Heinz III College and School of Architecture at CMU.
(Print edition ISBN: 9781589486782, $59.99; ebook edition ISBN: 9781589486799, $59.99)