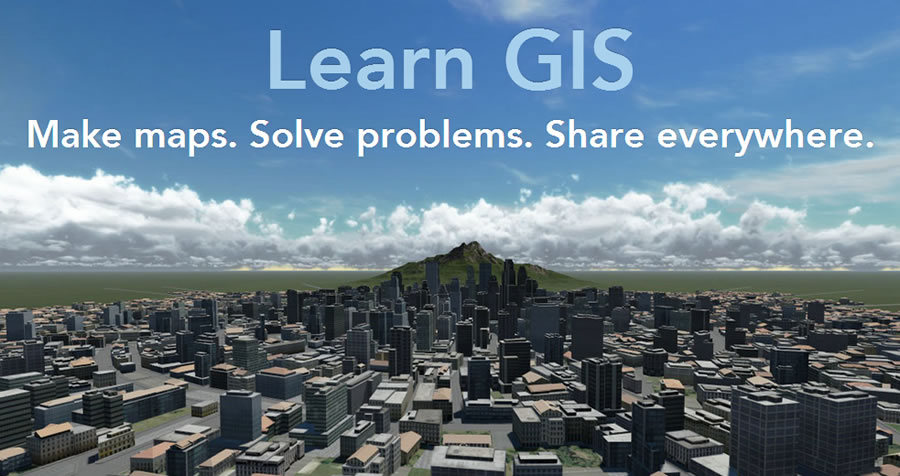 If you are a newcomer to GIS, a new learning website from Esri will unravel the mystique of the technology, introducing you to mapping's usefulness by giving you real geographic problems to solve.
And if you are a GIS professional, the Learn ArcGIS site—which launched this month—will help you become better at conceptualizing and analyzing a problem and making and sharing maps. Whether a novice or a pro, you will focus more on problem solving rather than software functionality and use authentic analyis scenarios that mirror typical, everyday GIS workflows.
Designed for self study and available at no cost, Learn ArcGIS presents a new way for you to understand GIS concepts and technology: putting the story and problem first. And in many cases the data and spatial analysis tools you need to tackle that problem will be easy to access online via the Esri ArcGIS platform of software and services.
Clint Brown, director of Software Products and leader of the Learn ArcGIS team, says the website his team designed provides a new pathway for any type of learner to discover the power of mapping, start to make maps, and begin to solve spatial problems using geographic analysis.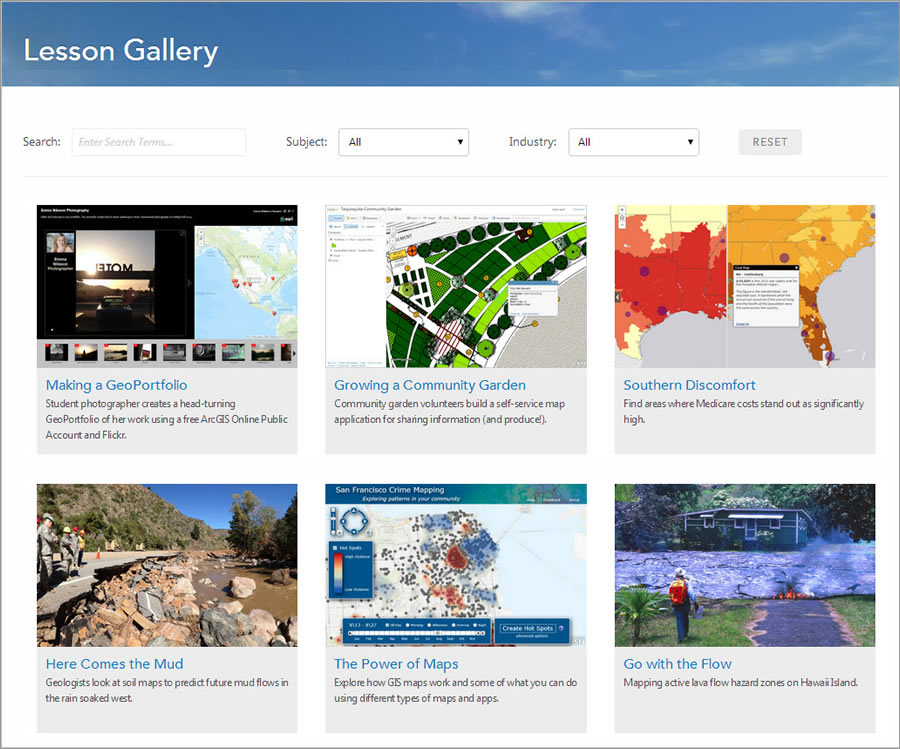 "The whole world of GIS has changed radically with the rapid evolution of the ArcGIS platform," Brown said. "In the old days, we had to teach people about things like geodatabases and topology, the under-the-hood things that make GIS work. But so much now just works, so we have an opportunity to go beyond that and teach people how to solve real problems."
The site's interactive, and much of the work is done on the web using the mapping and spatial analysis tools and data available from Esri's cloud-hosted ArcGIS Online. The lessons also include online maps that you can explore to see if a spatial question or problem interests you.
"We are attempting to integrate learning right into the platform," said Christian Harder, a member of the Learn ArcGIS team. "We have an amazing online GIS platform that can run on any web-connected computer on the planet. Figuring out how to leverage it in a learning context has been a fun challenge."
Learn ArcGIS is not meant to replace traditional instructor-led training or web courses in ArcGIS. It's geared to whet learners' appetites and spur them to dig deeper.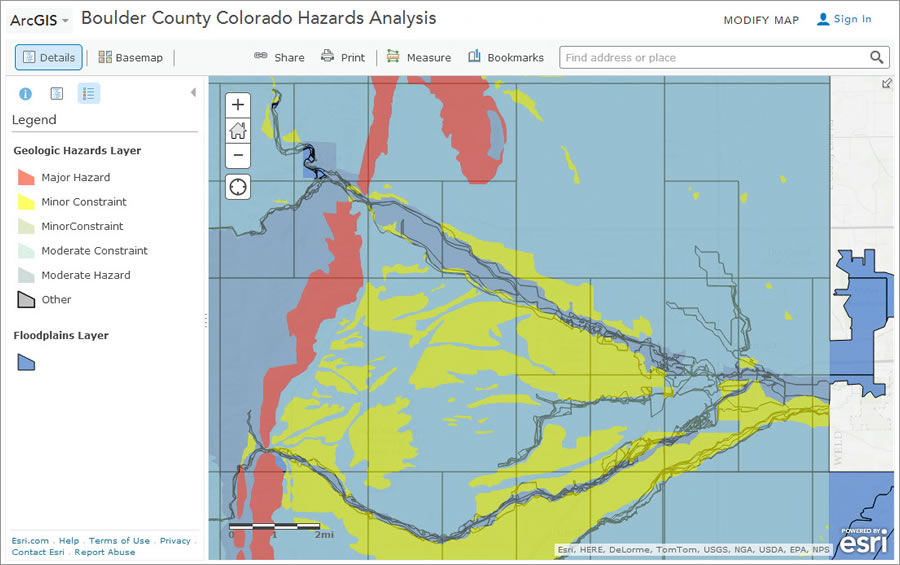 Start with a Story
Most lessons are grounded in a story. Each begins with a short introduction and background on a situation. For example, in the Mud Is Thicker than Water lesson, you learn that Boulder County, Colorado, is highly susceptible to flooding and mudslides. You then take the role of a GIS analyst and work to identify areas in the county that are prone to flooding and mudslides using real data from Boulder County. Finally, you analyze where at-risk populations, such as nursing home residents, are likely to need help leaving in an emergency.
In the Make a Community Garden Web App project, you create a large-scale custom basemap and learn how to deploy it as an app that the garden's plot holders can use to report weeds, pests, and other problems. You can even work with an app that will resemble the one you will create, selecting icons for weeds and pests and dragging them onto the map next to the affected plots.
Become Part of the LearnGIS Community
You aren't required to buy any Esri software to use Learn ArcGIS. To try out the lessons with the sample data, you need to have an ArcGIS Online for organizations account or sign up for free membership in the LearnGIS organization. If you are using the LearnGIS organization, you will get limited-time access to the cloud-based tools and data in ArcGIS Online that you will need to complete the lessons. For lessons that require Esri's ArcGIS for Desktop (which includes ArcGIS Pro), Collector for ArcGIS, or Explorer for ArcGIS (iOS), free trial-use student versions are also available.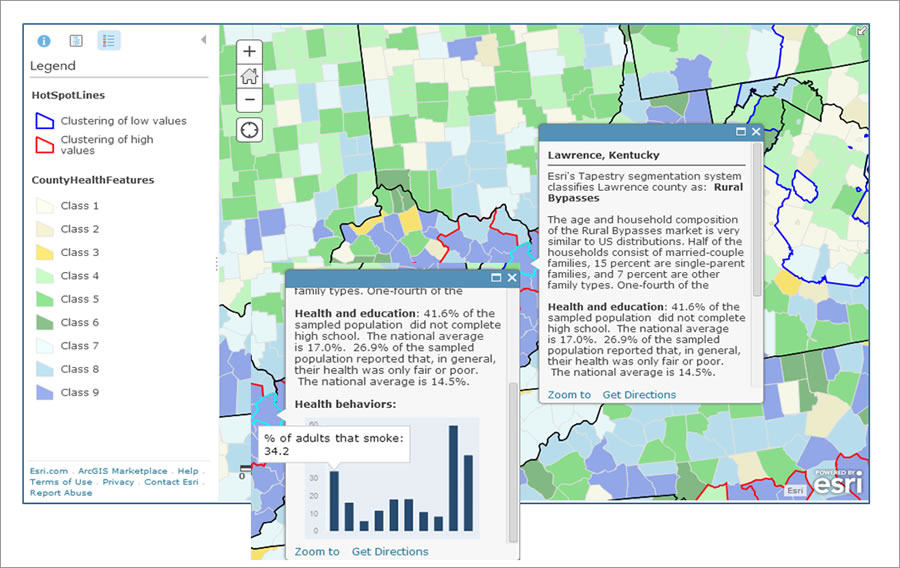 You don't need to know anything about GIS to start exploring the maps in Learn ArcGIS and see how they can be useful in many fields such as law enforcement, politics, civics, history, and public health.
You will find all the lessons in a searchable, easy-to-navigate gallery, where you can choose from a variety of realistic GIS workflows: analyzing emergency shelter access on the island of Hawaii to prepare for a possible volcanic eruption, finding areas where Medicare costs are significantly high, studying breast cancer mortality patterns, and finding suitable sites for parks.
The site will especially appeal to people new to GIS who just want to become familiar with how maps can help them better understand a problem or issue. For example, you will find a 30 minute lesson at Learn ArcGIS devoted to exploring crime patterns in San Francisco, California, and discover how income and ethnicity shaped a US presidential election. (See the story map about the 2008 Presidential Election).
Some lessons will appeal to people who want to tell stories with maps and other media. For example, A Winter Day on the Strand shows you how to create a narrative using the Esri Story Map template and geotagged photos from your iPhone or other GPS-enabled smartphone. You can follow along with provided instructions and images and re-create a map using the Story Map Tour app that showcases photos from scenic spots along the Pacific Ocean in Manhattan Beach and Hermosa Beach, California.
The lesson is simple, showing you how to build a map using the new Map Tour builder mode and photos uploaded to Facebook, Picasa, or Flickr from your smartphone. (Read What Can You Do with a Story Map?)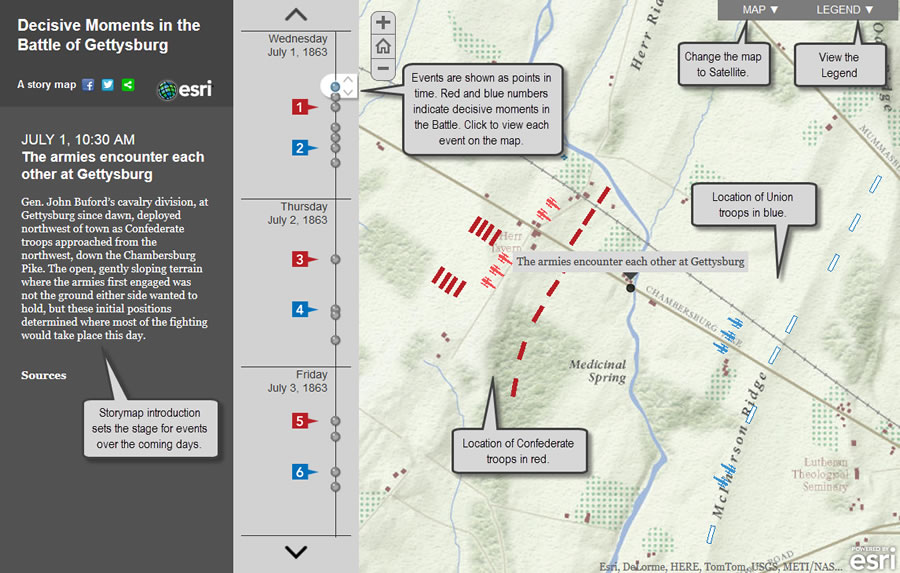 Think Spatially
Most of all, Learn ArcGIS underscores the importance of thinking spatially from start to finish.
Carefully formulate the question you want to answer first, said Aileen Buckley, a cartographer and Learn ArcGIS team member. "Next, collect, analyze, and map your data and then interpret and share the results," she said.
The lessons teach you to think carefully about the question you want your analysis to answer, to emphasize careful interpretation of the results, and how to share your maps. "Not doing it all is not a full analysis," Buckley said.
The initial lessons and exercises are being authored by the Learn ArcGIS team and other Esri staff. Esri distributors and partners worldwide will add lessons in the future. As the site evolves, features will be added that foster feedback from learners and let them interact with each other.
"Our long-term goal is to build a worldwide community of learners and educators, with everyone contributing ideas, feedback, and information in a fun environment," said Catherine Ortiz, another Learn ArcGIS team member.
Start learning ArcGIS today at learn.arcgis.com.