2016 Geodesign Summit
When: January 27–28, 2016, with preconference workshops on January 26
Where: Esri headquarters, Redlands, California
Registration: Get more information about the Geodesign Summit and register.
Landscape architect and urban planner Arancha Munoz-Criado, who used geodesign concepts and technologies to develop a green infrastructure planning framework for the government of the autonomous region of Valencia, Spain, will be the keynote speaker at the 2016 Geodesign Summit.
The annual summit will return for the seventh year to Esri headquarters in late January, with presentations, workshops, and meetings centered on geodesign and supporting technologies including GIS. Geodesign is an iterative planning and design method that combines the science of GIS with the creative aspects of design to help planners and designers make imaginative and data-driven decisions. A growing number of practitioners are using geodesign technologies, including city planners, architects, landscape architects, conservationists, and scientists.
Munoz-Criado, who received her master's degree in landscape architecture from the Harvard University Graduate School of Design, has been focused for years on creating sustainable environments based on green infrastructure. Though it has several definitions, green infrastructure basically means taking into account and leveraging nature—plants, wetlands, rivers, water features, urban forests and gardens, and soil types—when doing city planning.
In her various roles, including as general secretary of urban planning, landscape and environment for the Autonomous Region of Valencia, Munoz-Criado introduced the concept of green infrastructure to the government's legal and administrative framework. She also was a driving force in getting a European Union Directive on Strategic Environmental Assessment (SEA) for the autonomous region of Valencia. The SEA requires that sustainable development and public engagement for all development be put into law for the region of Valencia. Geodesign must be used to harmonize the planning efforts of approximately 550 municipalities so that they incorporate green infrastructure.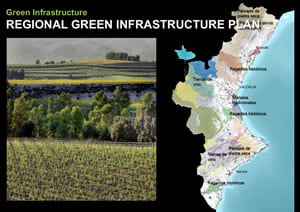 "Now, when making and approving a plan, all public administrations must operate within this framework," Munoz-Criado said. "[The framework] creates a methodology by which to locate new land development that takes into account both rational land use and protection of environmental and cultural assets. [It also] integrates public participation into the planning process."
Munoz-Criado used geodesign processes and technologies to ensure that government officials and the public prioritize the environment when planning any new development in the Valencia region. During her presentation at the Geodesign Summit, she will explain how green infrastructure became the unifying design principle to integrate comprehensive plans across jurisdictional boundaries. Green infrastructure uses natural processes to manage water and create healthy urban environments. The resultant Landscape, Environment, and Urban Development Act of 2013, approved by the regional authority, essentially put geodesign into law and now protects historic landscapes, farmland, waterways, and natural ecosystems, which have both aesthetic and economic value.
Munoz-Criado gave a similar presentation about this work at Geodesign Summit Europe in Salzburg, Austria, in October 2015, where her talk received rave reviews from attendees.
"If a geographer would finally win the Nobel Prize, it should be Arancha Munoz-Criado for her work in Valencia," said Henk Scholten, founder and chief executive officer of Geodan, (a multidisciplinary team of experts providing GIS software and services) and professor of spatial informatics and director of Spinlab at VU University Amsterdam.
The lineup of speakers is still growing, and the summit promises to be a great event. Scheduled speakers include the following: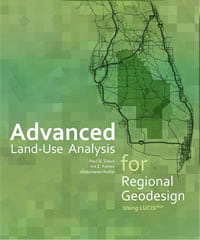 On January 26, Esri will also hold preconference workshops and training in several Esri technologies that can be used in geodesign: Esri CityEngine, GeoPlanner for ArcGIS, and Esri Story Maps. If you are an educator, consider attending the Educator's Meeting, from 1:30 p.m. to 5:30 p.m. January 26, where you and your peers can share success stories or learn how others are deploying geodesign in their institutions.