Learn ArcGIS offers timely and engaging guided lessons that are based on real-world problems, covering the entire ArcGIS platform. These lessons use problem-solving exercises to give you hands-on learning experiences with real-world GIS applications. Whether you are new to GIS or a seasoned analyst, Learn ArcGIS has valuable resources for learning new techniques, workflows, and methods to help you build or strengthen your GIS skills.
Learn ArcGIS lessons are now available on ArcGIS Online as items organized into a group, so you can easily find them and add them to your favorites for your own reference or share them with coworkers in your organization. You can find lessons that benefit current projects and activities of your organization and share them with others. This tip shows you how to find and share the lessons as well as how to add them to your favorites.
Find the ArcGIS Learn Group
Sign in to your ArcGIS organization and enter Learn ArcGIS in the ArcGIS Online search box (found at the top of the Home, Gallery, Groups, Content, and Organization pages).
Click Groups to search for groups and toggle the filter to expand your search beyond your organization.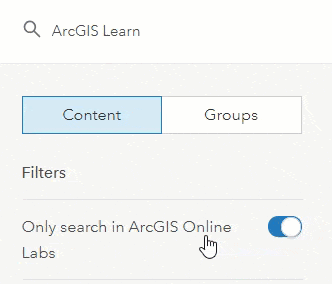 The ArcGIS Learn group should now be at the top of your search. You can verify that by looking for Owner: Learn_ArcGIS. Click the title to open the group's contents.
Share Lessons into Groups
The group opens in an overview, showing the latest content. If you want to view all the lessons, click View All Group Content.
After you browse the lessons and find those you want to share into a group, click the title to open the item page.
From the item page, click Share.
Then, choose which group(s) you want to share the lesson to within your organization.
Once shared into a group, others can find the lesson easily, and it will remain in the group until you turn off sharing.
Add a Lesson to Your Favorites
By using favorites, you can easily keep tabs on frequently used items and have them just a click away. Think of favorites as way to earmark your most useful or most used items for easy access.
Add ArcGIS Lessons to your favorites by opening the lesson details and clicking Add to Favorites.
If you search and come across a lesson outside the group, you can also add the item to your favorites from the search results.
To view your favorites, go to Content and choose My Favorites.
Learn ArcGIS lessons help you ramp up your skills and learn new techniques. Now that the lessons are items, it's easy to share them within your organization or add them to your favorites when needed.
To learn more, visit the following sites: