Public utilities typically sport sprawling work crews, administrators, and IT staff, all working to provide customers with power, access to clean water, and other services. By necessity, many of these entities have robust GIS infrastructure, from ArcGIS Online organizational accounts to dashboards that allow utilities staff to track projects and maintenance, and an ArcGIS Enterprise framework holding it all together.
Often key to keeping all this infrastructure running efficiently is software such as ArcGIS Monitor. ArcGIS Monitor tracks the status, system performance, and resource usage of an ArcGIS Enterprise deployment, allowing an administrator or manager to optimize the health and efficacy of back-end tasks. Although most end-user utilities' customers will never explicitly see this software operating, its potential to make life easier for GIS and IT staff is massive.
Two Midwest utilities—Rochester Public Utilities (RPU) and Moorhead Public Service (MPS)—have incorporated ArcGIS Monitor effectively into their day-to-day activities, and it has proved instrumental in streamlining the operation of their GIS and IT departments.
"We're using ArcGIS Monitor for identifying infrastructure performance issues as well as applications like our ArcGIS Server," said Ryan Moore, GIS manager at RPU. "We're also monitoring the status of our outage management service. If that service goes down, we'll get an email alert."
By quickly alerting RPU of GIS application and infrastructure problems, ArcGIS Monitor helps the GIS department keep performance up and helps RPU keep on top of service issues—and ahead of customers reporting these issues.
MPS, on the other hand, typically uses past performance metrics to identify and mitigate issues.
"Once something does happen, we can look at ArcGIS Monitor and try to establish a baseline or a trend to look for," said Todd Copeland, GIS coordinator for MPS. "We're monitoring performance issues and identifying [what] within our infrastructure might be impacting that."
In analyzing data tracked by ArcGIS Monitor, for example, Copeland found that system performance slowed every week around the same time, and suspected an automated backup routine might be the cause. "[ArcGIS Monitor allows us] to dig in a little deeper to see exactly what the cause is and if we can manage it more efficiently," he said.
Putting Data First
"We didn't really have a good mechanism to track how things happened beforehand," noted Copeland. "Usually we got a phone call saying, 'Hey, maps are down,' or, 'Hey, things are running kind of slow. Is there anything you can do to help performance or speed things up?'"
Though staff will still get these phone calls from time to time, ArcGIS Monitor, according to Copeland, has helped create a more cohesive picture of overall enterprise GIS system health.
"We're seeing if there are issues that are continually cropping up," said Copeland. "If we can see a trend or pattern, day over day, hour over hour, then we know there's something potentially looming that could create downtime or affect the users long term. In the past, there was no good metric to see if there were performance issues."
"From a GIS admin perspective, it was difficult to pinpoint where some of those problems were," added Moore. "ArcGIS Monitor makes it easier to interpret what's going on with your system."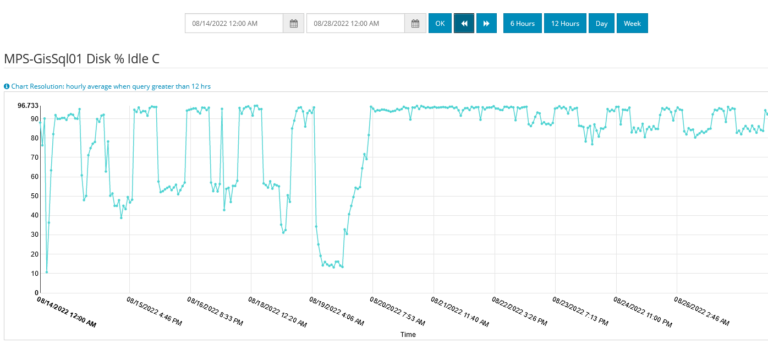 Even as they touted the ability to respond quickly to GIS outages or slow performance, both Copeland and Moore emphasized the importance of prevention when it comes to potential issues with GIS infrastructure.
"We're always continually looking at three or four reports," said Copeland. "[We're] looking at our data store, our ArcGIS Server, and our SQL [Structured Query Language] Server. If any of them are high usage, we're going to see a negative impact on performance. [We want] to see if there's a way to catch something before it gets worse."
Monitoring the Future
As RPU and MPS have incorporated ArcGIS Monitor more heavily into the day-to-day operations of their GIS and IT departments, new ways to streamline tasks have cropped up. Additionally, the long collaboration between Copeland and Moore—beginning with the Esri Mid-West Utility Users Group conference in 2011—has enabled them to share useful ideas. Taking inspiration from RPU's use of ArcGIS Monitor, for instance, Copeland sees the implementation of email alerts for outages and other performance issues as key going forward.
"That's where I see real added value for us," he said. "[This includes] having predefined benchmarks set. And once those thresholds [are met], sending us a notification that something might be creating a bigger problem for the users."
The utilities have also used ArcGIS Monitor to not only track the web applications used by field crews, but also manage administrative certificates and licenses that need to be renewed periodically.
"[Monitor] gives you a high-level countdown," said Copeland. "You know how many days are left before your license needs to be renewed. There are half a dozen certificates out there and they all expire at different times."
Moore agreed that Monitor could be instrumental on the administrative side of things, noting that he would like to use long-term performance metrics over a period of time to improve RPU's hardware resources, "Whether it's RAM or CPU," he said. "[It's] something to justify improvements in our landscape."
What's clear is that products like ArcGIS Monitor have a variety of uses across even a single industry, all in service of streamlining the work of GIS and IT professionals. At its heart, however, ArcGIS Monitor is a product designed to make ArcGIS Enterprise systems work more efficiently and effectively, with fewer wrenches thrown in the gears.
"It's a good tool to identify root problems," said Copeland. "It really helps identify potential problems quicker."