ArcGIS 10.4 / 10.4.1 and  ArcGIS Pro 1.2 bring you new and improved capabilities for visualization and enterprise readiness plus new and enhanced apps. Here are a few of the highlights:
Visualization
Vector Tiles. Vector tile maps from Esri are fast to download, look great on high-resolution displays, and are easy to style and update.Plus, you can customize the look and feel of vector tile maps and layers by simply editing the style. Now you can author vector tile maps and layers from your own data using ArcGIS Pro and share them on ArcGIS Online or ArcGIS for Server. Developers can use the ArcGIS API for JavaScript to make custom web apps that consume vector tiles.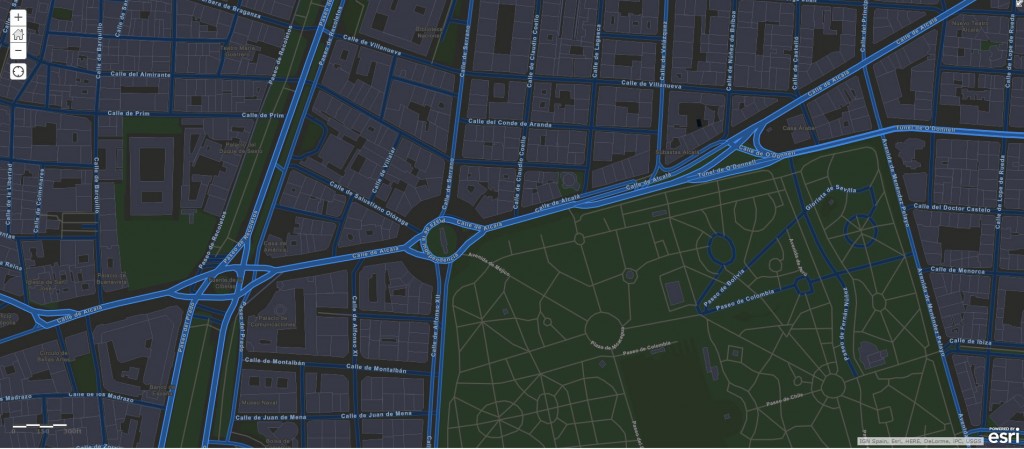 Local Scenes. Designed for small-extent data, such as a college campus, the new local scene allows for the display of 3D layers in projected coordinate systems. These local views can also be very effective for scientific and underground data display, where the relative size of features is a more important display requirement than the physical location of the content on a spheroid.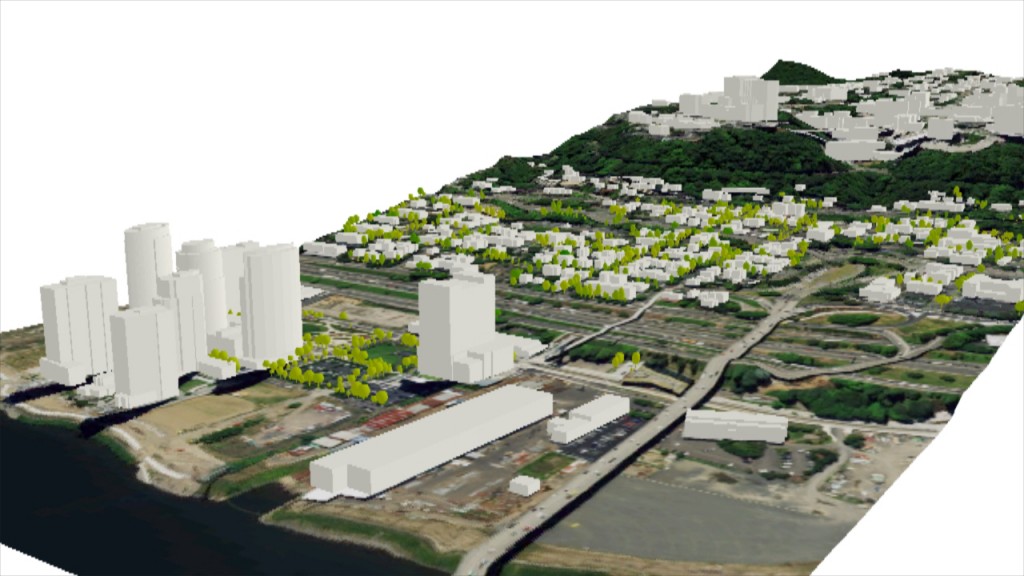 Spatial analytics now included with ArcGIS for Server. The same set of analysis tools previously only available in the ArcGIS Online map viewer are now included with ArcGIS for Server.  Users with a web GIS implementation (portal, server, and data store) can perform analytical functions, such as finding hotspots, locating streets and addresses, finding a place, routing, or accessing a geodatabase.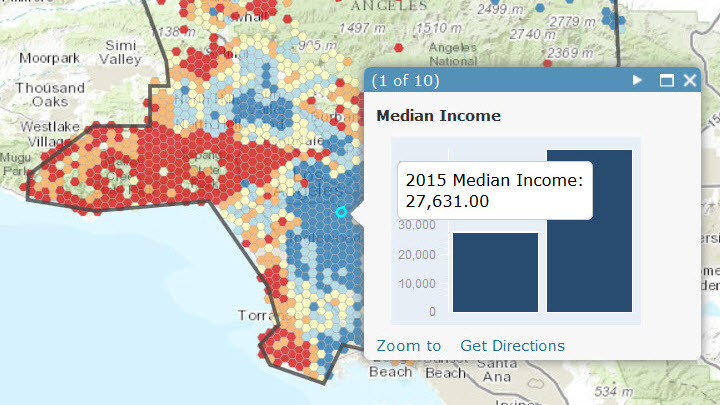 New Imagery formats. ArcGIS supports an even wider range of sensors and two new formats that facilitate working with massive volumes of imagery. The Meta Raster Format (MRF) is optimized for collections of imagery and rasters in cloud storage platforms and enables fast image access, reduces the cost of storage, and is designed to scale using elastic cloud compute and storage. The Cloud Raster Format, an initial implementation, is optimized for analytical results and allows parallel processing of rasters on multiple machines. CRF will be a key part of new raster analytics capabilities coming later in 2016.
Mobile Map Packages. Use ArcGIS Pro 1.2 to zip up your base maps, including vector tile maps, and operational layers into one neat, highly-compressed package and share them to your portal, ArcGIS Online or ArcGIS for Server. Mobile Map Packages are also available to developers via Runtime-based apps.
Enterprise Readiness
Simplified High Availability on-premises and in the cloud. ArcGIS 10.4 provides an easier way to configure a highly available portal that help you sustain performance, mitigate single points of failure, minimize downtimes, and gives you the ability to detect site failures. This simplified implementation, along with the new disaster recovery tool, improves enterprise resiliency across the portal, server, and data store.
Disaster Recovery. A new tool is available in the Portal for ArcGIS tools directory for backing up a web GIS deployment (web adaptor, portal, server, and data store). The exported file contains portal items and settings, including group information, hosted web layers, federated and hosting server settings, the configuration store, and the data store, including the hosted feature layer data (a relational data store) and hosted scene layer tile caches (a tile cache data store). Users can store the exported file in a secure place (a separate machine is best practice) and use it to restore a web GIS deployment or a server site, or use the file to replicate the implementation to a standby deployment that can be brought online if the primary deployment fails.
Read-only Mode. At ArcGIS 10.4, an ArcGIS Server site can now be set to read-only mode. This mode can be used to protect production sites from inadvertent or ad hoc changes to layers and services that might impact the applications and data that staff and customers use on a daily basis. Read-only mode disables publishing new services and blocks most administrative operations. The site can still be scaled – adding or removing machines – and the functionality of existing services continues to be available. Beyond protecting against accidental changes to GIS services, read-only mode is useful for change management (i.e. upgrading software) and also enhances the server's ability to continue functioning in the face of failure to connect to the underlying configuration information for multi-machine sites.
Working with Enterprise Data. Many organizations require regular changing of passwords and database credentials. Previously, this action impacted apps using GIS services with specific database connections and forced republishing of all the affected services. Now, at 10.4, administrators can use the ArcGIS Server Manager or Desktop to edit and update the data store connection file with the new credentials. Republishing is no longer necessary. ArcGIS Pro publishers can also connect to registered data stores and share new maps and layers that directly reference the enterprise data without having to copy data or republish layers.
ArcGIS for Server images now on Azure and Amazon Web Services Marketplaces. We've made it easier for you to find, use and deploy ArcGIS for Server in the cloud by providing them through the Microsoft Azure Marketplace and the AWS Marketplace. These public marketplaces allow you to use your own licenses and spin up ArcGIS Server sites or web GIS deployments without having to go through Esri Customer Service. We recommend that you use ArcGIS Cloud Builder for Microsoft Azure or ArcGIS Cloud Builder for Amazon Web Services to configure and deploy your virtual machines. Cloud Builder is a desktop application that simplifies deploying these images as either classic ArcGIS for Server sites or in a web GIS configuration using the portal, server, and data store. All you need is an AWS or Azure account and an ArcGIS for Server license. Cloud Builder is available for on My Esri.
Esri CloudFormation Templates. For customers using AWS who want to automate installation and configuration and need more deployment flexibility or want to implement a web GIS configuration on AWS, Esri provides CloudFormation templates to set up ArcGIS for Server on AWS. These templates aren't new but have been updated for ArcGIS 10.4. The templates are available on AWS in the Esri ArcGIS Server repository.
Chef Cookbook for ArcGIS. Customers looking to automate the installation of ArcGIS for Server on-premises using multiple GIS servers in a single site configuration, a real-time GIS configuration, or a full web GIS configuration, can use the ArcGIS Cookbook. The Chef Cookbook for ArcGIS is available on the Esri Github repository and the Chef Supermarket.
Apps
A suite of new and improved apps available with ArcGIS 10.4 take the guess work out of critical tasks. You can make smarter, faster decisions in the office, maximize the efficiency of your field workforce, and share information easily with your communities or crowdsource ideas and observations.
For example, use Drone2Map for ArcGIS (currently in beta) to create 3D point clouds.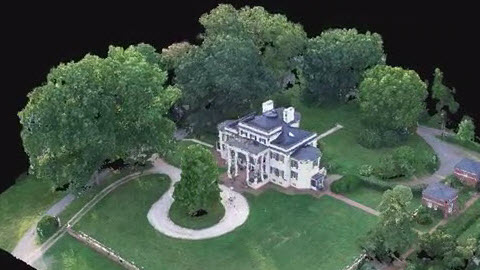 Or, use Workforce for ArcGIS, Navigator for ArcGIS, Survey123 for ArcGIS and Collector for ArcGIS together to coordinate projects between the office and the field.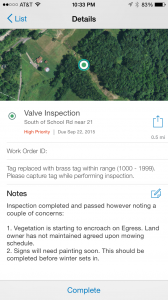 In the upcoming release of Esri Business Analyst, the web app will enable customers to create custom, personalized reports in the cloud that are based on the most relevant data variables. Desktop uses will be able to take advantage of 64-bit processing for faster analytics. And, mobile app users will get new drive-time options for defining trade areas.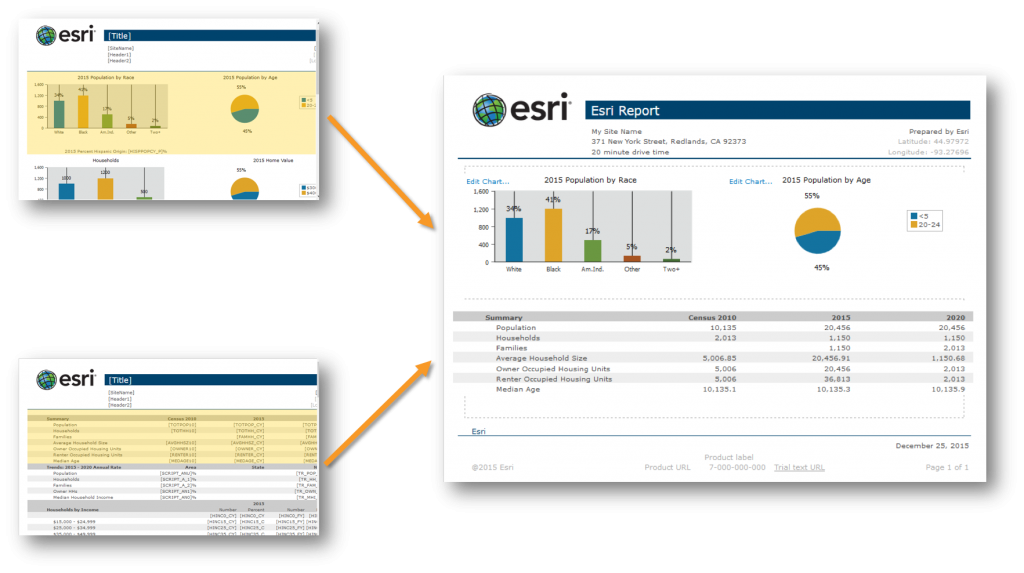 For more details about what's new in the ArcGIS 10.4 release, check out