The October 2023 update of ArcGIS Dashboards introduced several exciting enhancements, bug fixes, and performance improvements. In this blog, we will explore the new features and improvements introduced in ArcGIS Dashboards. So, let's dive right in!
3D Content in Dashboards
ArcGIS Dashboards now allow you to include 3D content, which enhances your ability to create a visual narrative that promotes understanding, collaboration, and consensus among stakeholders.
Dashboard authors can utilize the map element to incorporate web scenes and 3D navigation tools into their dashboards. Furthermore, layers within web scenes can serve as data sources for other visualizations and selectors, enabling smooth filtering of dashboard elements through actions.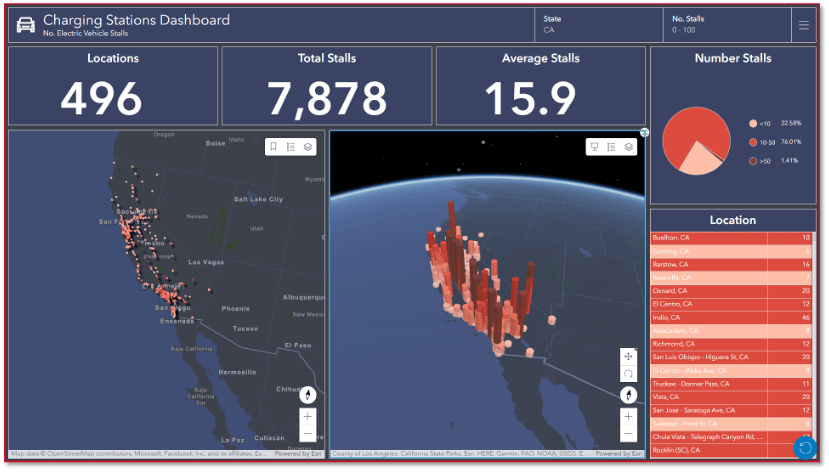 Mobile Dashboard View Enhancements
The October 2023 update introduces additional action support for mobile views. Users can now configure various dashboard elements, such as lists, tables, and operational layers of maps, as the source of actions on the mobile view. This enhancement ensures a consistent and interactive experience across different devices.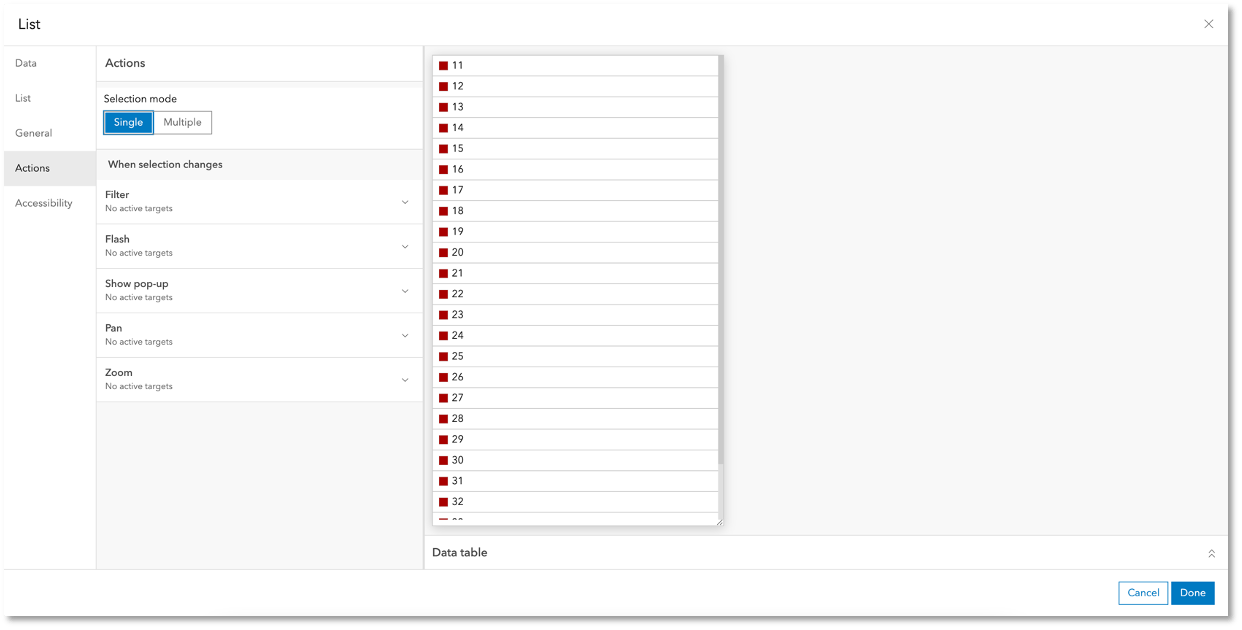 Category Selectors Enhancements
Category selectors are essential for filtering data within dashboards. In the latest update, category selectors have been enhanced to support the "contains" operator.
This improvement enables users to filter features based on multiple categories, which is especially beneficial for fields with multiple-choice options, like those found in Survey123.
Map Selection Enhancements
The October 2023 update of ArcGIS Dashboards brings improvements to the selection of features on a map's operational layer. Users can now effortlessly initiate layer actions by simply clicking on the desired features.
Additionally, users can also take advantage of a range of selection tools, including the lasso, circle, and line tools, to select multiple features. This enhancement offers users greater flexibility and efficiency in their data exploration and analysis workflows.
ArcGIS Living Atlas Feature Layers
Another notable addition to ArcGIS Dashboards is the support for feature layers from ArcGIS Living Atlas of the World as stand-alone data sources.
This means that when configuring elements for your dashboard, you can now utilize feature layers from this extensive collection, expanding the range of available data sources.
Dashboard Accessibility Improvements
In this release, Esri continues improving the A11Y capabilities in its software.
Dashboard accessibility is now enhanced for keyboard navigation and screen readers. Users can navigate within the table element using a keyboard to view all features and make selections.
Additionally, assistive technologies like screen readers will benefit from more appropriate and relevant information when interacting with pie charts and gauge data visualizations.
Conclusion
The October 2023 update of ArcGIS Dashboards brings a wide range of enhancements, bug fixes, and performance improvements. These updates significantly enhance the capabilities and user experience of ArcGIS Dashboards by introducing 3D content, mobile dashboard view enhancements, category selectors improvements, map selection enhancements, and support for ArcGIS Living Atlas feature layers.
Whether you are an experienced user or new to ArcGIS Dashboards, these updates empower you to create visually appealing and interactive dashboards that effectively communicate and analyze spatial data. So why wait? Dive into ArcGIS Dashboards today, create your first dashboard, or enhance your existing ones with these exciting new features.
Don't forget to share your creations with us on Twitter and LinkedIn using #ArcGISDashboards. We are eagerly looking forward to seeing the amazing dashboards you create!
Commenting is not enabled for this article.