ArcGIS Field Maps is Esri's new premier maps app on iOS and Android devices.
Field Maps will combine the following capabilities into a single app that is easy to use and simple to deploy:
Simple map viewing and markup
High accuracy field data collection and inspection
Battery-optimized location tracking
Work planning and task management
Turn-by-turn navigation
Field Maps will include a new web app, integrated with ArcGIS, that can be used to configure and deploy maps optimized for your mobile workforce needs, create and assign tasks to mobile workers, and create and share views of worker locations.
The capabilities of ArcGIS Field Maps are not new and are currently implemented across separate field apps: Collector, Explorer, Navigator, Tracker, and Workforce. Working with multiple apps can pose several challenges to the mobile worker because it requires them to:
Figure out which apps they need to use to satisfy their workflow requirements
Download and sign in to each app individually
Download multiple copies of map data to work offline
Switch between multiple apps to complete workflows
Because of these reasons, we are bringing together the capabilities of these five apps into a single app.
ArcGIS Field Maps may be the only app your mobile workforce needs to complete their map-centric workflows. They will be able to collect data, mark up maps, capture location tracks, complete assignments, and navigate to assets all from one app.
This saves time for the mobile worker, because they will only have to download, sign in to, and work with one app – and it saves time for you, because you will only have to configure maps for one application.
ArcGIS Field Maps saves space on your mobile devices by eliminating the need to duplicate data, such as base maps, across multiple apps. It also creates a tighter synchronization between the office and the field by only requiring one web app/mobile app pair.
We'll be releasing ArcGIS Field Maps in three phases.
Phase I – Esri's premier maps app for mobile devices
In the first phase, you'll be able to use the Field Maps mobile app to explore the maps you make in ArcGIS, collect and update your authoritative data, and track where you've gone, all within a single location-aware app.
We'll introduce the new Field Maps web app so that you can streamline the map configuration process in ArcGIS Online and ArcGIS Enterprise for your field deployments. This includes a single location to configure the maps you own:
Manage the offline mapping and data synchronization capabilities of your maps
Configure the properties of individual map layers
Create and modify feature templates along with their default values
Author new smart forms for advanced form editing capabilities
Preview and share maps before deploying them to your mobile workforce
Starting with all of the current data collection capabilities found in Collector, ArcGIS Field Maps will include the map viewing and markup capabilities of Explorer, and the location tracking capabilities found in Tracker.
Coming into the ArcGIS platform, starting with this release, is the ability to create powerful new smart forms using the Field Maps web app. Mobile workers can then use these forms in the mobile app to collect data and perform inspections in the field. These new smart forms will be stored within the maps you author so that as we build more editing capabilities across the platform, smart forms will appear in web and desktop apps as well.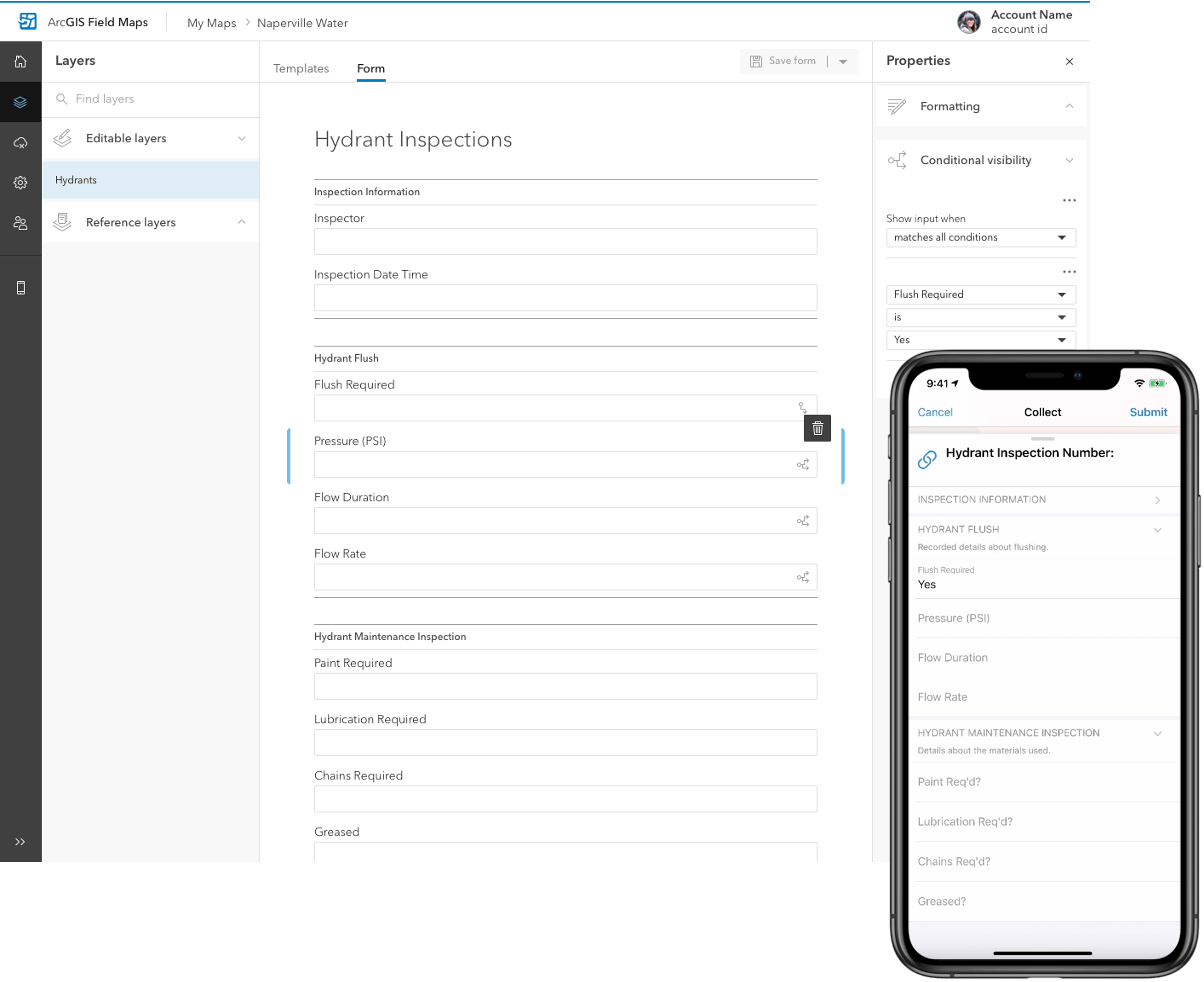 The first set of smart form capabilities will include:
Groups – a new form concept where you can sort and organize fields into a group that has a name and description. Groups collapse and expand, disclosing only the information you need to see.
Conditional visibility – apply logical expressions to fields so that you only see the information that needs to be filled out.
Required fields – specify whether or not the mobile worker must add a value to a field before submitting edits.
Using the Field Maps web app, you'll have an intuitive drag and drop experience for designing smart forms – one that includes the ability to preview the form before you deploy the map.
The beta program will be open to all Esri customers that have an ArcGIS Online subscription or ArcGIS Enterprise 10.6.1 or higher. 
Phase II – Workforce coordination
Following the initial release of ArcGIS Field Maps, we will introduce workforce coordination capabilities in Field Maps. The ArcGIS Field Maps mobile app will include a "To Do list" within the maps you use. If you are using integrations with partner applications, like Cityworks, to support work management activities with Collector today, please read the Q & A section below discussing partner apps and know that the app link scheme will be fully supported beginning with Phase I. Partners will be able to take advantage of new app link parameters as well as utilize the ArcGIS API for Python apps module. We do not have a release date set at this time.
Phase III – Turn-by-turn navigation
Starting with Phase I, you'll be able to launch consumer navigation apps like Apple Maps and Google Maps from the ArcGIS Field Maps app. Moving forward we will evaluate the advanced enterprise navigation capabilities of ArcGIS Navigator and consider it's inclusion as a new capability of Field Maps. We do not have a release date set for Phase III at this time.
We expect that you'll have lots of questions about ArcGIS Field Maps and we'll be writing many additional blog articles as we launch the beta program and start releasing new capabilities. However, here are a few things you should know right now:
Q. Does this new app take away any functionality that was previously available?
A. No! We are planning for feature parity between Field Maps and the apps that it is replacing along with many exciting new features.
Q. How does this new app impact the product road maps for the individual apps?
A. With Field Maps as the primary focus, all road maps lead to one product offering. You'll see many new features coming in ArcGIS Field Maps and with our centralized focus, our goal is to accelerate the pace of development.
Q. How does this affect licensing and pricing?
A. The short answer is that it does not. ArcGIS Field Maps does not have any additional license fee and will honor all current user types and their privileges. If you sign in with a Viewer user type, you'll see a list of maps you can open but not edit. If you sign in with a Field Worker user type, you'll be able to edit maps that support updates. If you sign in with a Viewer user type and the member has been assigned a Tracker premium add-on license then they can track.
Q. How does this affect ArcGIS Survey123, ArcGIS QuickCapture, ArcGIS Mission, ArcGIS Indoors and ArcGIS Earth?
A. All of the apps mentioned above will remain focused apps and will not be incorporated into Field Maps. Field Maps will support app linking, like the other field apps, so multi-app workflows that compliment the capabilities of ArcGIS Field Maps will be fully supported and examples of how to use app linking will be available.
Q. Will integration with partner and 3rd party apps be supported with ArcGIS Field Maps?
A. Yes! We are fully supporting integration using the Universal App Link scheme that we introduced into our apps. Please read the Collector App Link doc and/or the Explorer App Link doc to better understand how app linking works and if you are using a linked partner solution today, please reach out to your partner as well. In addition to app linking, we will bring forward app integration into the Apps Module with ArcGIS API for Python.
Q. What happens to existing field apps?
A. We recognize many customers have significant investment in our current apps and have created institutional knowledge supporting them – including training, help documentation, cheat sheets, and more. We are continuing support of Collector, Explorer, Tracker, Workforce and Navigator and will update these apps with strategic bug fixes when needed. However, all future enhancements for each app will be included in ArcGIS Field Maps only. We do not intend to introduce new functionality into the existing applications. We will announce retirement of existing apps in the future, however no official date has been set at this time. Retirement plans will be announced at least 6 months in advance so that you have time to migrate.
These are exciting times for Field Operations apps. We'll share out a link that you can use to join the Early Adopter program with our launch early in July. If you have any questions ahead of our beta launch announcement, please send inquiries to ArcGISFieldMapsBeta@esri.com.