ArcGIS Field Maps is Esri's premier maps app for iOS and Android devices and is now available on the Apple App Store and Google Play.
Simple map viewing and map markup, combined with high-accuracy field data collection capabilities and battery-optimized location tracking – ArcGIS Field Maps is the one app you need to deploy to your mobile workforce.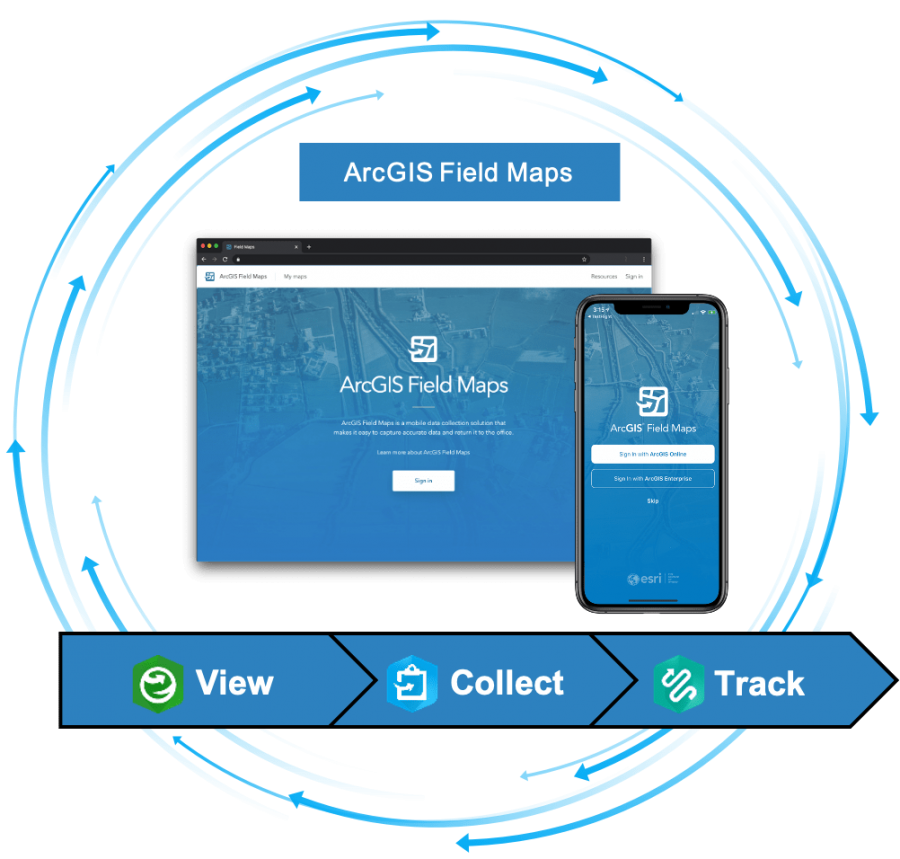 Bringing together the capabilities of ArcGIS Explorer, ArcGIS Collector and ArcGIS Tracker into one unified experience, ArcGIS Field Maps will simplify field deployments.
Maps
Maps come alive in the ArcGIS Field Maps app. Maps are interactive – you can touch them, you can show or hide layers of information, you can search for content, maps can update themselves, you can update them, you can navigate using them, you can download them, you can mark them up, and you can track your location on top of them.
Signing into ArcGIS Field Maps, you can open maps that you've made, maps that others have made and maps that have been shared with you.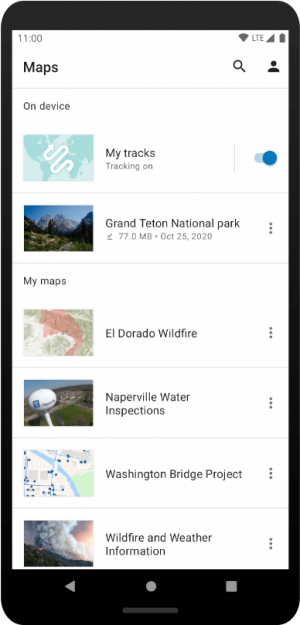 Map viewing and map markup
Powered by the latest release of the ArcGIS Runtime SDKs for iOS and Android, all of the latest map capabilities are available in ArcGIS Field Maps including advanced symbology, labeling, annotation, group layers, and pop-ups that include attribute expressions using Arcade feature sets.
With a comprehensive set of map tools, you can:
Download map areas when working in challenged network environments.
Use the GPS button to center your location on the map, rotate the map, navigate to a location, and view location details using the GPS banner.
Search the map for features, locations, or even by coordinates to find the information you are looking for.
Alter the display of content in your map using the Layers tool, Basemap tool, or the new floor filter tool when viewing maps indoors. YES, ArcGIS Field Maps supports indoor mapping as well!
Measure distances or areas in units that you need to see them in.
View information about features you tap on in pop-ups that include calculated attribute expressions using the Arcade expression language now with feature set support.
Navigate to a location or feature using driving directions or with the compass in your device.
Share your map with others to view and interact with.
Put your map into markup mode and add graphics into markup layers:
Drop markers on the map and make notes.
Add arrows to your markers.
Sketch lines and areas, change their color and fill area shapes.
Turn irregular shapes into circles or rectangles.
Markup is personal to you and your device. It is stored across maps and you can share it with others by text or email or as a graphics layer in your ArcGIS organization.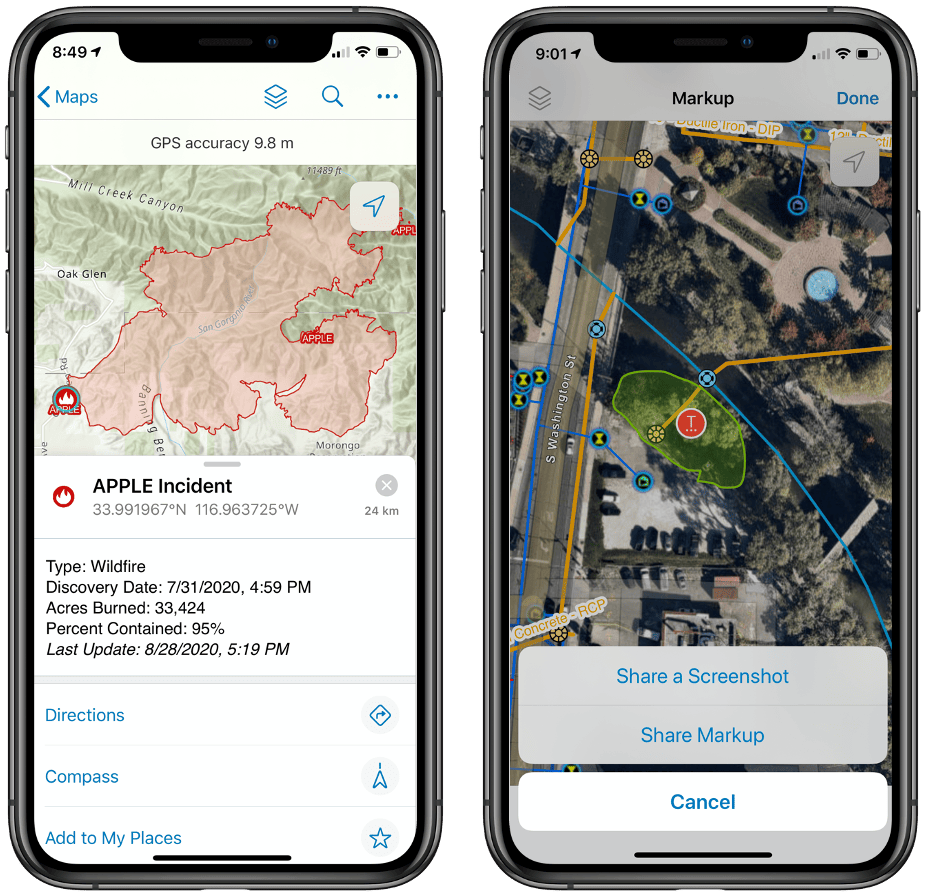 Collect data
ArcGIS Field Maps is the most natural way to collect information in a map. It supports your investment in building a strong information and transactional model. The hard work you spend creating datasets with relationships and defining data quality procedures resonates with information captured here.
In fact, moving forward, the forms you create are just stored in the maps you make and you don't need to go through data gymnastics to keep everything together.
Data collection in Field Maps includes:
A data dictionary built from the feature templates you create for map layers.
Support for wonderful new smart forms that can be applied to both layers and related tables to dramatically improve form data entry.
High-accuracy GPS data capture that includes capturing a point/vertex, averaging a point/vertex, and on-the-go GPS streaming capture for lines and areas. In fact mix all that together if you'd like.

Connect to external GPS receivers.
Define location profiles for real-time correction sources.
Store orthometric heights in the z value of a geometry.
Capture GPS metadata details for point features.
View details of the GPS connection source in the GPS banner.
Much more…

Map-based data capture and editing using a location target so you can accurately place locations that you can't access.
Capture photos, videos for not just features but rows in tables as well.
Enforce location integrity by snapping during construction. Now on both iOS and Android platforms.
Update the information about multiple features at the same time. Now on both iOS and Android platforms.
ArcGIS Field Maps is the best solution for inspection workflows as well. Tapping on an asset, not only can you complete an inspection report but you can view previous inspections that were completed on that asset.
ArcGIS Field Maps supports a versioned transaction model as well so that you can manage change using the foundational principles of ArcGIS.

Track locations
Sharing your current location and recording where you go can greatly improve operational awareness for your entire workforce and provide needed proof of work for a variety of different workflows.
ArcGIS Field Maps leverages the new location tracking capability of ArcGIS to broadcast your last known location every 60 seconds and maintain a breadcrumb history of tracks for historical purposes.
Using the motion detection capabilities of your iOS or Android device, ArcGIS Field Maps conserves battery life by only using location when you are in motion. Field Maps will capture locations based upon the type of activity you are engaged in. When walking, it will capture a location every 5 meters, when driving every 10. Your mode of activity is stored along with GPS details so you can analyze motion behavior as well as visualize tracks.
With an ArcGIS Tracker license assigned, mobile workers can turn on tracking from a special map card added to your list of maps or directly from the GPS bar in the map. Using the Layers tool, you can turn on tracks so that you can see where you have gone.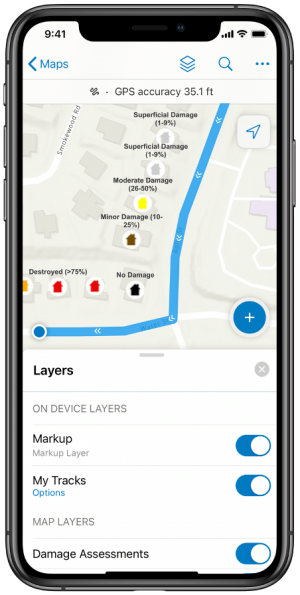 What's Coming Next
This is the first release of ArcGIS Field Maps. Our next update is planned for December 2020 where we will release the ArcGIS Field Maps web app along with updates to the smart forms capability, tracking, and much more.
Part of a much larger strategy, ArcGIS Field Maps will grow considerably in 2021 to integrate the work management capabilities of ArcGIS Workforce and the enterprise navigation capabilities of ArcGIS Navigator.
For more information about ArcGIS Field Maps please read: