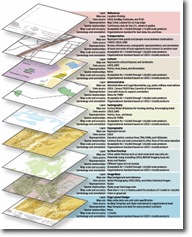 What role do you expect a base map to play in your GIS?
Some say, "The base map is the part of the map I don't have to make." To that, I say, who should make it, who will use it, and what will they do with it?
Today a wide variety and diversity of base maps are proliferating with emerging Internet technologies such as mash-ups on Google Earth, ArcWeb Services, your own ArcGIS Server maps, etc. Our intent is to consider, or depending on your perspective reconsider, the functionalities that a base map, particularly a GIS base map should have. Are all these new base maps what you need?
Should or has role of a base map evolved? If so, is it a lasting change or is change the only constant in the world of GIS base maps?
Are there different kinds of base maps? For instance it's not a big stretch to see that demographic and topographic base maps are useful as cartographic base maps. What other kinds of maps do you map that need yet a different sort of base map?
A geocode-able street centerline dataset and a terrain dataset serve essential functional roles in a GIS base map and also support the creation of other data and map products. Are there other fundamental datasets you rely on?
These are all questions that warrant discussion. We at Esri would like to get your perspective; answer any of the questions posed, or pose your own.
Commenting is not enabled for this article.