ArcGIS Earth continues to evolve and advance, and this year's release is the most significant yet. ArcGIS Earth 1.9 includes the following new developments: enhancements to legacy KML/KMZ file types, support for 3Dconnexion SpaceMouse for 3D navigation, improved usability, and localization in three additional languages.
ArcGIS Earth requires no knowledge of geographic information system (GIS) technology. Users can easily create, discover, and share data. For example, non-GIS professionals in defense and intelligence agencies can use ArcGIS Earth to
Manage forces for critical mission planning.
Evaluate intelligence information.
Search for and display critical infrastructure.
Develop graphic presentations for briefings and presentations.
Provide research support.
ArcGIS Earth provides the flexibility to access multiple file types including KML, which is used in many standard workflow patterns across government agencies and all levels of educational institutions. In ArcGIS Earth 1.9, users can manipulate the refresh rate properties inherent in KML files containing network links. This is a key requirement for users in organizations where KML files are linked to URLs, local drives, or file servers through the network. Users can now set time-based and view-based refresh settings for these types of files.
The new release also enables the display of hyperlinks and snippets in the table of contents for KML/KMZ files. One of the examples in the video below shows the National Flood Hazard Layer (NFHL) developed by the Federal Emergency Management Agency (FEMA) and other partners. The layer contains information used to make flood hazard maps. Users simply drag and drop the file into ArcGIS Earth or just double click it. Once the file is loaded, users click the blue hyperlink in the table of contents to open related HTML content. This works the same way with all KML content. We will continue to enhance the KML user editing experience in future releases of ArcGIS Earth. Take a look at this short video to see how easy it is to use these new KML features in ArcGIS Earth.
ArcGIS Earth users already have the ability to adjust the transparency of raster files, shapefiles, and feature services. In this release, we have added this functionality for KMLs. Simply drag the slider to increase or decrease the transparency of the KML file. It even works on your time series KMLs as shown in the example below.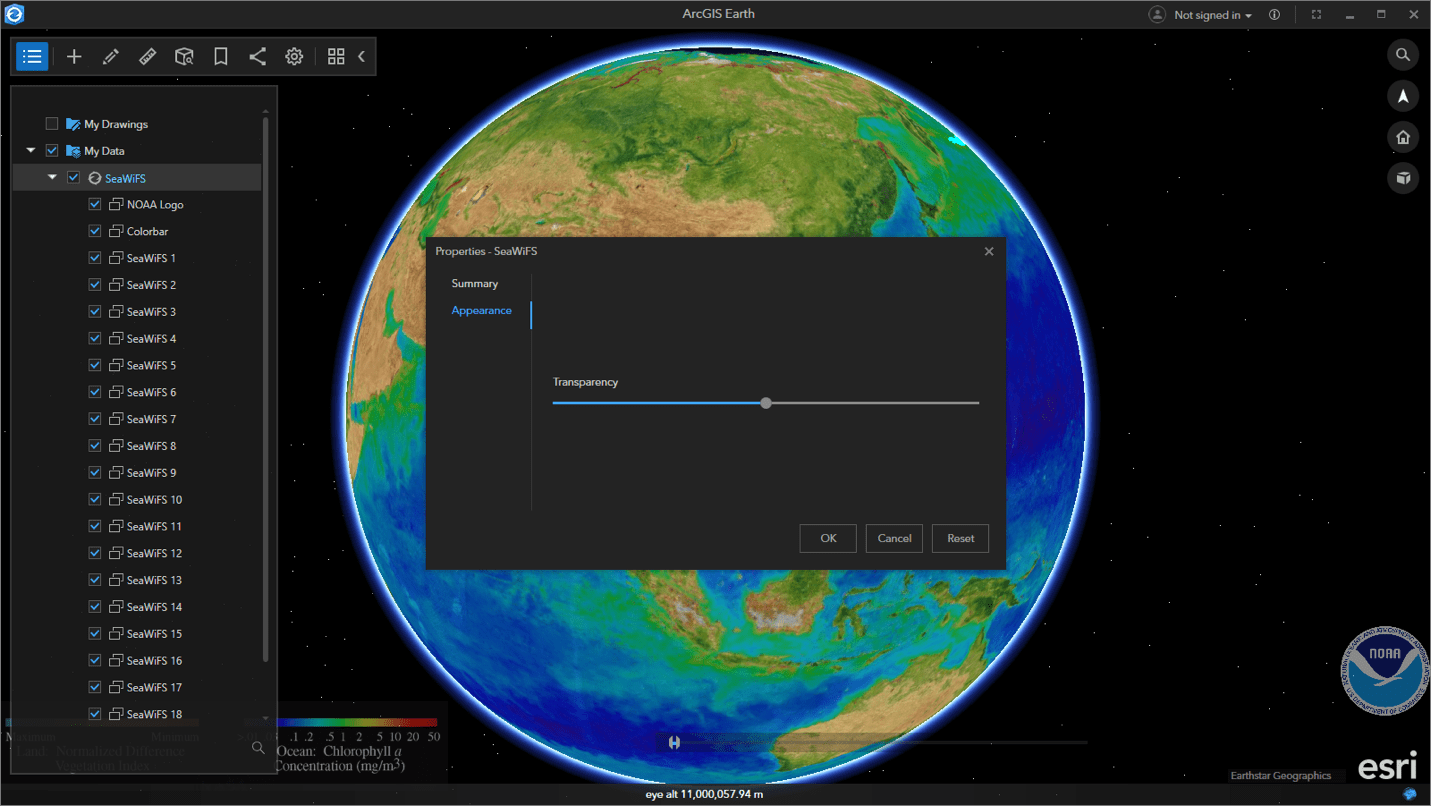 ArcGIS Earth continues to add new data types for users to access, and in this latest release, ArcGIS Earth will also consume the popular MrSID file format developed by LizardTech for raster file types, such as orthophotos. The ability to adjust the appearance is integrated into the MrSID format.

ArcGIS Earth 1.9 is now localized and available in Japanese, Polish, and Russian, with additional languages to come. Users can change the display language of the user interface text from the application settings. Administrators can also preconfigure the language parameter from the admin config file at installation. The default value for the language parameter is "System," which means ArcGIS Earth will match the Windows display language setting by default by default. Please let us know via our feedback channels if you would like ArcGIS Earth in your language.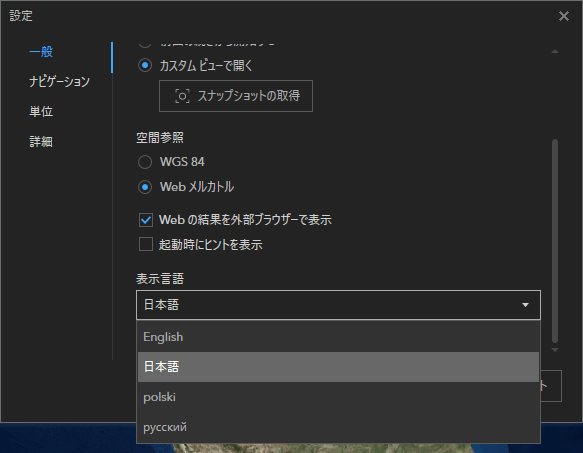 Additional enhancements to ArcGIS Earth 1.9 include the following:
Improved usability for the pop-up window:

Allows users to maximize and restore the pop-up window
Displays customized pop-up content configured for a portal
Displays a pop-up window while playing a KML tour

Support to automatically save workspace
Support to identify feature collection
Indicator to show data is still loading or rendering
Login process enhanced with PKI authentication, especially via Oracle Access Management Servers
Support to add a WMTS layer with a custom tiling schema
Support to group layers for web scene
Support to search addresses with a custom locator
Support to handle different decimal separators when importing a CSV/TXT file
Enhanced highlight effect for selection
ArcGIS Earth is frequently used by non-professional GIS users in the field and office who need to rapidly add, inspect, and share information on the ArcGIS Earth immersive 3D globe. ArcGIS Earth is available in both desktop and mobile platforms (Android and iOS) and can securely access data from the Esri Geospatial Cloud via ArcGIS Online and ArcGIS Enterprise.
What else can you do with this powerful, lightweight app? Here is a list of some core features and capabilities of ArcGIS Earth:
Lightweight and easy to use
Secure

Authentication includes built-in security, IWA, PKI, SAML, Kerberos
Configurable installation
Easy deployment across large organizations

Use file-based nonstandard workflows and combine with KML
Access services and open standards
Easy access to Esri Geospatial Cloud
Add web scenes and web maps
Sketching and markup
3D models
Geocoding against ArcGIS Online and ArcGIS Enterprise
Interactive tools such as Line of Sight and Viewshed
Bookmarks
Multiplatform

Desktop
Mobile (Android & iOS) is currently in beta; look out for our release in Summer
Download ArcGIS Earth 1.9 today and send us your feedback as we continue to refine tools for the non-GIS specialist.
Commenting is not enabled for this article.