ArcGIS Earth 1.6 focused on expanding the range of workflows that users can accomplish with Earth to allow more enterprise productivity.  The release of ArcGIS Earth 1.6 enables users to batch geocode address files against ArcGIS Online, adds local raster and 3D model insert support, and opens the possibility to start to integrate Earth with other applications on a user's machine.  Earth also continues to grow the range of configuration that can be defined during the setup and installation process. Let's take a look at what's new.
New Data Support
3D Models
Local Raster Imagery
New Functions
Ability to batch address geocode against ArcGIS Online
Ability to organize startup layers into groups
Updated pop-up editor for drawing elements
Ability to turn off automatic calls to ArcGIS Online for secure environments
Enhancements
Improved UI/UX for CSV and TXT files
Ability to select multiple fields or single field for batch geocoding
Ability to rematch failed geocoding address items
Improved configuration for pop-up content with CSV and TXT
Improved color picker for drawing elements, CSV and TXT, and shapefiles
More icons and a new loading data indicator
New Automation API
Ability to control camera navigation and fly animations, including get camera information and set camera position
Ability to control data operations including add data and delete layers from workspace
Ability to take a snapshot of the view
In the 1.6 release, users can now add 3D models including:
3Ds Max 3DS (.3ds)
Collada (. dae)
Autodesk (. fbx)
AutoCAD DXF (.dxf)
Wavefront Object (.obj)
DirectX X (.x)
Stanford Polygon Library (.ply)
Stereolithography (. stl)
Industry Foundation Classes (IFC/Step) (.ifc)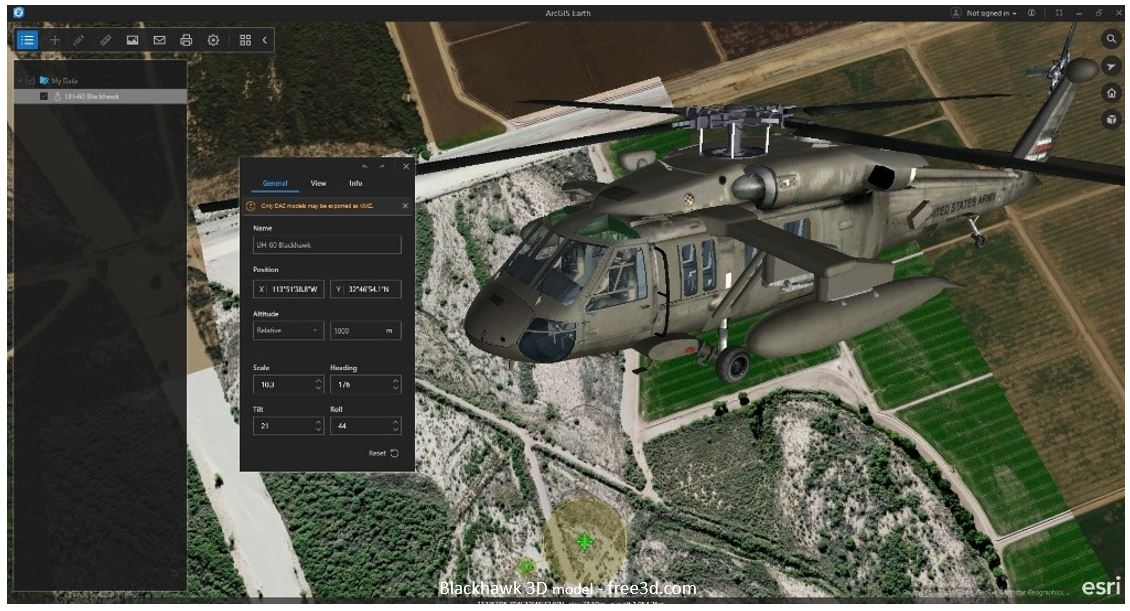 Like other content added in ArcGIS Earth, the 3D model is inserted into the Table of Contents. There it's properties can be edited in a similar manner to ArcGIS Earth's draw features using the General, View, and Info tabs.  A 3D model's name, position, altitude mode, scale, heading, tilt, and roll properties can all be configured under the General Tab. The View tab allows users to set the fly-to view as well as reset to center, while the Info tab allows the user to type in descriptions. With 1.6 the Info tab has been made even more user-friendly allowing the use of Rich Text or HTML that will be displayed as a pop-up window when the model is clicked.  Users can get very creative with this feature and convey cool and interactive information! Users will also be happy to know that ArcGIS Earth is begging to support exporting models to KMZ, beginning with COLLADA (*.dae)!
New raster data types have also been added. These include:
*.img
*.tif
*.png
*.dt0, dt1, dt2
*.jpg, jp2, j2k
*.hgt
*.ntf
*.gen


These new raster data types can be added as a service or as a local file. Once added to ArcGIS Earth, users can adjust the raster's appearance by changing the transparency, brightness, contrast, and gamma values – capabilities already provided in ArcGIS Earth with image services. Users will also be able to choose and include these raster datatypes as basemaps!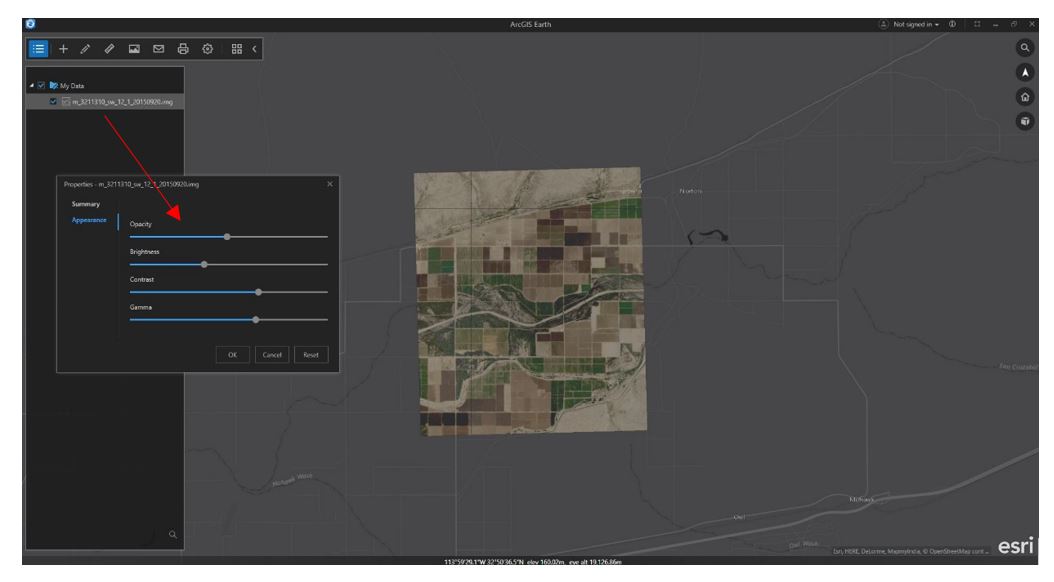 ArcGIS Earth 1.6 also makes it easier for administrators. By adding start-up layer groups to ArcGIS Earth's config.xml file, organizations with large amounts of data layers can now be categorized in the TOC. Earth's config.xml allows administrators to preset many of ArcGIS Earth's settings. For users behind a firewall, ArcGIS Earth 1.6 includes the ability control ArcGIS Online requests when ArcGIS Earth is launched, grant access to API functionality and new with 1.6, enable authenticated postionURL services (a parameter that allows admins to enter a URL with encoded values that will be recognized by Earth).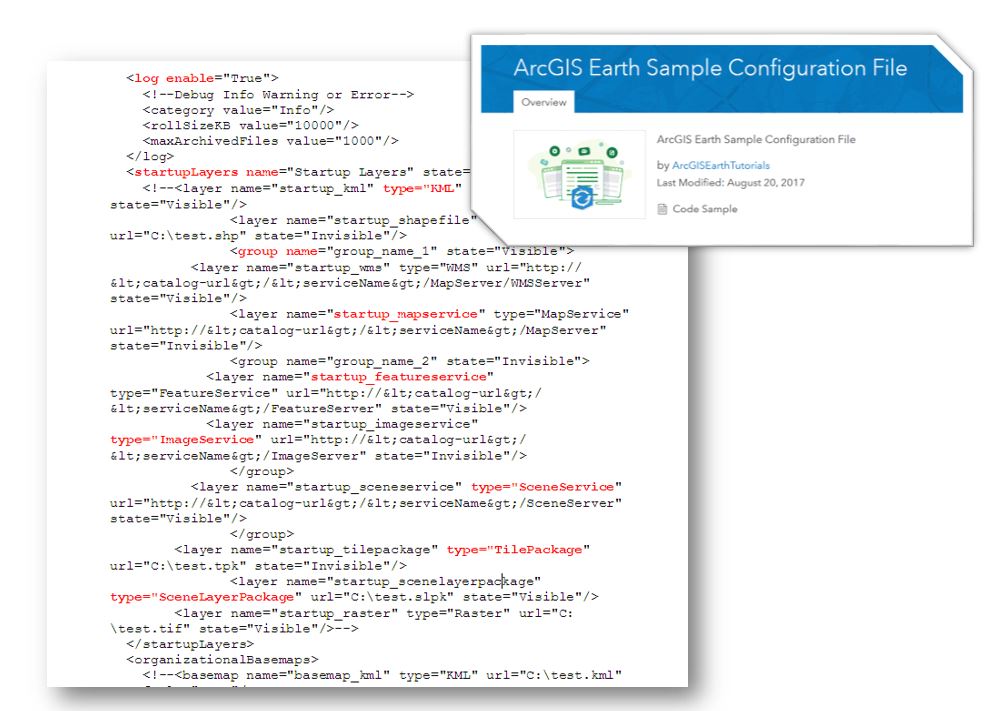 In ArcGIS Earth 1.6 you can use portal geocoder and world geocoder from ArcGIS Online during CSV/TXT geocoding. When searching in ArcGIS Earth, users can always use any geocoder from the portal. Also with ArcGIS Earth 1.6 are UIUX improvements for CSV and TXT files. Importing CSV/TXT includes the ability to select multiple fields or a single field for batch geocoding, as well as the ability to rematch failed geocoding address items.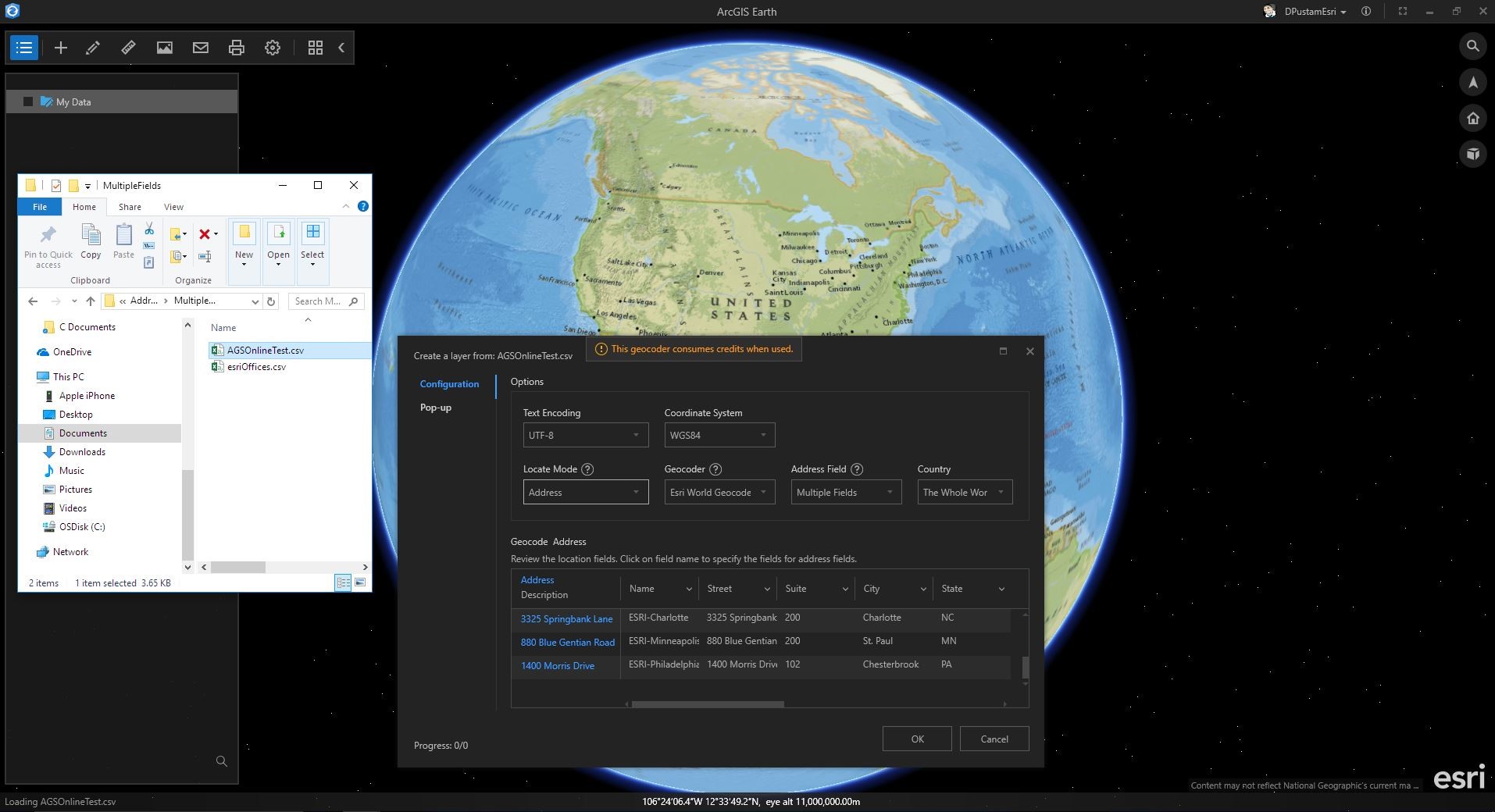 Additional user interface improvements include an improved color picker and new icon options for CSV/TXT as well as drawing elements and shapefiles.
Our user community is growing and has been providing some great feedback – Please keep them coming!
Download and try out the new features and much more with ArcGIS Earth 1.6 today!
Commenting is not enabled for this article.