The prerelease for ArcGIS 10.7 is now available, which gives a glimpse into the final release which will be available in a few months. For more information on the scope of prerelease, please visit the overall blog post here: Prerelease for ArcGIS 10.7 Now Available in My Esri.
As you explore the new features and functionality in the product, you will notice ArcGIS Enterprise 10.7 uses user type licensing, as released in the December 2018 update to ArcGIS Online.
Below is a list of user types at 10.7, each of which have certain capabilities (what they can do in the system) and applications that are included with their user type: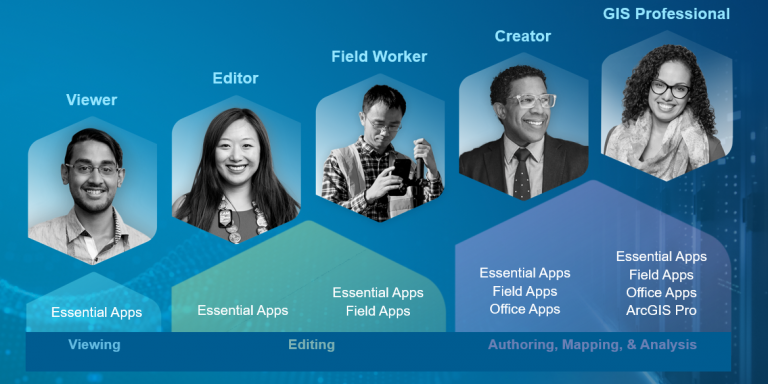 A Viewer is functionally equivalent to a Level 1 Named User and a Creator is equivalent to a Level 2 Named User. 
More information around user types – what they are, how to use them, and more – will be provided around the 10.7 release. However, keep in mind that for prerelease, you will only have the option to license Viewers and Creators. Once ArcGIS Enterprise 10.7 is generally available, you will have full range to license any user types and add-on applications your organization has purchased.
If you are responsible for licensing users in My Esri, the rest of the blog is for you. There is a new and improved workflow for licensing in My Esri, so make sure you are familiar with the steps below to know where to get your licenses!
When you are ready to license, head to MyEsri.com and log in (be sure you have the right My Esri permissions to see the licensing page).
1) Navigate to My Organizations > Licensing.
2) Under the left navigation, select 'License Esri Products' under the Licensing header: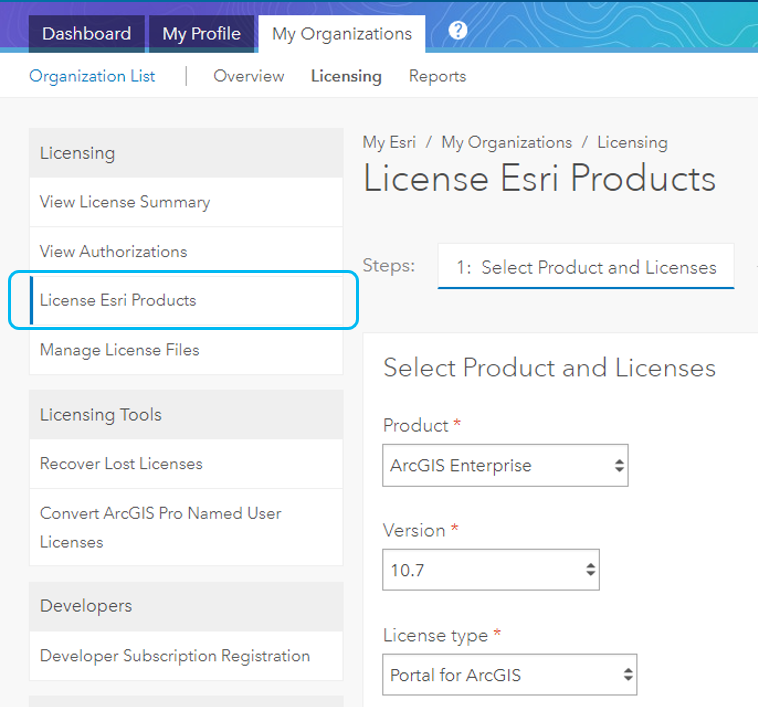 3) Under Step 1, select the following:
Product = ArcGIS Enterprise
Version = 10.7
License type = Portal for ArcGIS
Proceed through the notice that all licenses must be included in this file, including all of your users and add-on applications. For prerelease, you will only have the option to license Viewers and Creators.
4) Under Step 2, select the amount of Viewers and Creators you want to license. You must select at least one Creator to use as your administrator (on top of the rest of the Creators you want to use in prerelease).
5) Proceed through the steps to generate your license either by download or email.
Note you will license the ArcGIS Server component just like before – that's server roles like GIS Server, Image Server, and extensions – as applicable. Head to the Licensing tab > License Esri products to walk through the ArcGIS Server workflow.
When installing ArcGIS Enterprise, you will be asked to provide both the Enterprise portal license file (.json) as well as your server authorization file. The Enterprise portal license file (.json) will include all of your user types. If you are installing using the Enterprise Builder, you will be asked to provide the portal license file during the web/browser configuration rather than the wizard.
If you have any questions, please reach out to your Esri Customer Support representative. If you have any feedback on the My Esri experience, please post your question/comment on the My Esri GeoNet page.
Enjoy prerelease!
The ArcGIS Enterprise team