Public input helps local leaders better understand the challenges facing the communities they survey. Understanding the dynamics between place and people is especially important, given that most public projects and plans have a geographical component.
To help community-based organizations reach public audiences online, ArcGIS Hub now includes a new map focused survey design that makes it easier for the public to input geographic data using full-screen, mobile responsive maps.
Map focused survey design
When taking a map survey shared through your Hub sites, respondents can open and close the questions panel both on desktop and mobile devices to get a full-screen view of a map that they can mark with a point, line, or area (polygon).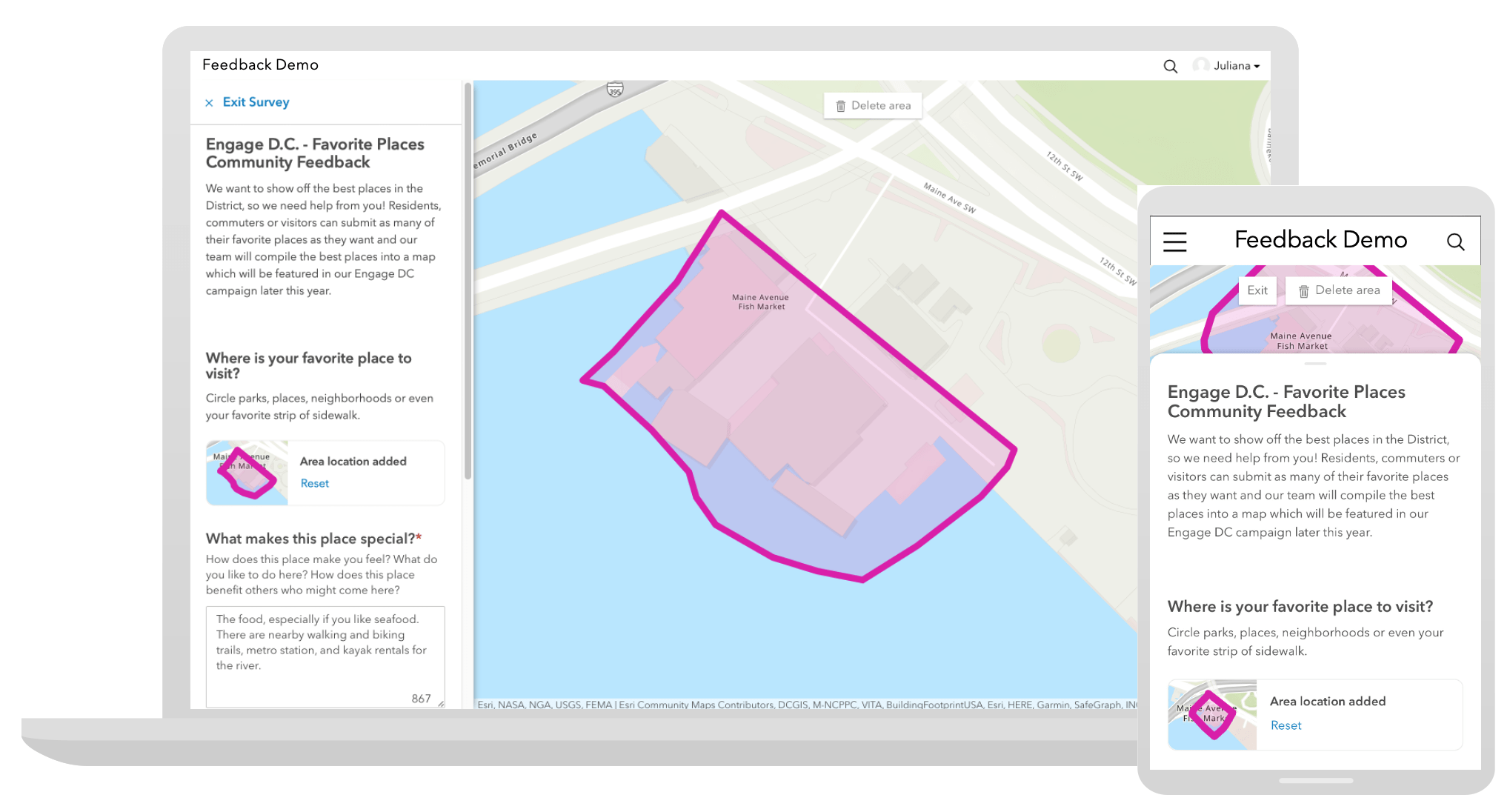 These new map based surveys aren't only easy to fill out, they're easy to create. Using the new Map Survey template, you or a colleague on your team can activate a pre-designed map based feedback form in a single click.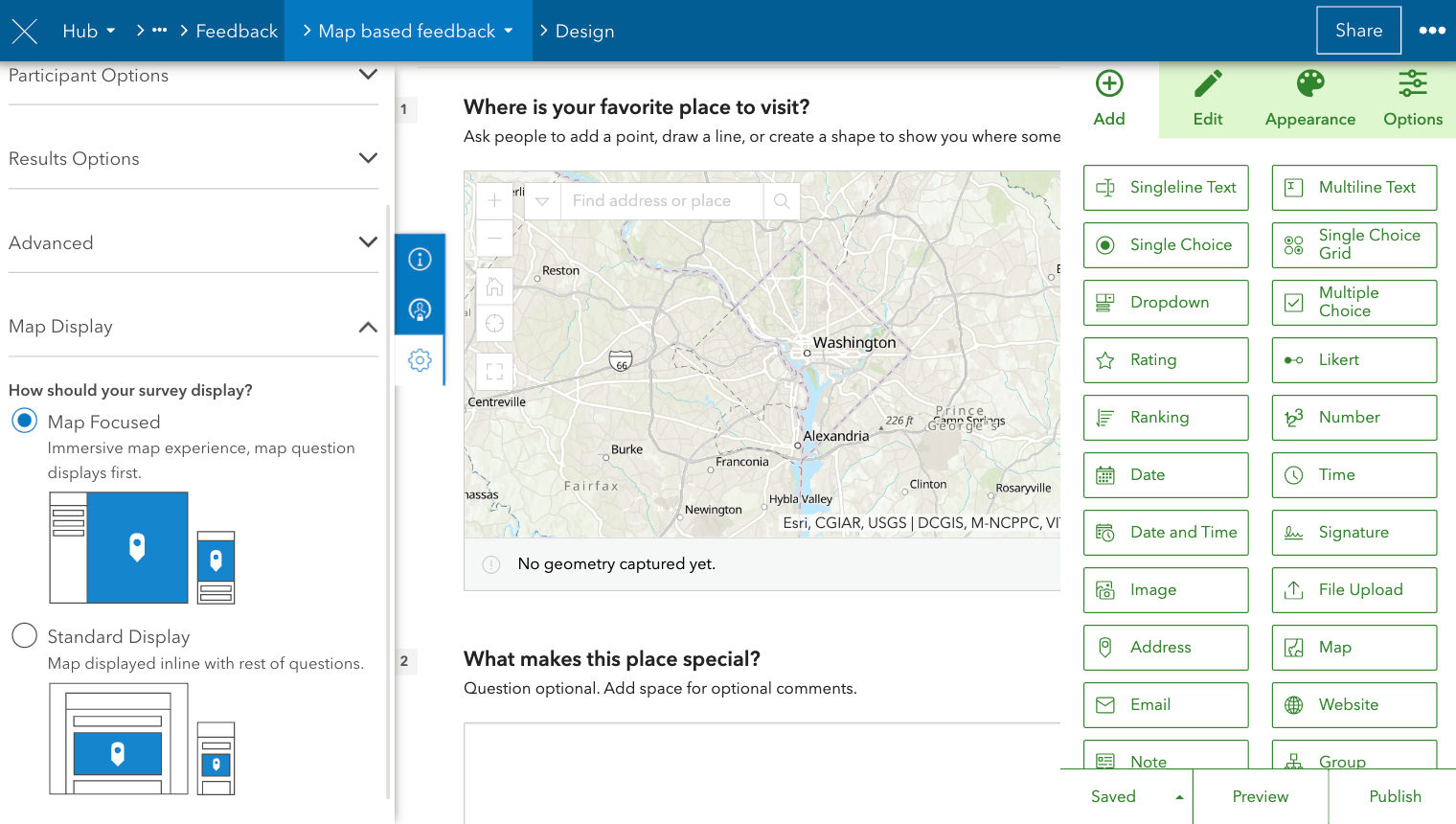 On all newly activated Map Survey templates, the Map Display setting is automatically set to Map Focused, an optional display that can be turned on or off for any survey that has a map question. Map surveys that aren't using the new map display appear in the standard Survey123 experience.
Already have a map based survey and want to make it full-screen? You can enable the new Map Focused display at anytime.
Get started with templates
Speaking of templates, we've added a couple of pre-designed surveys to help you create polls and questionnaires. Each template includes a handful of tips to help you customize your design.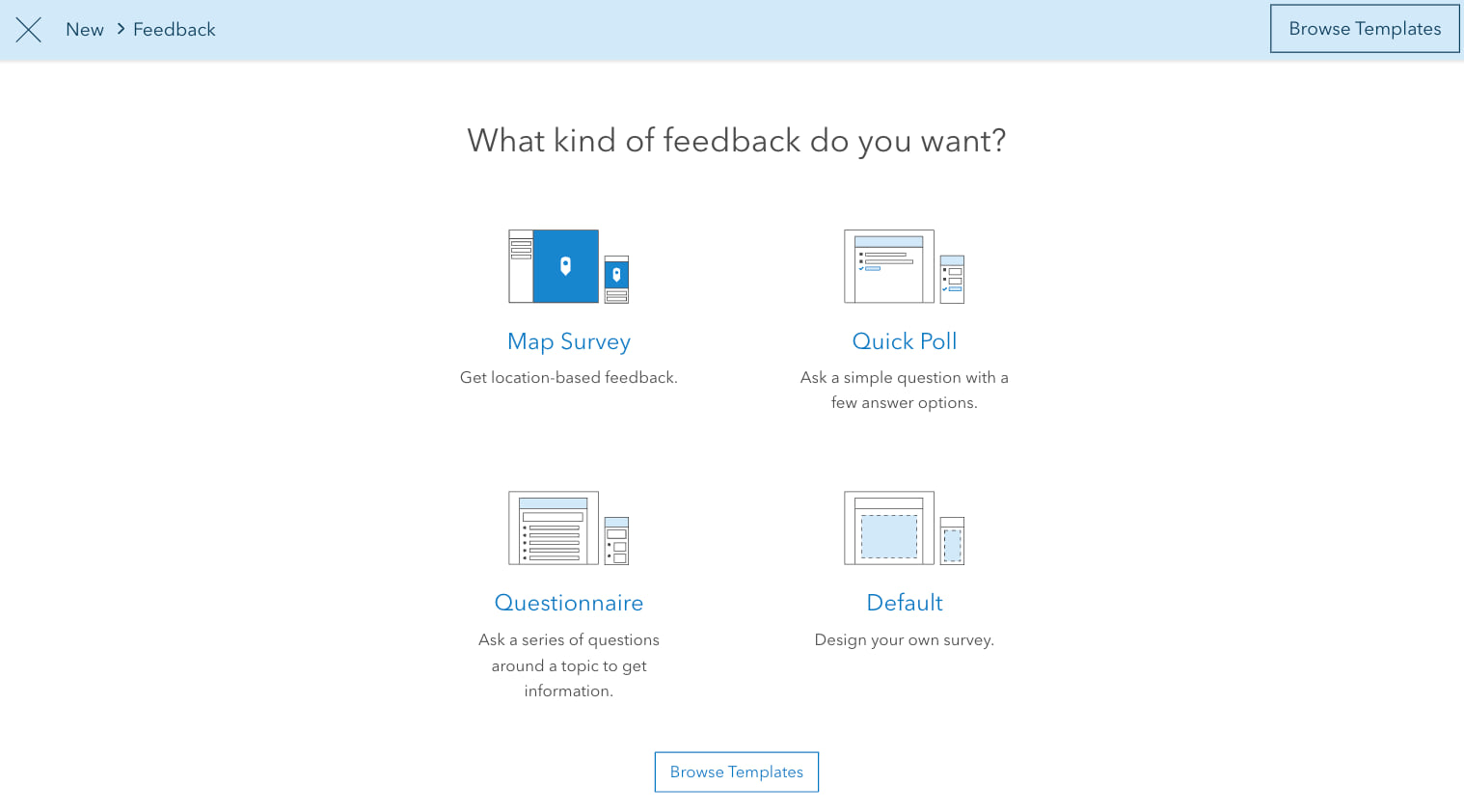 You can also browse templates created by other members of your ArcGIS Online organization and the public to design surveys that are in line with internal or industry patterns of practice.
Share surveys with your target audience
We've also incorporated the sharing controls used throughout ArcGIS Hub into the survey editing experience. Now, you can more easily grant edit and view access to a survey form by selecting stakeholder groups, such as a team or event attendees, all members of your organization, or the public. You can also control which audiences have access to view a survey's results.
Since each survey includes a Survey Response feature layer in ArcGIS Online, data remains secure and accessible for use across your organization's applications, such as dashboards and web maps. You can also use the chart card, available in the site editor, to quickly convey key insights using a variety of chart types.
Additional resources
To help us guide the direction of map based feedback in the future, we want to learn more about how you might use map surveys and what you'd like to see from them in future releases. Add an idea with the 'surveys' label to the  ArcGIS Hub Ideas Board in Esri Community to let us know what you think. Questions? Comment below and we'll be happy to help!