Effective and prompt communication, in whatever organization you work, is the key to establishing trust amongst stakeholders. While critical, it is not always easy to find a secure digital space for fostering open dialogue among team members. A space that supports exchange of ideas, gathering feedback and do collaborative work on shared goals. We have been hard at work building a feature that does just that!
ArcGIS Hub Premium customers are now equipped with a new capability called discussions that provides a secure space within Hub to collaborate and engage with your stakeholders.
What are Hub discussions?
Discussions is an ArcGIS Hub Premium feature that allows members in a team to have threaded conversations around a piece of content shared in their Hub site. No matter which type of content you share, a web map, geospatial dataset or even a PDF document, discussions can be used to generate new ideas and collect feedback to make positive impact in your community.
With this new capability, team members can have focused, private conversations within the product eliminating the need for communication tools outside of Hub.
So, what sets Hub discussions apart?
Discussions in Hub are geographically aware. This means you can now share maps and discuss them with your team! Equipped with key tools such as drawing and location selection, participants can add geographical context to their posts and replies. Be it finding the location for a new neighborhood park or collecting feedback on proposals for a new development in your community, you can use discussions in Hub to engage on topics that matter most to you.
The most effective teams are comprised of members with diverse experiences and abilities. Which is why with discussions, we strived to ensure that everyone can utilize the strength of  maps and data in a way that seamlessly fits into everyday conversation.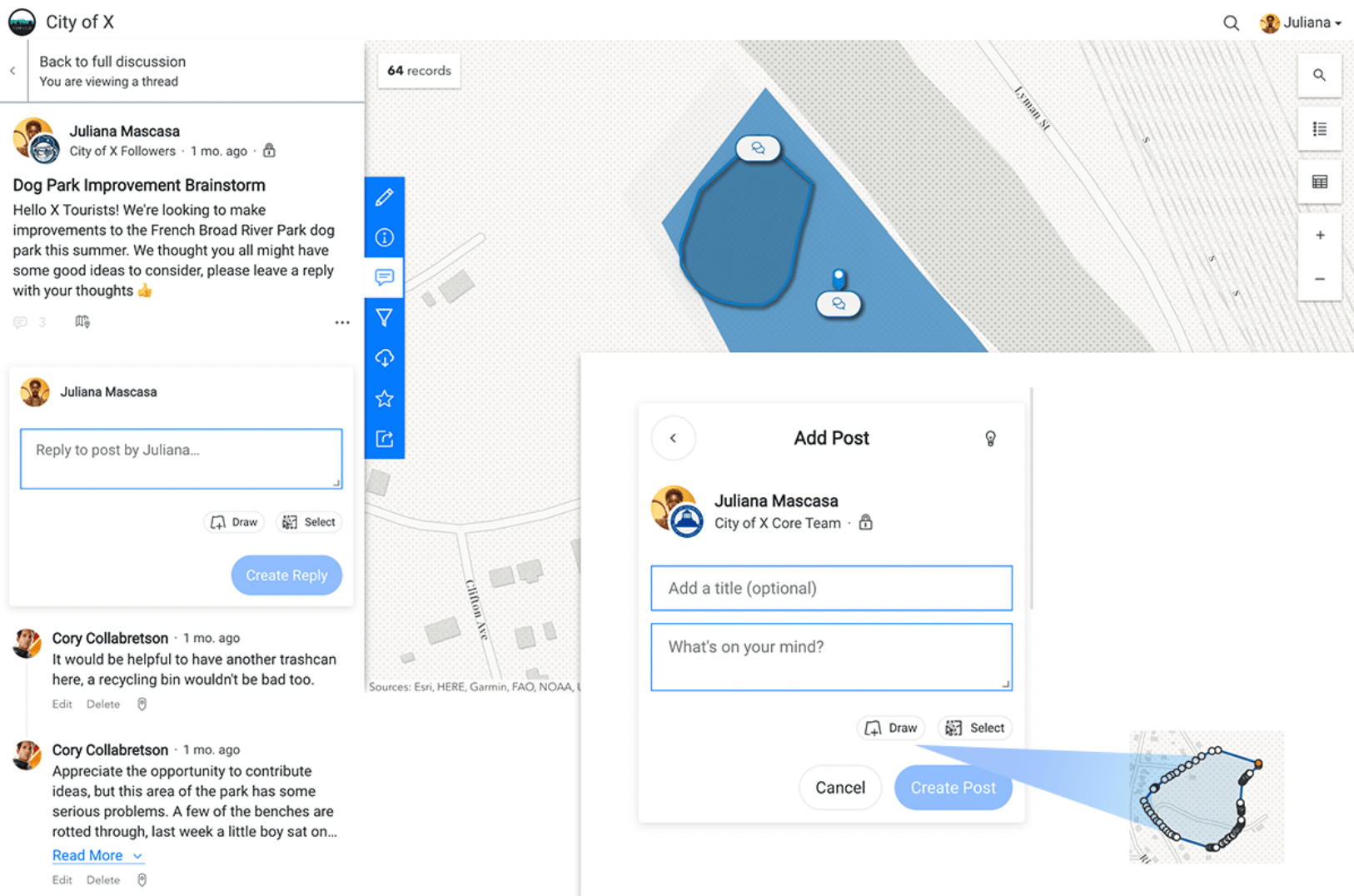 When can you use
discussions in Hub?
ArcGIS Hub Premium customers can start exploring discussions in the product today! Our customers have strongly requested this capability to enhance their current engagement and collaboration efforts and we are excited to bring it to you!
Road ahead for discussions
While discussions will certainly heighten the ease of establishing patterns of engagement, it is only the beginning!  We have steady efforts going on to build tools to help you manage and moderate your engagement needs, both internal and external.
Read Getting started with Hub Discussions to learn how to launch and manage your first discussion in Hub!
For additional resources, visit How Hub Discussions work and FAQs.