Clear communication is essential to any organization, whether a non-profit, local government, large company, or small business. Optimal use of ArcGIS Hub means access to the right information, the right people, and a framework that supports their interaction. This includes effective ways to work with content items, which are often the building blocks of a site, driving its design and function. Hub has great tools for content-related work and a multitude of other tasks involved in setting up stellar sites. 
Look right inside Hub
But to communicate about content items, do you go outside of Hub? This can hinder involving your team in secure and efficient ways. And you may have found yourself pulling screenshots or long explanations out of Hub just to ask a question. It can be faster and more accurate to just point to the thing. 
Now you can do that right inside of Hub. The ArcGIS Hub team is excited to introduce a fresh, new way to communicate. We'd like to introduce discussions, a feature that enables groups to have private, content-based conversations within the application. Discussions is available to customers with a Premium license.  
Find the newest way to connect
Many of you know that the heart of good teamwork is people communicating and working together. This is the core of discussions, making it easy to hold flexible conversations around a common cause. This new tool can provide the means for important connections within your Hub site.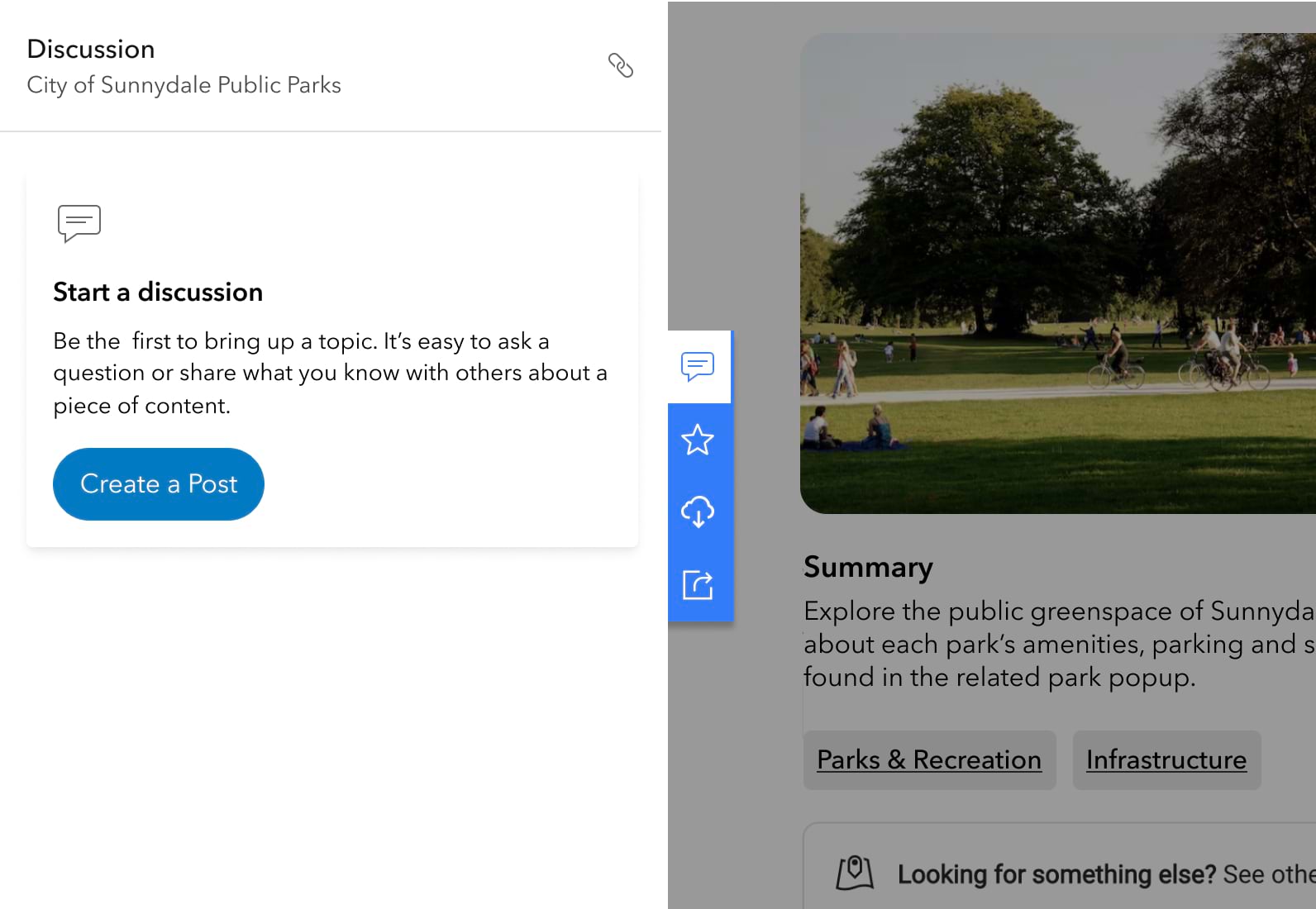 Discover key features
With discussions, stakeholders from your employee and community organization can work in Hub groups (teams) in focused, organized efforts. You can quickly start discussions with staff and trusted community members about any content item. That includes maps, images, spreadsheets, PDFs, datasets, surveys, and more. And when you post to any of your groups, only other group members will see it. Your communication is secure, expedient, and close-by the content it references. 
You should also know that a discussion can be spatially-aware and take place right on a map. Using maps as the setting can greatly enhance discussions around places and spaces. Read more about this at number 1. below. Discussions also gives you the ability to notify other group members via email by using @mentions. Just type '@username' in a post or reply to alert others that something needs attention and ensure that nothing 'gets lost' in conversation.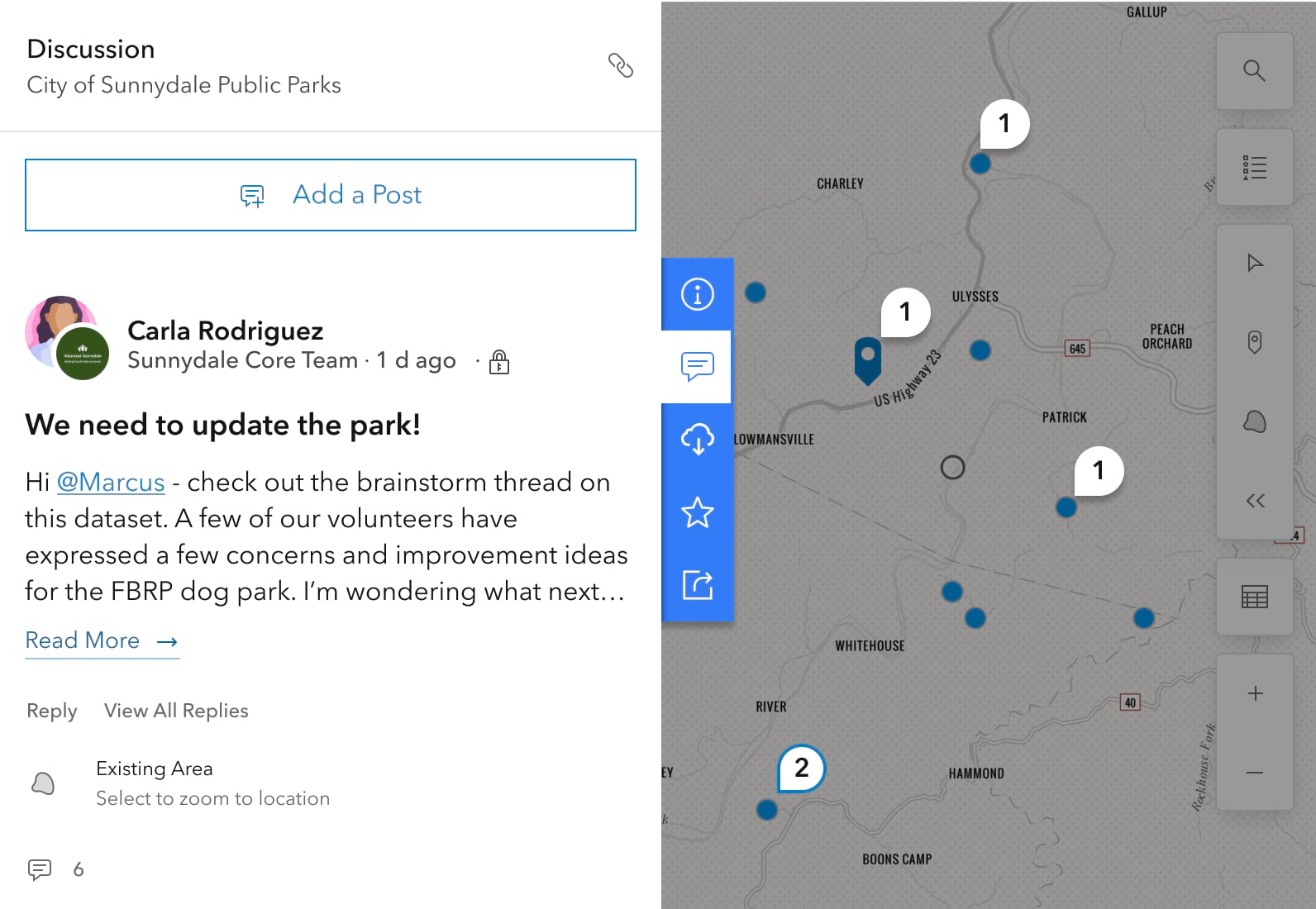 See how discussions
works
We foresee a multitude of uses for Hub discussions. You can see how this tool can assist your organization in the overarching ways below, with examples for each. 
1. Unleash the power of maps
Hub Premium users can leverage maps with discussions in unique ways.  Map-based items may be your most evocative content. When explaining where something is, it's often easier to point to a map. With discussions, you can connect a post or reply to a feature on the map, such as any point, line, or area. This allows you to identify which line of trees, how far between bus stops, or where in the warehouse district. Selecting locations is currently available on desktop-only for "dataset" type items. You can also draw custom shapes to pinpoint a location or outline an area, to add to a post. Either way, bring geography into the conversation, with precision and ease.  
Use a map to plan a corporate event or community bike ride. 

 

Act quickly during a natural disaster to coordinate volunteers, distribute supplies, and so on. 

 

Update and improve tabular or geospatial data, such as bike routes, parks, and more.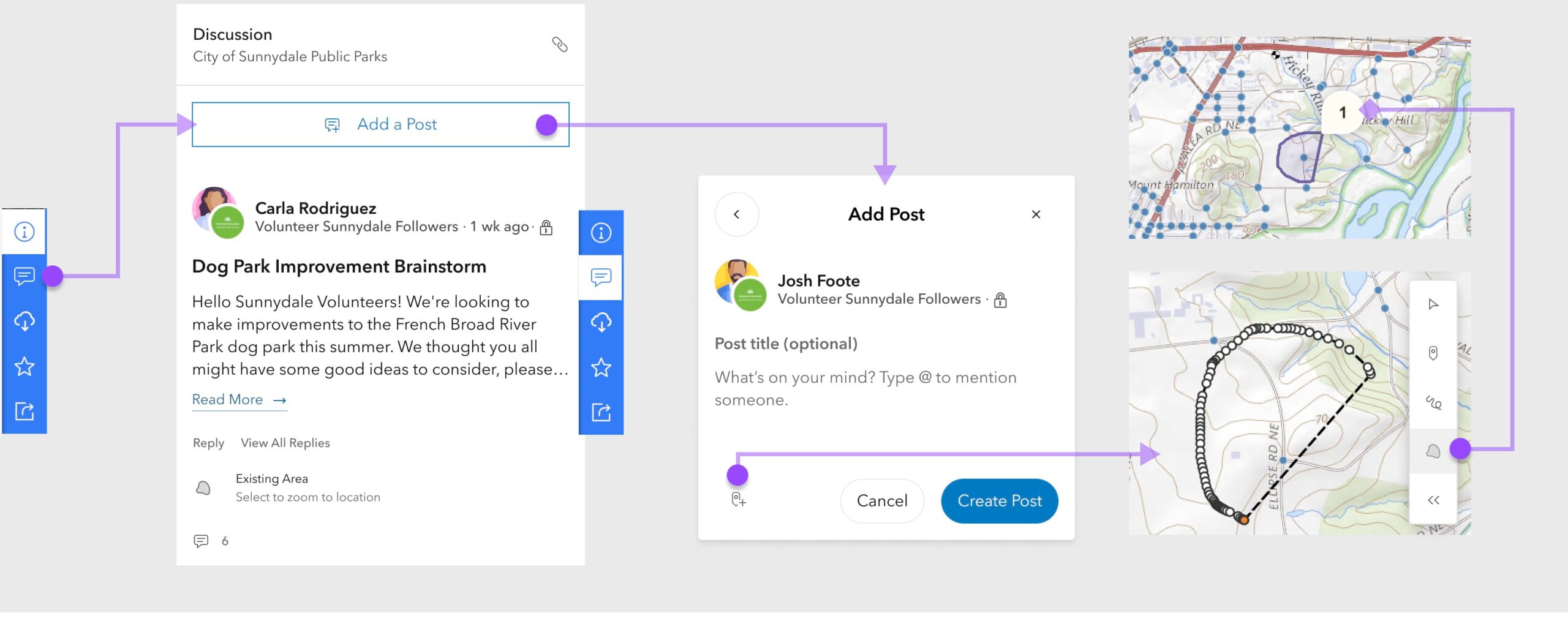 2. Have more meaningful
conversations
,
interwoven with items of content
With discussions, it's not necessary to leave Hub to send a message via email or other tool. You can fold discussions into existing Hub workflows, to generate dialogue and enrich your projects. Work with a colleague to review the same item of content and discuss needed changes or approval. No need to link to external files, or otherwise go looking elsewhere.  
And the @mention function mentioned earlier, can keep a discussion rolling along. When you're away, you will receive an email notification if someone 'mentions' you in a Hub discussion. Use this feature to ask a question, give feedback, or notify others of new replies in an evolving group discussion. The email notification will contain a link so you can jump directly to the post or reply and continue the conversation. With discussions, there's less 'back and forth' among applications to get work done. 
Revise part of city or county code alongside relevant web maps.

Collectively evaluate survey results using a map with your group.


Review an economic development proposal or zoning change. 
3. Connect internal and external stakeholders
Discussions can foster exchange of ideas among departments and involved citizens. It is based on content items used by a variety of internal units and community members, and so can help connect people across organizations and public spheres. In short, gathering people to collaborate from in- and outside your organization can bring a wider range of perspectives and expertise. 
Respond to a public health crisis with data-driven speed and strategy. 

 

Engage stakeholders in dialogue on a policy, strategic plan, or logo.

 

Discuss a report on a program for local and minority-owned businesses.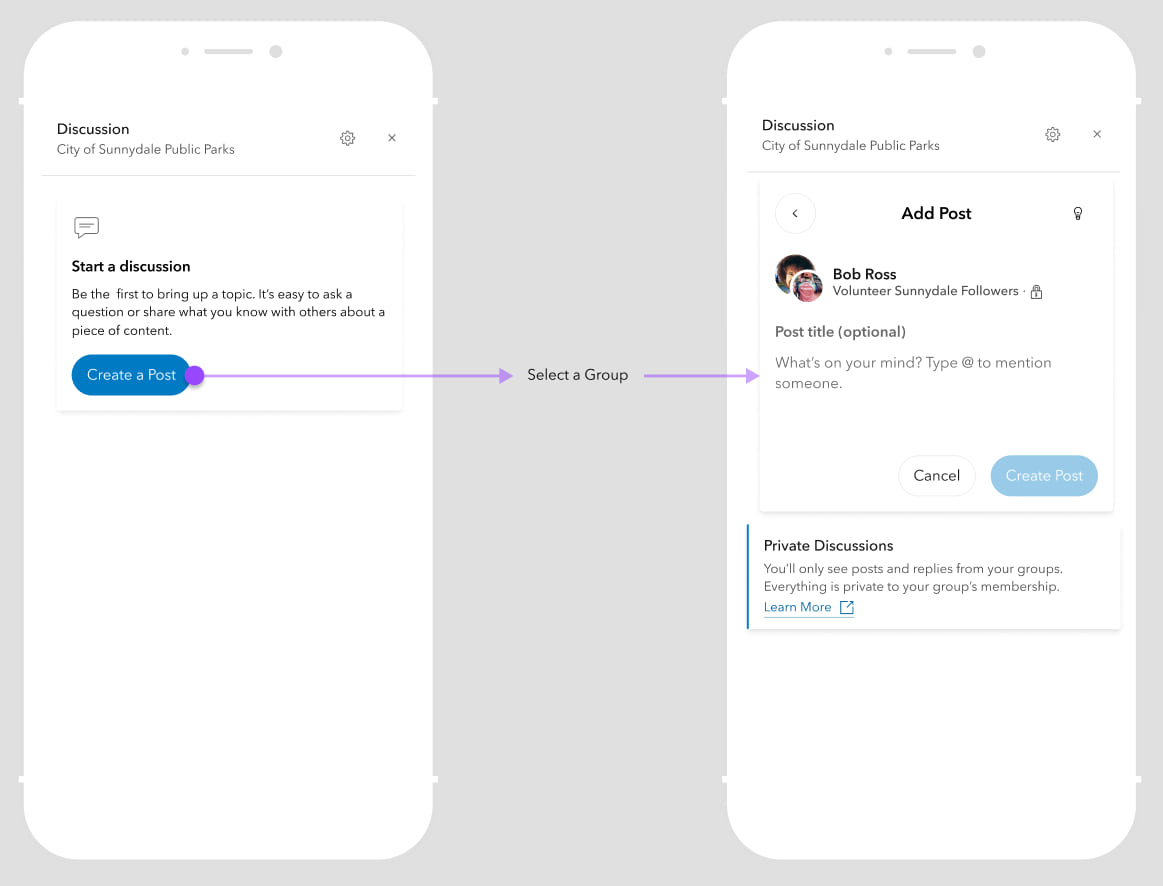 Wrapping up
Discussions builds on existing Premium capabilities for collaboration and engagement. Think of discussions as a trusty pen. It's there when you need it, right where you need it, a modest yet useful tool for communicating in the digital world. It is designed so you can apply and scale it, depending on the type and size of your organization and the nature of your content. Use discussions productively around content that is textual, tabular, graphical, and so on, in the way that works for you. It's simple to ask a question or share information. Getting started can be the most important part!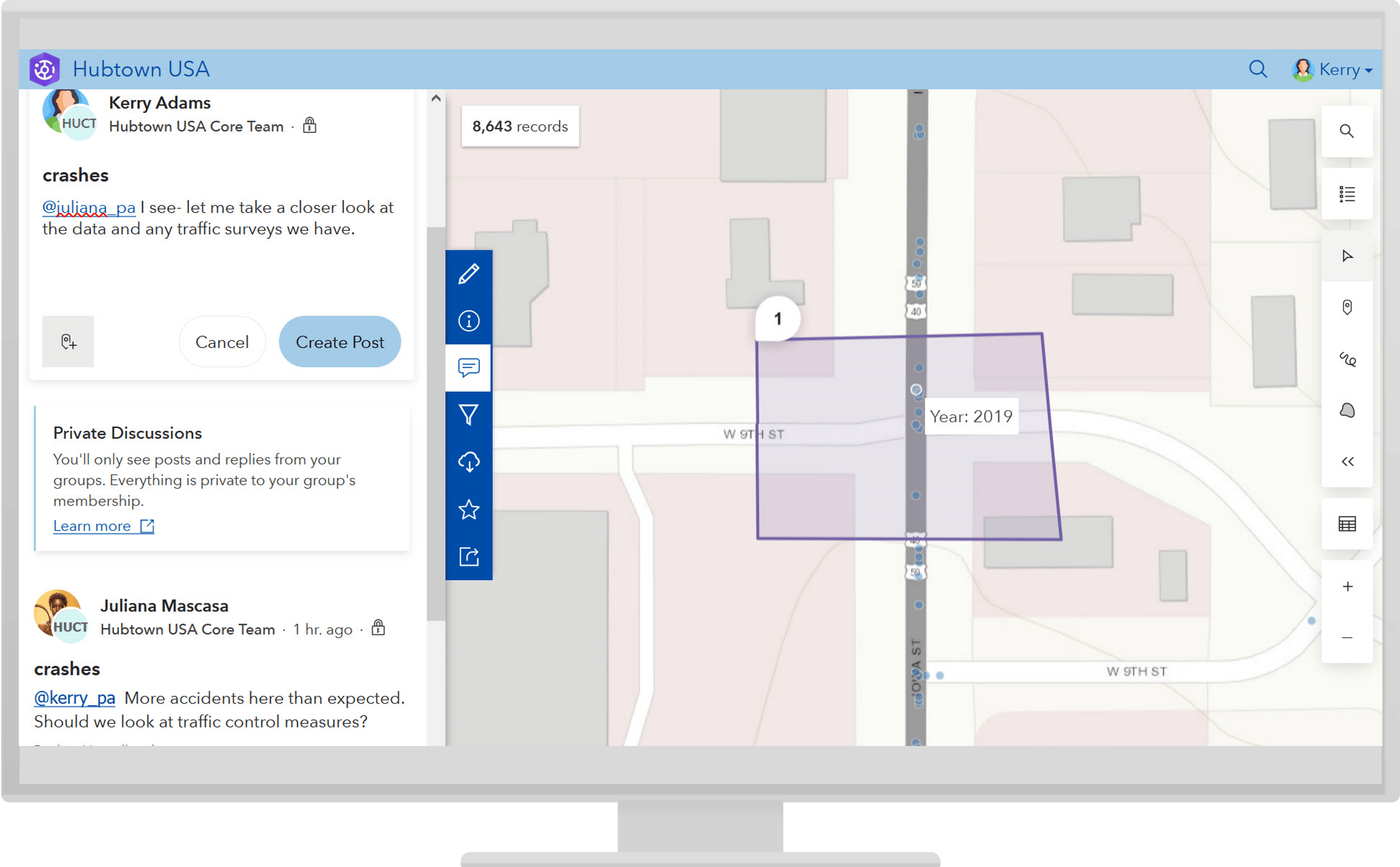 Future plans and feedback
A lot is happening under the hood so that discussions can help you succeed. You can still walk over to a co-worker's office or pick up the phone to chat. These are valuable ways to communicate. But they are not always feasible with more people working remotely. Sometimes you just need an answer or to share relevant details of a project. As discussions enables fluid, content-based dialogue, it can be key to establishing communication channels in your Hub sites. 
The initial release lays the groundwork for what is coming. Currently, users can initiate a discussion based on an item of content. In future developments, group members will be able to communicate around group and site topics as well. We also plan to support public discussions for facilitating community input. So, try out discussions and let us know how you are using it. Fill out this quick survey to have direct input into the future of discussions. You can also get in touch via the ArcGIS Hub Community page using the 'discussions' label on your feedback. Get started with discussions today to connect issues, people, and places to accomplish your goals! 
Images (non-screenshots): Card by Omar Flores on Unsplash, Banner by Giulia May on Unsplash

Additional resources