Every year, Autodesk University, the Design & Make conference, attracts more than 10,000 Autodesk enthusiasts and professionals across various industries.
A wide range of 600+ sessions, workshops and classes offer insights into the latest industry trends, product novelties and best practices for all skill levels from beginners to experts.
Join us at the Las Vegas Convention Center from November 13-15, 2023, to unlock the power of geospatial intelligence.
Join Esri's presentations
Esri offers a variety of presentations to show how GIS (Geographic Information System) technology seamlessly integrates with Autodesk's design and engineering solutions – it's an opportunity to learn and connect that you won't want to miss.
Our sessions cover topics such as building information modeling (BIM) and GIS technology, digital twins, reality mapping, sustainability, and customer success in architecture, engineering, and construction (AEC), utilities, transportation, and hospitals.
Use your CAD and BIM data to create an indoor GIS
Indoor GIS enables you to create, visualize, manage, and analyze your indoor data on a digital map.It allows you to extend your data's life cycle into the operational and maintenance phase of your buildings, fostering shared awareness of your facility operations to deliver greater efficiency and engagement.
Join our presentation to understand how CAD and BIM floorplans can be turned into an indoor GIS system of record.
Learn best practices for updating project and operational data over time and explore tools and techniques to support data synchronization workflows that align with your organization's specific strengths and requirements.
Indoor GIS: Keeping Your CAD/BIM Data and GIS Data Synchronized
Monday, Nov 13 | 5:30 PM – 6:30 PM PST
Learn more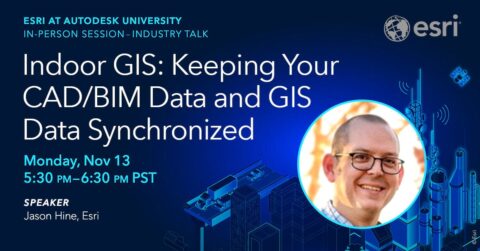 Improve surface models in Civil 3D with ArcGIS
Learn in this class, joint taught by Esri and Autodesk, about maximizing automation and integration of surface models to foster collaboration between civil engineers and GIS professionals.
Newly developed tools simplify the processing of triangular irregular network (TIN) surfaces originating from Civil 3D and formation of complementary terrain data sets within ArcGIS Pro.
This builds a bridge between Civil 3D and ArcGIS for two-way synchronization of surface data, maintained in a single system of record. Civil engineers and GIS professionals should come away from this class better equipped for collaborative design workflows, with a strong understanding of how CAD, BIM, and GIS work together.
Digging into Surface Modeling with Civil 3D and ArcGIS
Wednesday, Nov 15 | 8:15 AM – 9:45 AM PST
Learn more
Meet us in the expo
Come by our booth 1028 in the expo area and have a chat with us. Ask us anything, watch product demos and join our fun interactive construction project exercise. Make sure to sign up for it in advance as space is limited.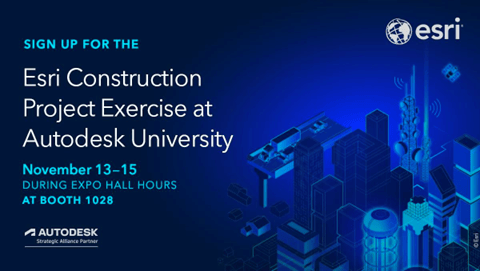 Navigate AU23 with our indoor map
The bigger the event, the more challenging it is to find your way to the right location in time.
Autodesk wanted to provide their users with a seamless experience that allows them to find their way to specific sessions, booths in the expo area and other points of interest (POI) with ease.
As a result, this year's conference will for the first time provide a digital indoor mapping experience powered by Esri's ArcGIS Indoors.
Attendees can access the event map via kiosks located throughout the expo area, via web, and mobile app.
The AU23 mapping experience allows you to:
• Know your current location (kiosk)
• Quickly find important landmarks such as info booth, charging booths, etc. (kiosk)
• Browse sessions, rooms, and expo vendors and get more information
• View your session schedule (mobile)
• Get turn-by-turn directions and a route to sessions, rooms, expo vendors
• Share the route to your mobile phone via QR code
To get directions:
1. Search for a specific location, exhibitor, or session you'd like to attend. Alternatively, select it from the list or directly on the map.
2. Click the location icon and Directions button.
3. In the web and mobile app, enter your starting point.
4. Get turn-by-turn directions and view the route on the map.
5. Optionally, scan the QR code to load the route in the mobile app.
Commenting is not enabled for this article.