With our latest release late last week, Esri Vector Basemaps updated map styles and added features, increased the number of localized maps, and published a new creative style. We added new HERE data to improve the maps. Our Community Maps Program also provided new data. See these blogs by Shane Matthews for specific contributions.
Style Improvements
Display of features improved across several basemaps. Street Map, Streets with Relief, and the Hybrid Reference Overlay changes increased city font size, added beach sprite, and made JSON layer names more user friendly. New pavement markings enhance larger scales, especially at the campus level. The updated Topographic vector map displays arrows and handicapped parking symbols. This Reference Document provides information on recent changes and structure of our basemaps. Bookmark this group or search the Living Atlas of the World (Basemaps category and Vector Tiles sub-category). Similarly, Esri vector maps are accessible in the ArcGIS.com map viewer and ArcGIS Pro in the same Living Atlas Basemaps category and Vector Tiles sub-category search.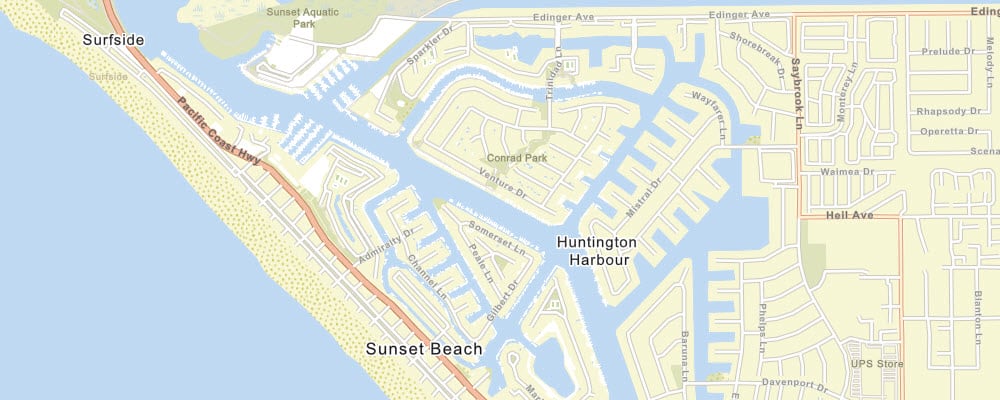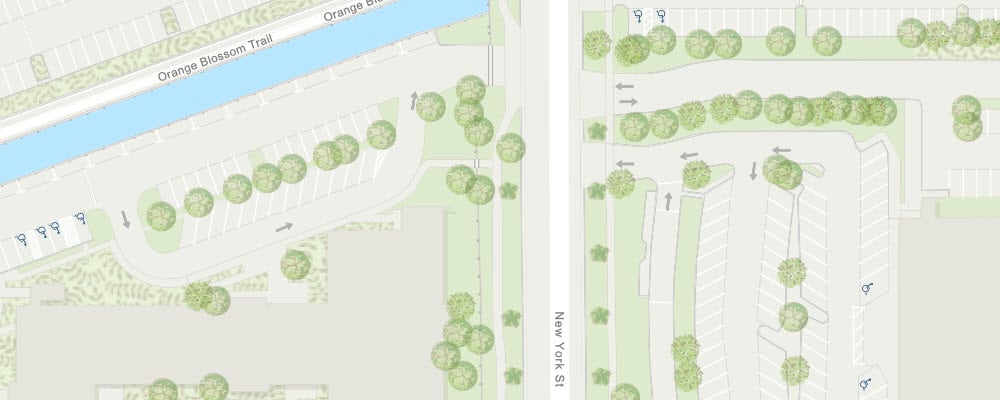 ---
Basemaps Localization
We added three new languages to our collection of localized basemaps. Our current total is nine different languages. Each one is available in nine different basemap styles. New are Italian, Polish, and Brazilian Portuguese. These join previously released Modern Chinese, French, German, Japanese, Russian, and Spanish. To make localized maps the default basemap, change the organization's Region and Language in the General settings. Also, change the Map setting to display Esri vector basemaps for the Gallery. Each language above is linked to a group of web maps. Localized labels display primarily at small scales; however, we are expanding translations across more feature classes and at more scales. Additional languages will be deployed in subsequent releases.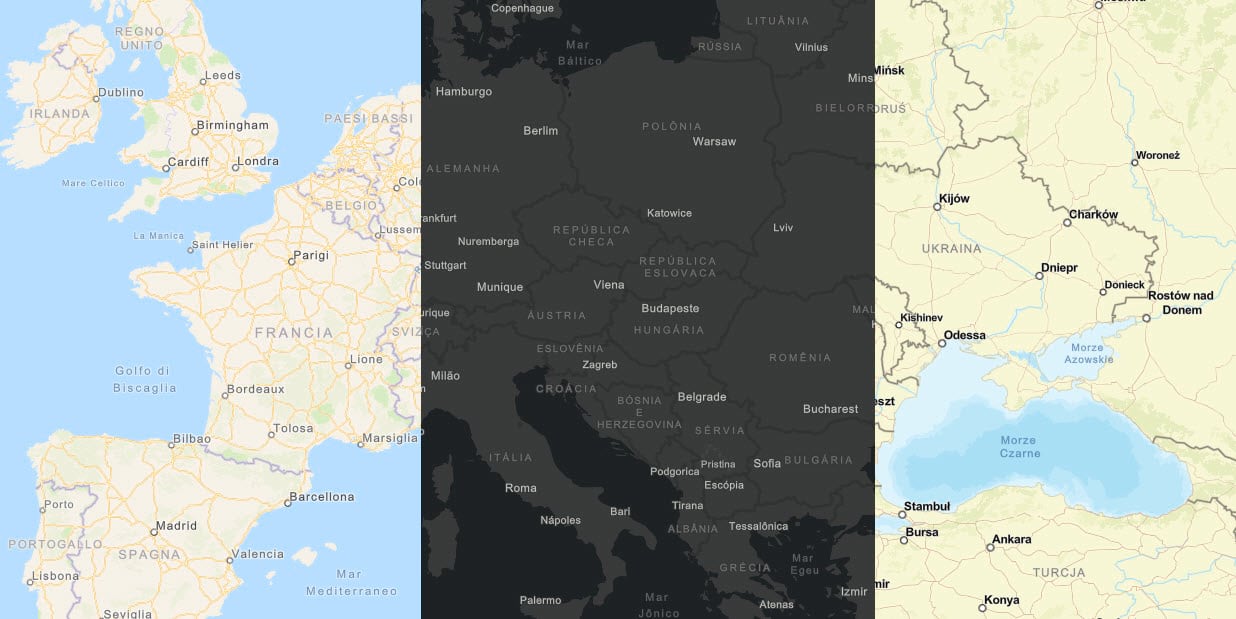 ---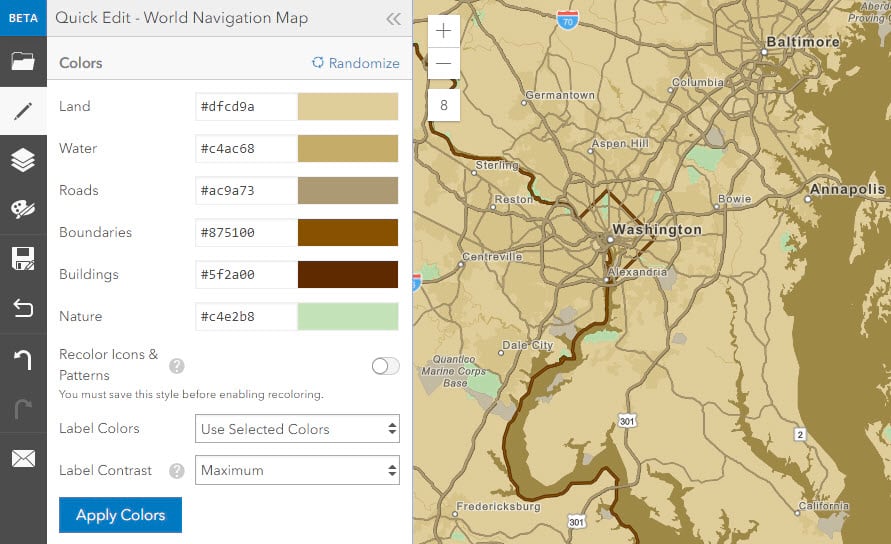 Style Editor
The Esri Tile Layer Style Editor (Beta) provides an easy way to customize vector basemaps. Experiment (& save!) different cartographic styles with this app. Start from an Esri vector basemap or one of your own vector tile layers. Two styling paths exist:
Quick Edit is only configured for Esri vector basemaps. This quick path sorts map features into six high-level categories. Apply random colors for cartographic inspiration, or apply a pre-defined color palette to each category.
Edit Layer Styles works with Esri vector maps and your own styles. It offers more control over each map feature's spec. Countless options are available to customize your new vector map. Save your new style as a tile layer in your ArcGIS.com account and use the new style in your web maps and apps. This blog and space on GeoNet offers information about the Style Editor. This recent Esri Webinar showcased the Style Editor. Follow-up questions and answers are at this Living Atlas GeoNet page.
---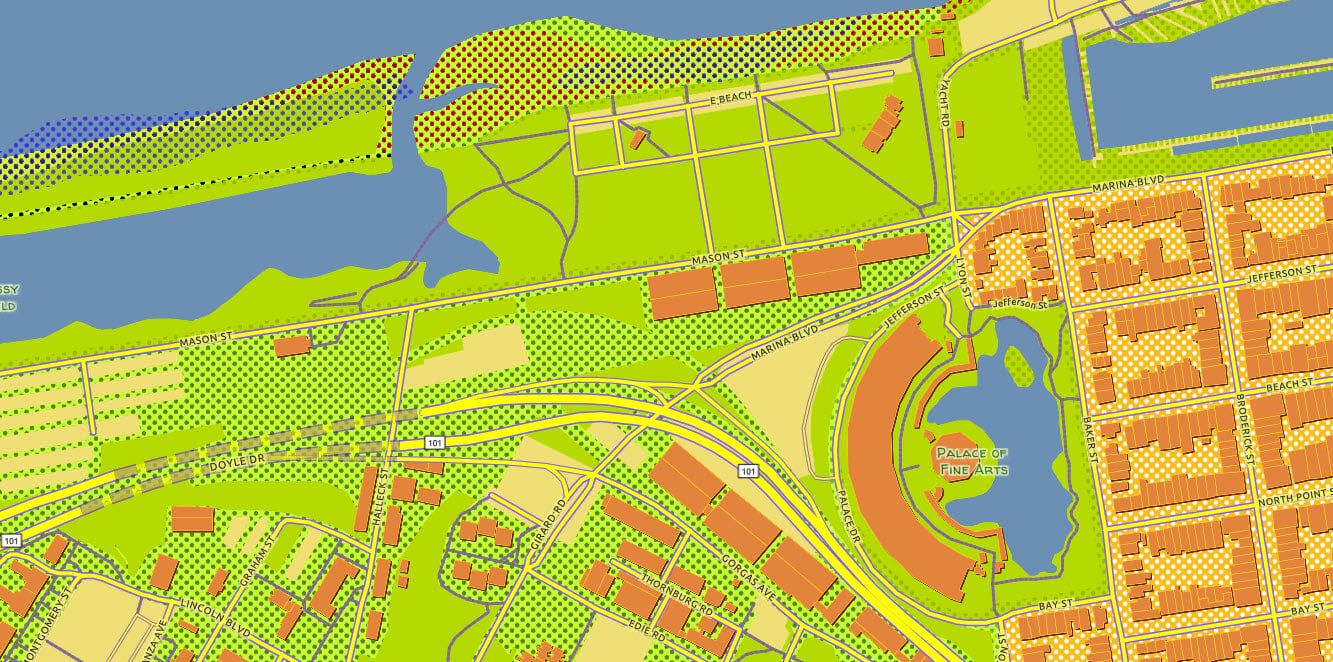 And now, something completely new!
Pop Art is Esri cartographer Andrew Skinner's new custom style. This 1960's-inspired map is busy, brash, and bright! This map, along with other Esri Creative Maps, pushes the limits of map design. The maps have drastically different looks, but still use the same vector map content. He also published a series of blogs on working with and customizing Esri Vector Basemaps. Check them out!
---
Feedback
Have you ever seen a problem with Esri Vector Basemap data that needs to be fixed? Report issues directly on this Feedback Map. Our team reviews your comments and considers the update for one of our frequent releases.
Commenting is not enabled for this article.