Wayback provides access to each version of the World Imagery map published since 2014.  While designed to enable users to step backward through the World Imagery timeline, Wayback has recently taken a significant step forward.  Wayback is officially out of beta and now includes World Imagery metadata.
As of December 14, 2018, Wayback includes 89 versions of World Imagery, with metadata now available for each.
What is World Imagery Metadata?
Simply put, metadata is "data that provides information about other data", or "data about data". Accordingly, World Imagery metadata provides detailed information and metrics (data) about the input imagery sources (data) that comprise the World Imagery map.
Sometimes a visual inspection of the imagery is all a user needs to select one image source over another. In other cases, a user may need additional information about the individual images that have been compiled, measured, and blended together during the creation and curation of the World Imagery map. The individual images in the map may vary by capture date, available level of detail, and/or how the features (roads, buildings, etc.) are represented with respect to their true location on the ground. The metadata exposes this type of information to support more informed decision making.
It is worth noting that two distinct dates are now presented in Wayback, 'map publication' dates and 'image capture' dates. As before, Wayback layers have the map publication date embedded in the name. This is the date when a particular version of the World Imagery map was updated and published. The publication date applies collectively to all of the imagery included in a version of the map, but does not indicate the actual vintage of individual images within the map. The age of a particular image can now be determined with the capture date provided in the metadata popup window, displayed when a user points and clicks on a location in the map.
Discovery
The Wayback app was already a great tool for exploration and discovery of Wayback imagery. With the seamless integration of the metadata, we can easily access all of this additional information about the imagery. Try this: 1) Open the Wayback App 2) Click on the map. Voila, a great looking popup with detailed information about the imagery.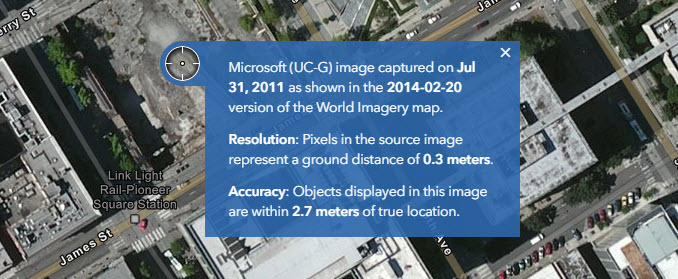 When executing the "export to web map" functionality, the selected image layers, AND the associated metadata layers, are saved to the custom web map.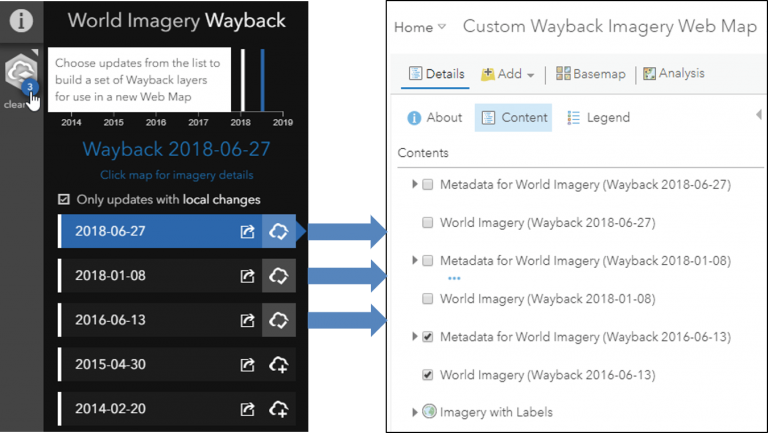 Outside the app, all of the Wayback metadata is available as individual ArcGIS Online layer items for use in Online, Pro, and custom applications. Search ArcGIS Online from Pro or the Online Map Viewer.  Browse or search the Wayback Imagery group, where you can find each Wayback imagery item along with its associated Wayback metadata item.
More Information
For more information see the following:
Commenting is not enabled for this article.