Earth's poles have historically been some of the most poorly mapped regions on the planet.  With heightened awareness, and an overall sense of urgency around global climate change, there is a need for high quality mapping data to facilitate a deeper understanding of the impact with regard to Earth's polar regions.
Sparked by President Obama's 2015 Executive Order, and thanks to the University of Minnesota's Polar Geospatial Center (PGC), along with their partners and sponsors, we now have high resolution topographic models of the Arctic region and the entire continent of Antarctica.
From monitoring and modeling the impacts of climate change over time, to field logistics, scientists, government officials, and the broader user community can leverage these great elevation maps and layers via the ArcGIS Living Atlas of the World.
Arctic DEM
ArcticDEM is a National Geospatial-Intelligence Agency (NGA) and National Science Foundation (NSF) public-private initiative to automatically produce a high-resolution, high-quality Digital Surface Model (DSM) of the Arctic using optical stereo imagery from DigitalGlobe.
Esri has been providing this data to users since 2016.  However, we recently updated to ArcticDEM Release 7, which includes 2-meter resolution elevation data for the entire region.  All of our online Arctic DEM layers and maps can be accessed and used in ArcGIS Pro, ArcMap, and custom web apps.
Want to see ice field and glacier changes over time?  For a quick introduction to the different layers and functionality, check out the Exploring Arctic Elevation user guide.  This story map will provide a quick overview of the different renderings and functionality, and even demonstrate how to analyze and measure ice changes over time.  It is an eye opening experience, I encourage you to give it try.  Also, since the Arctic DEM layers themselves are time enabled, change over time, and much more, can also be accomplished using ArcGIS Pro.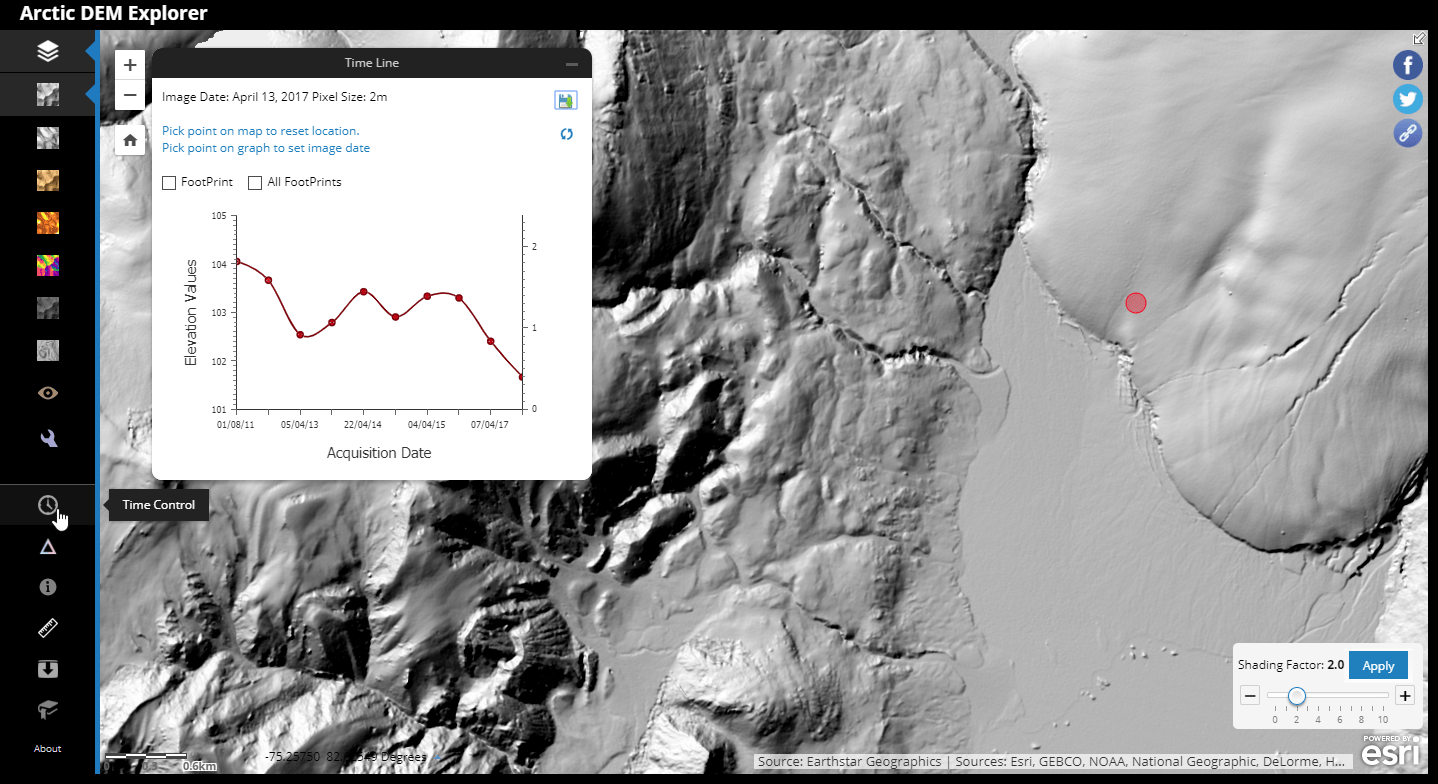 Antarctic DEM
New to the Living Atlas is an 8-meter resolution elevation model covering the continent of Antarctica.  The Reference Elevation Model of Antarctica (REMA) is the latest addition to Esri's polar elevation services, adding a level of detail not previously available in a full coverage map of Antarctica.  According to Ian Howat, director of the Byrd Polar and Climate Research Center at The Ohio State University, "Up until now, we've had a better map of Mars than we've had of the Earth."  I think it is safe to say that a gap has been filled.
Funded by the National Science Foundation's Division of Polar Programs, REMA Release 1 is an 8-meter Digital Surface Model (DSM) constructed from sub-meter, stereoscopic satellite imagery collected by DigitalGlobe's Worldview satellite constellation.  The DigitalGlobe satellite imagery is licensed by the National Geospatial-Intelligence Agency, and includes data acquired between 2009 and 2017, with most collected in 2015 and 2016.
This elevation data is ready to use in a number of different web map views and renderings.  Some layers are optimized for visualization and some for computation.  For more details, refer to this item description or click on the image below to begin exploring with the Antarctic REMA Explorer.  While our Antarctic layers are not currently time enabled, users can find and download individual strips from different points in time by going to the 'REMA Strips' section of the PGC website.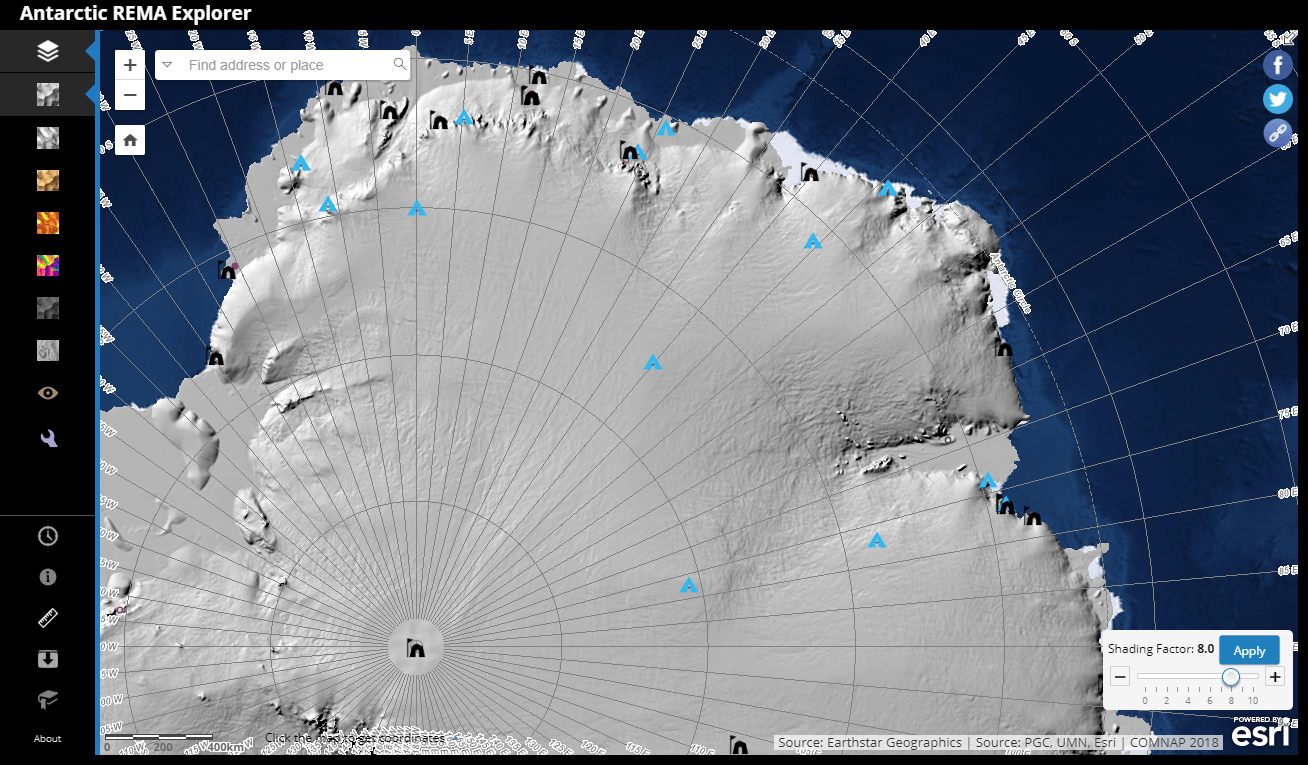 In case you missed it above, all of the Arctic and Antarctic DEM layers and maps can be found in the ArcGIS Living Atlas.
New to ArcGIS?  Sign-up for a free Online account to access additional online content, start making web maps, and start collaborating today.  For a full ArcGIS experience, sign-up for a free trial.
Commenting is not enabled for this article.