Our world is transforming and rapidly becoming digital. Digital twins are abstracting and modeling everything. They improve business processes, reduce risk, optimize operational efficiencies, and enhance decision-making using automation to predict outcomes. Digital twins provide greater context to help solve business challenges by creating relationships and streamlining workflows. Geographic information system (GIS) technology is foundational for any digital twin. Esri's geospatial technology interconnects information, systems, models, and behaviors with spatial context, creating holistic digital representations of environments, assets, and networks.
A digital twin is an interactive digital replica of a system or an environment: virtual models of real-world assets along with information models, data, and reports, all supporting streamlined workflows and analyses. Almost like a virtual reality that you not only experience but that you can ask questions such as, What will happen to my system if a pipe breaks at a certain time of day? How long will my assets last with a given maintenance cycle? When and where will my sewers overflow under certain weather conditions? The digital twin can represent past, present, and future scenarios.
Ultimately, digital twins must help owners and operators of real-world assets or systems solve business or mission-critical challenges. The ability to address these challenges will justify the investment and process changes that will inform and maintain the digital twin.
The Foundation for Digital Twins 
Digital twins are virtual representations of the real world that incorporate physical objects, processes, relationships, and behaviors. Digital twins are used to represent the natural and built environments, to observe and monitor performance, and to explore or predict future performance. A digital twin benefits directly from the inclusion of GIS data and context. GIS is used to create a digital twin of the natural and built environments and integrate with many digital representations of the real world.
Information models are the building blocks of the digital twin. Digital twins for water systems are composed of three key information models. Landscape information models provide context for the natural environment, providing information on elevation, land use, and hydrology. Network information models supply details on the pipes and appurtenances; how they connect; and how water, wastewater, or stormwater move through the system. Building information modeling (BIM) processes are increasingly powering sophisticated 3D models of facilities and treatment plants to support asset management and operations indoors.
ArcGIS is the foundation for integrating and interconnecting models to create a modern digital twin. Geospatial technology provides a single, comprehensive view that is accessed throughout the complete project life cycle and used to manage and maintain assets. GIS enhances data capture and integration by providing industry-tested data models, integrating with BIM, and automated reality capture. ArcGIS connects directly to the Internet of Things (IoT) to enable real-time visualization and analytics. Through machine learning and artificial intelligence (AI), ArcGIS detects objects, simulates events, and makes predictions. And, unlike any other digital twin technology, ArcGIS provides a human feedback loop through sharing and collaboration.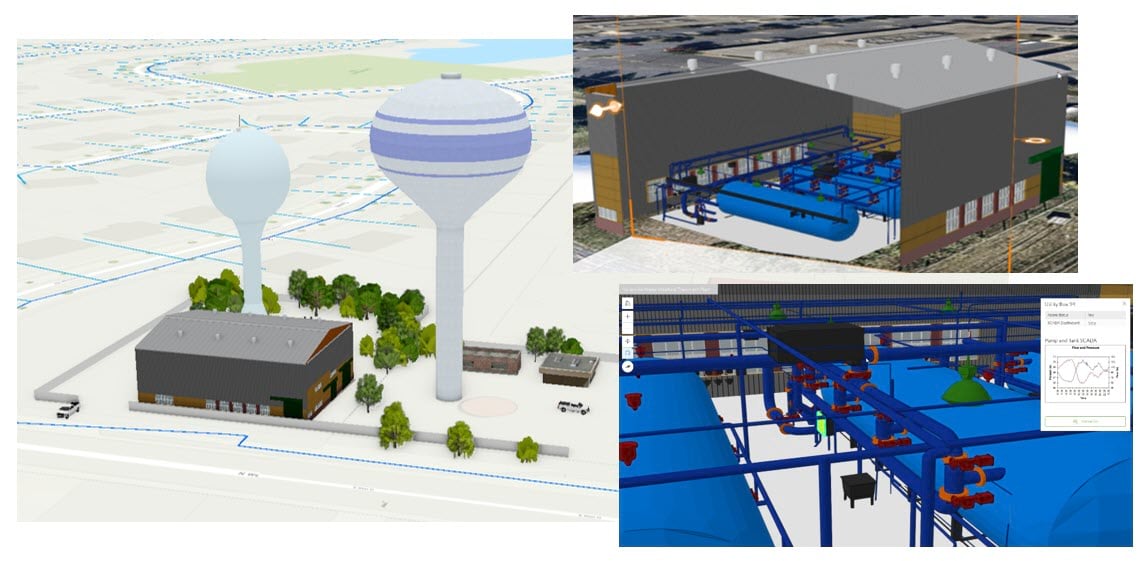 Water Utilities and the Digital Twin
Utilities face extraordinary challenges due to aging infrastructure, aging workforce, natural disasters, and even outdated technology. Aging infrastructure is becoming more costly to operate, maintain, and rehabilitate, requiring utilities to optimize limited capital and operating budgets. The water workforce is aging as well, with roughly a third of the industry's 1.7 million professionals becoming eligible for retirement in the next decade, taking crucial institutional knowledge with them. A changing climate produces more acute shocks and stresses for utility infrastructure, with the US seeing an annual cost average of $12 billion due to climate disasters in the last decade. Rapidly evolving technology puts pressure on utilities to create a strategic plan that maximizes the value of digital investments, enables integration and data sharing across teams and platforms, and maintains cybersecurity.
Are Digital Twins the Solution? 
Digital twins are an integration of information technology, operational technology, and engineering technology. The amount of information within digital twins provides unlimited possibilities. 
The visualization and analysis capabilities of ArcGIS in a digital twin help utilities plan investments by providing insight into different system scenarios and the impacts they may have. Easy access to data allows decisions to be made more quickly. Digital twins help with operator training and workflow efficiency. Data feeds from real-time IoT devices are easier to manage within a digital twin, formatting and displaying information in ways that bring value to the organization. Improved mapping and 3D modeling help to manage facilities and vertical assets. Digital twins enable interaction and collaboration across multiple departments improving communication with stakeholders.
The advantages of using digital twins are becoming more defined and growing—from improved efficiency and productivity to increased level of service to better management of our greatest resource. As water utilities' use of digital twins grows, they improve sustainability, reduce capital and operating expenditures, increase efficiencies, and improve the level of service. Digital twins are a promising tool to help utilities solve many of their challenges and provide value in network management, operations, and facilities.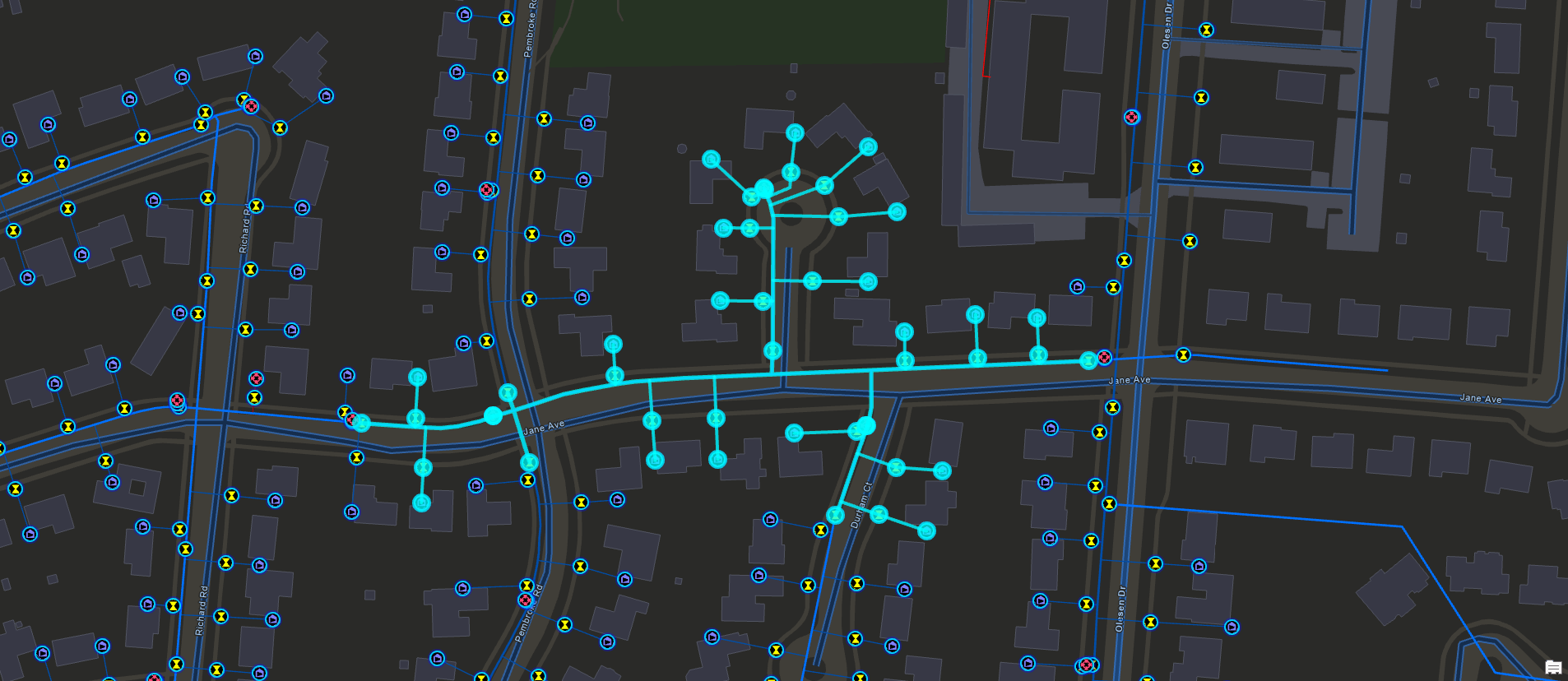 Network Management
Digital twins support network management, through the Utility Network. By integrating information models and business systems, utilities better manage network performance and behavior and understand the relationships between disparate network assets. This sophisticated network provides capabilities to enforce network rules and support detailed analytics. In California, San Juan Water District uses the web-based architecture of Utility Network to share information with field crews, giving them the ability to run advanced network analytics using network traces. Advanced tracing capabilities identify system and customer impact during outage events and help engineering and operations teams be proactive in determining areas exposed to potential vulnerabilities. It is integrated with asset management and customer information systems, providing much-needed accessibility for office and field staff.
Digital twins are used to predict future outcomes on the network. For example, AI is integrated into workflows to perform condition assessments to forecast pipe failures. Utilities prioritize pipe replacement based on data-driven analytics. This data-driven approach provides significant advantages over traditional subjectively scored models where outputs often remain static even when inputs are updated.
Digital twins are also used to establish a baseline for asset performance, unite legacy data with operational and engineering data, and allow utility staff to visualize the entire system or a single asset. Think about how you could improve network management with an accurate, authoritative system model and a digital twin.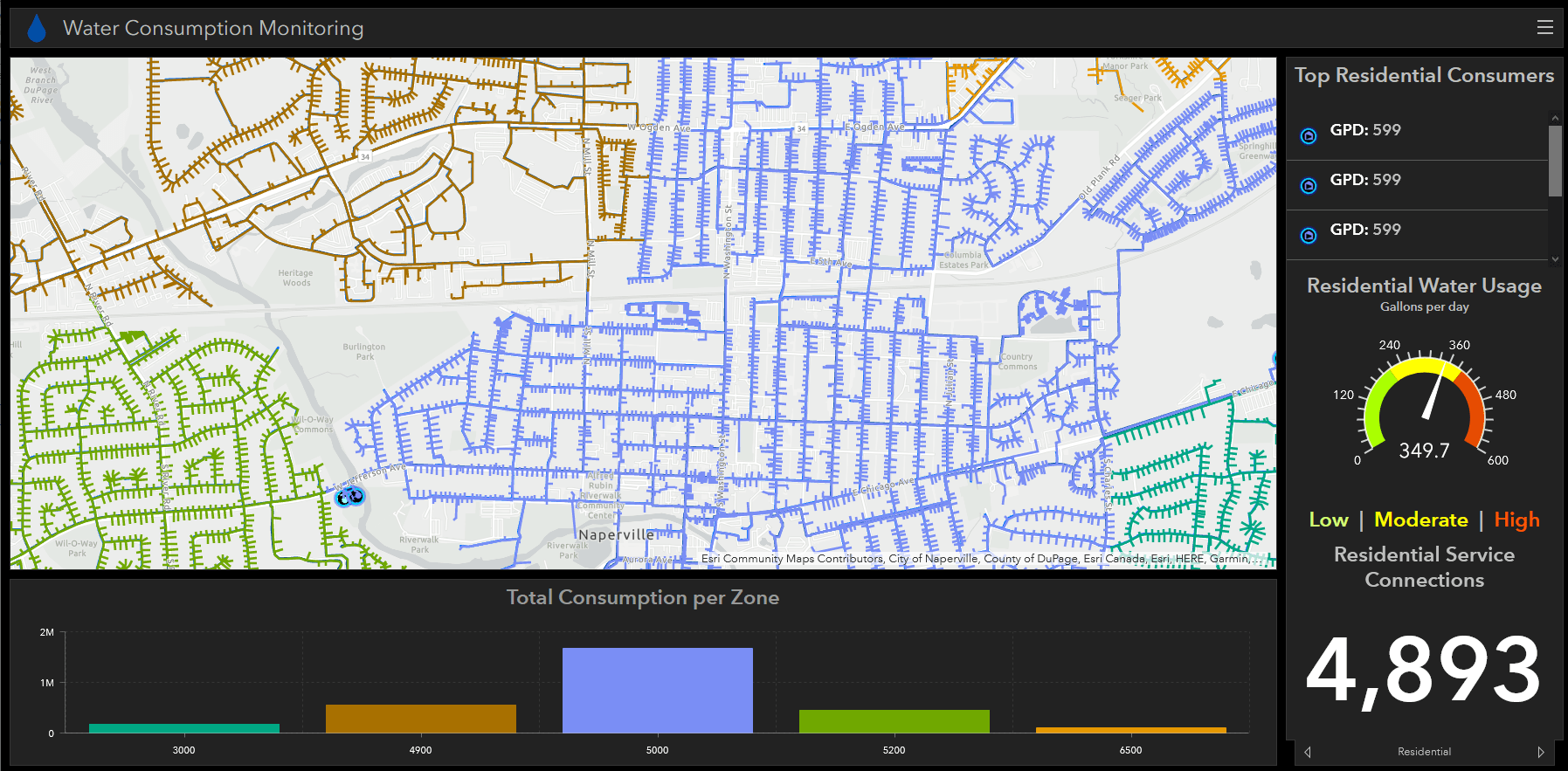 Operations
ArcGIS solutions put utility data in the hands of all staff members—field crews, customer service representatives, engineers, financial planners—to ensure that every member of the organization has access to up-to-date information when, where, and how they need it. For example, SUEZ North America employs a digital twin of its system to coordinate its response to customer service inquiries to over a thousand employees across multiple departments. Customer service representatives use real-time GIS maps to view information about system events—hydrant flushing, construction projects, main breaks, etc.–enabling them to respond to customer inquiries about water quality and resolve most issues with a single call or email.
In Tennessee, GIS plays a critical role in White House Utility District's (WHUD) real-time water loss program, providing the foundation for what is essentially a dynamic digital twin. The digital twin is a virtual model of its sectorized distribution network that replicates real-world network conditions and events as they unfold. After reaching nonrevenue water (NRW) rates of nearly 50 percent 15 years ago, WHUD experimented with several technologies to help find and fix leaks more effectively, including acoustic leak detection; step testing with temporary flow meters; and, finally, implementation of district metered areas (DMAs). Combining these technologies and understanding real-time water loss across their DMAs, WHUD staff were able to make better progress in reducing leakage than in the previous 10 years, reaching an infrastructure leakage index (ILI) of below 1.0 for the first time in 2020.
The volume of data created by advanced metering infrastructure, system sensors, SCADA, etc., exceeds the capability of staff to review, understand, and operationalize processes. Digital twins take that data and present it in ways that are easier to understand, enabling staff to use the information effectively daily. Using a digital twin, operators test different scenarios and optimize conditions in a safe environment, decreasing the risk and cost of implementing new processes.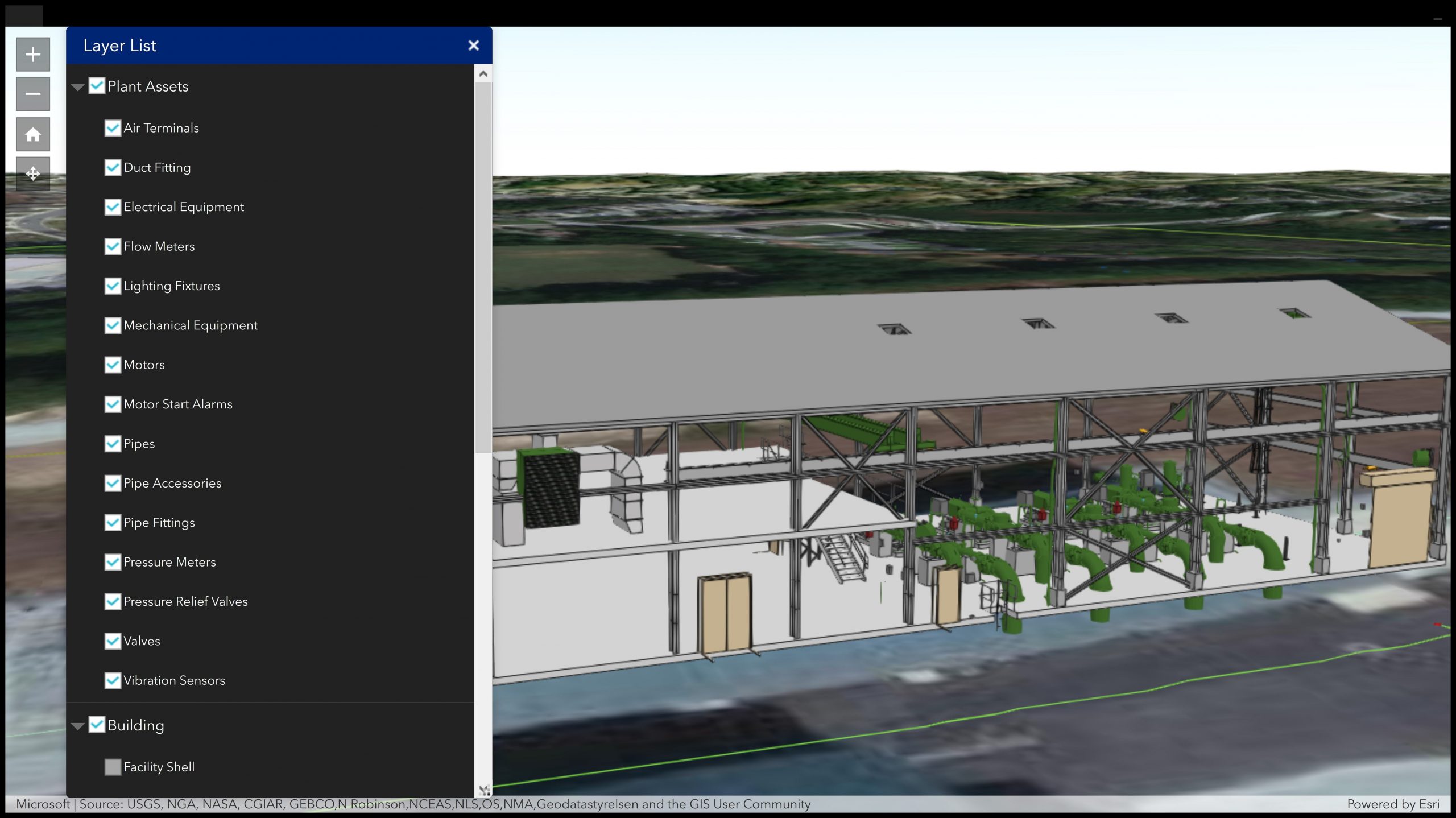 Facilities and Vertical Assets
Extending GIS mapping, modeling, and location intelligence capabilities to indoor facilities–like treatment plants and pump stations–enhances the utility's vertical asset management programs.
An ArcGIS technology-based digital twin enables managers and staff to locate and monitor assets within a rich 3D spatially accurate environment. It also incorporates with work management systems to identify the location and specifications of assets before visiting the site. With the data available through a web browser, digital twins enable access to the information 24/7 on a user's platform of choice, including desktop, tablet, or mobile devices. Metrics viewed in configurable dashboards provide valuable insights that are used to reduce maintenance issues, extend life cycles, and achieve new levels of optimization.
Gwinnett County Department of Water Resources (GCDWR) staff use a digital twin to more effectively manage their vertical assets at the Beaver Ruin Pump Station. The detailed and complex model of the pump station is made available in the field to frontline employees who benefit from it the most. The model has enabled GCDWR to improve safety and increase maintenance efficiency through expanded situational awareness, factors GCDWR was particularly interested in. The model also provided GCDWR with increased asset knowledge through accurate data and measurements and the ability to view an asset's relationship to the overall processes.
Are Utilities Ready for Digital Twins?
Recent industry surveys suggest that time, rather than cost, is the biggest barrier to digital transformation in the water utility industry. Utility managers fear getting entangled in long, arduous digital initiatives that will monopolize their team's time, attention, and budget for months or years before producing any tangible benefits for customers and staff.
It doesn't have to be this way. Most successful digital water innovators are those who have learned one simple but essential lesson: the best place to start is where you already are. Most utilities have already made significant investments in data and digital systems across departments and functional areas. Starting from scratch, or trying to tackle everything at once, is both unwise and unnecessary. The key is to find ways to maximize the value of existing investments first and then build incrementally from there—learning, adjusting, and improving as you go.
GIS plays a key role in this process. Esri's ArcGIS is uniquely designed to integrate with a wide variety of devices, business systems, and data feeds across all corners of the water industry, providing crucial locational context that gives value and meaning to dark and disparate data. ArcGIS is built to be used by anyone, regardless of role or location. It provides everyone in the organization with the tools and information they need to make better operational and planning decisions, communicate and collaborate more effectively, and solve problems more efficiently for their customers, coworkers, and communities.
Visit the Esri Digital Twin website to learn more.