Maps you make for Collector are powerful because of the collection they enable in the field. Without sharing your map, only you (the map author) can use it. To share the map with the mobile workers who collect data in the field, use a group in your ArcGIS organization.
Sign in to your ArcGIS organization in a browser (ArcGIS Online or your ArcGIS Enterprise portal).
Go to the item details page for your map.

Tip: If you haven't made a map yet, check out Make your first Collector map.

Click Share.
You can share a map publicly, with your entire organization, or with specific groups.
For a map to be accessible by others in Collector, it must be shared with a group (in addition to containing editable data).
Check the checkbox for the group you want to share your map with and click OK.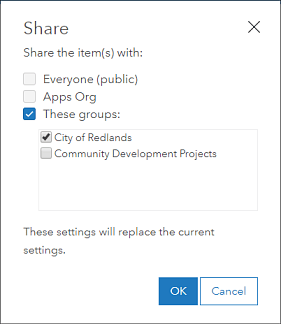 If you don't have any groups yet, you'll need to make one first. See Quick lesson: Share a map in ArcGIS Online or Create groups in ArcGIS Enterprise.
If your layer isn't shared with the same group, you'll be prompted to update its sharing. Click Update Sharing.
This is important: otherwise your mobile workers will be able to open the map but not see or work with the data it contains.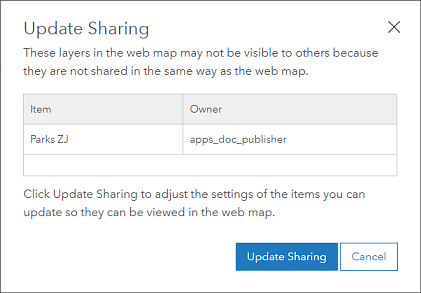 Now that your map is shared, mobile workers can open it in Collector and get to work collecting data in the field.
Tip: If others still don't see your map in Collector, make sure you enabled it for use in Collector in the Application Settings. Restricting maps from use in Collector is currently only supported in ArcGIS Online.
Commenting is not enabled for this article.