New versions of Explorer for ArcGIS are here for Android (18.1) and iOS (18.1.1), bringing offline maps and feature parity on both platforms.
What's New with Explorer on Android?
Explorer for ArcGIS 18.1.0 on Android modernizes the app and aligns it with the app currently available on iOS. With this release, the following functionality is brought to Android devices:
Work offline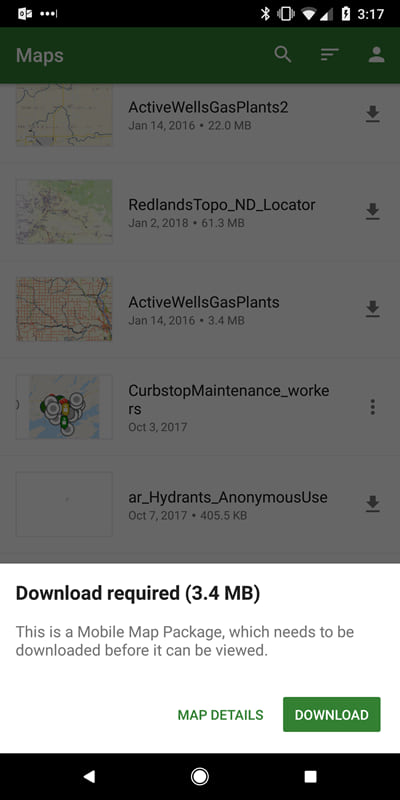 You can't be connected everywhere you want to explore, so now you can take your maps offline with you. Prepare a map for offline use in your office and put it on your device, either by downloading it through the app or by sideloading it onto your device. Once it's on your device, you can work with it in the same way as any other map in Explorer. For details on making offline maps, see Make offline maps.
Note:
With this release, Android supports working offline with vector data as well as imagery and other raster data. The capabilities are the same as those on iOS.
Use improved markup and share it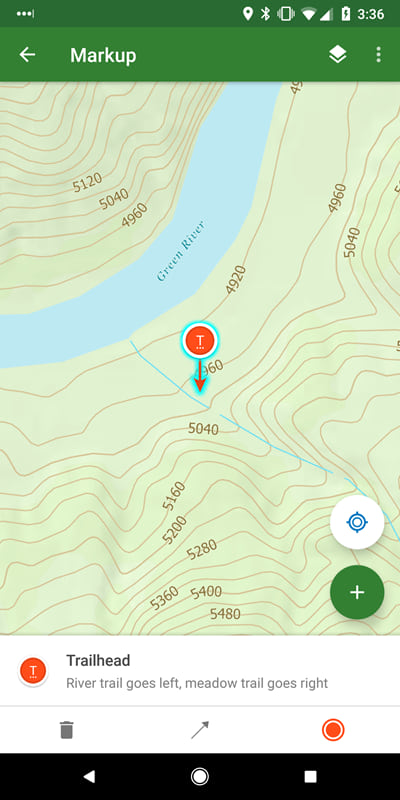 Capture sketches and notes on the map with improved tools. You can clean up as you go, making your sketch a true circle and your line straight. Place markers, draw arrows, and add notes and labels. You can use your sketches across your maps, and even share them as layers to your organization. Mobile workers in the field and ArcGIS Pro users in the office can see and act on what you've found. For more information, see Markup.
Find your features with the compass
Walk right to your assets using the new compass tool. See how far you are from your assets and which direction you need to go. From a feature, search result, or pin, select Compass . This complements the directions that are available through integration with Navigator for ArcGIS and Google Maps.
Experience a new, simplified browsing experience
Discover maps with ease through a new, simplified browsing experience.
Note:
You can still search for, browse to, and open groups—we learned from our iOS release.
Use beautiful, more responsive and informative maps
Explorer for ArcGIS 17.1.0 includes support for related records, labeling, smart mapping, and vector tile basemaps.
The Explorer team is excited to bring one of the most requested features to life with this update: related records. You can now bring more data to your users by creating pop-ups with related records in your map, and you'll see the same pop-ups in Explorer.
Another common request has been support for labels, and with this release they are supported. You can even use Arcade expressions to make the best labels for your map.
ArcGIS provides smart mapping to help you make your maps beautiful, while showcasing your data's important values. Explorer now honors the styling done through smart mapping, bringing the maps you are making in Map Viewer to your devices. Improve your maps with smart mapping: get started with the How to smart map story map.
One of the benefits of working on a mobile device is the high-resolution display, but not all basemaps take full advantage of it. With this release, Explorer supports vector tile basemaps to bring crisp, responsive basemaps to your device. Vector tiles have a combination of tile access performance and vector drawing, allowing the tiles to adapt to any resolution of the display, which may vary across devices. See Vector tile layers (ArcGIS Online or ArcGIS Enterprise) to learn more.
Interact with UX customized for your device
Explorer now makes the best use of available screen space. When working on a phone, the panel resizes to fit your needs. If you need to see mostly the map, collapse the panel into a summary. When you need both the map and details, use the panel in half the screen. When you want to focus on the details, make the panel full-screen. If you are using a tablet, the panel is fixed to the side of the screen.
What's New with Explorer on iOS?
Take your imagery and other raster data offline
You can now bring your raster data offline with you by including tile packages in your mobile map packages.
Using ArcGIS Pro 2.1 or later, create a mobile map package (MMPK) that contains tile packages (TPKs) of your raster data.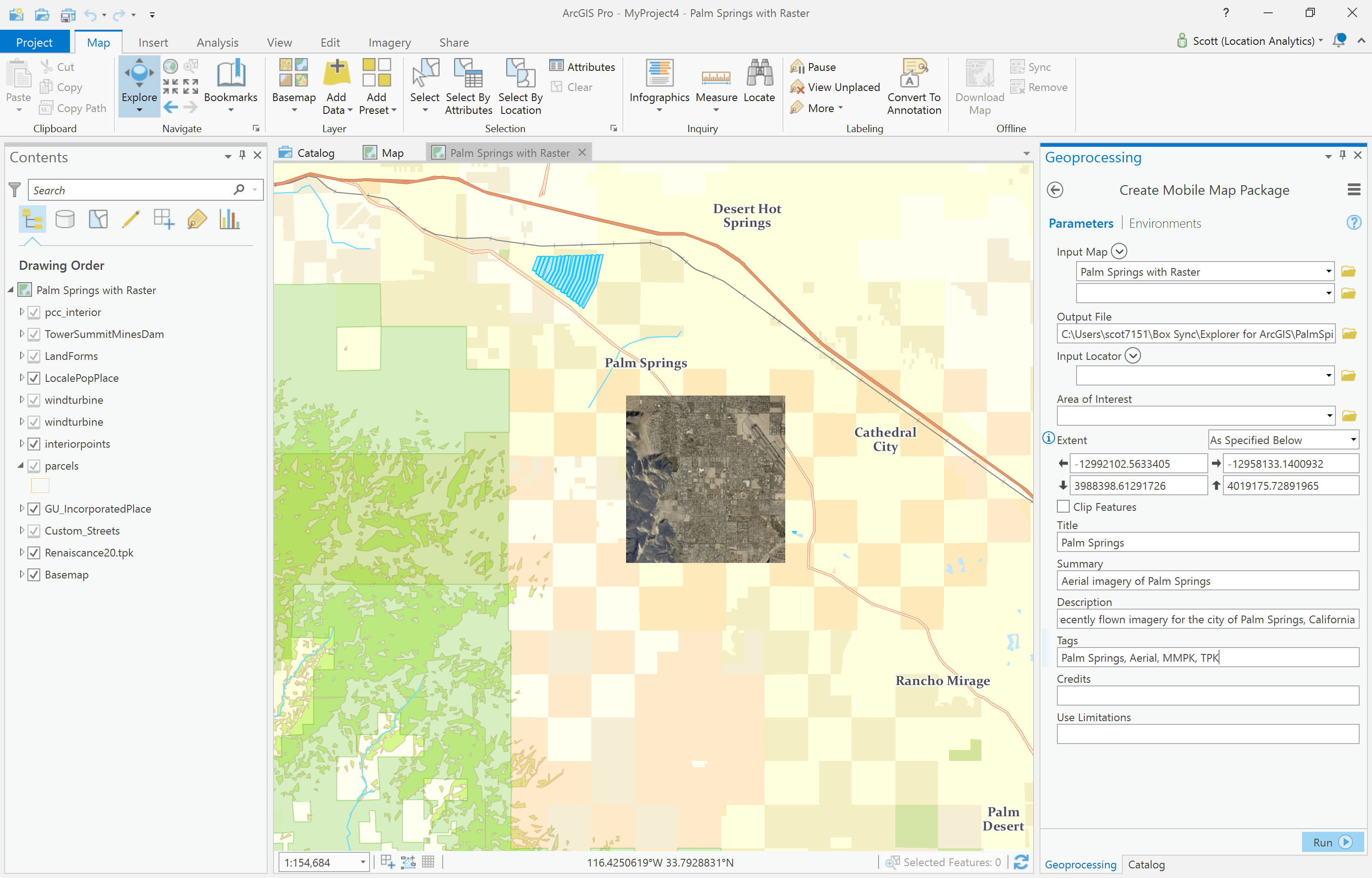 You can use the 'Share Package' tool in ArcGIS Pro to choose who can see the package and then upload the MMPK to your ArcGIS Online or ArcGIS Enterprise organization (or, if you prefer, you can sideload the file onto your device directly).
Once your mobile map package is in ArcGIS, users with permission to see the package can sign in to Explorer and download it to their device.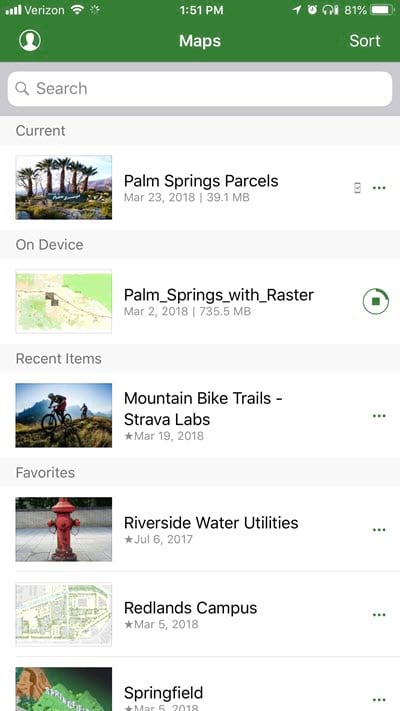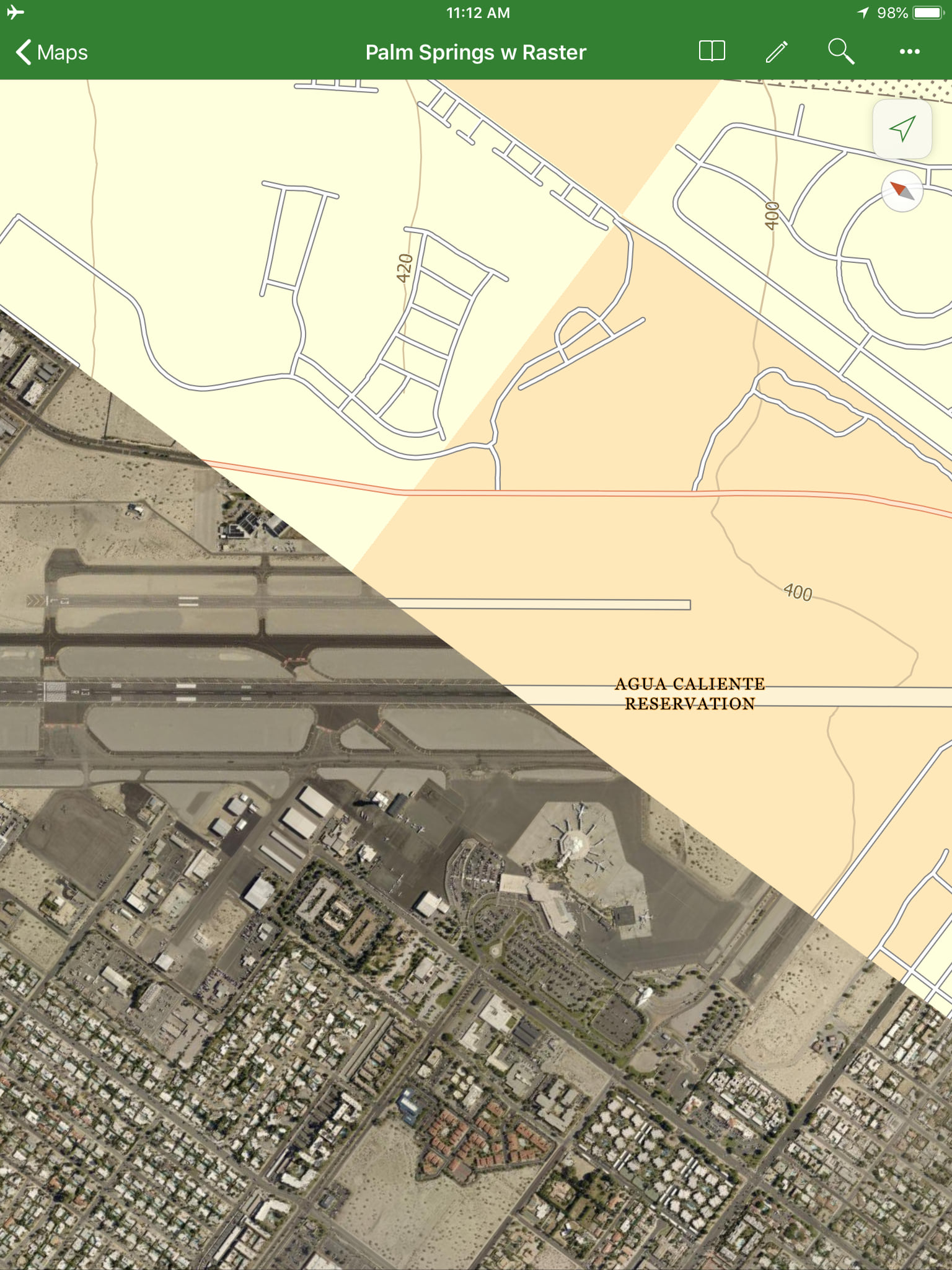 Various bug fixes and improvements
In addition to the functionality described above, there have been other enhancements made and issues addressed. Of note are the following changes:
Updated translations have been added.
Pan and zoom updates: pan and zoom are now supported when a tool panel (such as bookmarks) displays, and What's Here results pan and zoom the same as other results.
Selecting a search suggestion during dictation no longer crashes the app.
Differences between iOS and Android
While the majority of the functionality is the same, be aware of the following differences:
Sharing a map by URL through the app is only supported on iOS.
Zoom to a feature is only supported on iOS.
Later releases will synchronize these across the platforms.
How do I get Explorer for ArcGIS?
Download Explorer for ArcGIS for your mobile device on the Google Play Store or the Apple App Store today!
We'd love to hear what you think of the new releases. We have a community forum on GeoNet where you can leave us your thoughts, ask questions, or otherwise interact with the team that builds Explorer.
If you want to learn even more, we also have a great documentation site you should check out.
Happy mapping!
Scott and the entire Explorer team
Commenting is not enabled for this article.