ArcGIS GeoEvent Server 10.8.1 updates include usability improvements in GeoEvent Manager such as a new monitoring page and enhanced input and output creation workflows, geofence insight improvements, and expanded documentation that has new topics and information on deploying and configuring GeoEvent Server.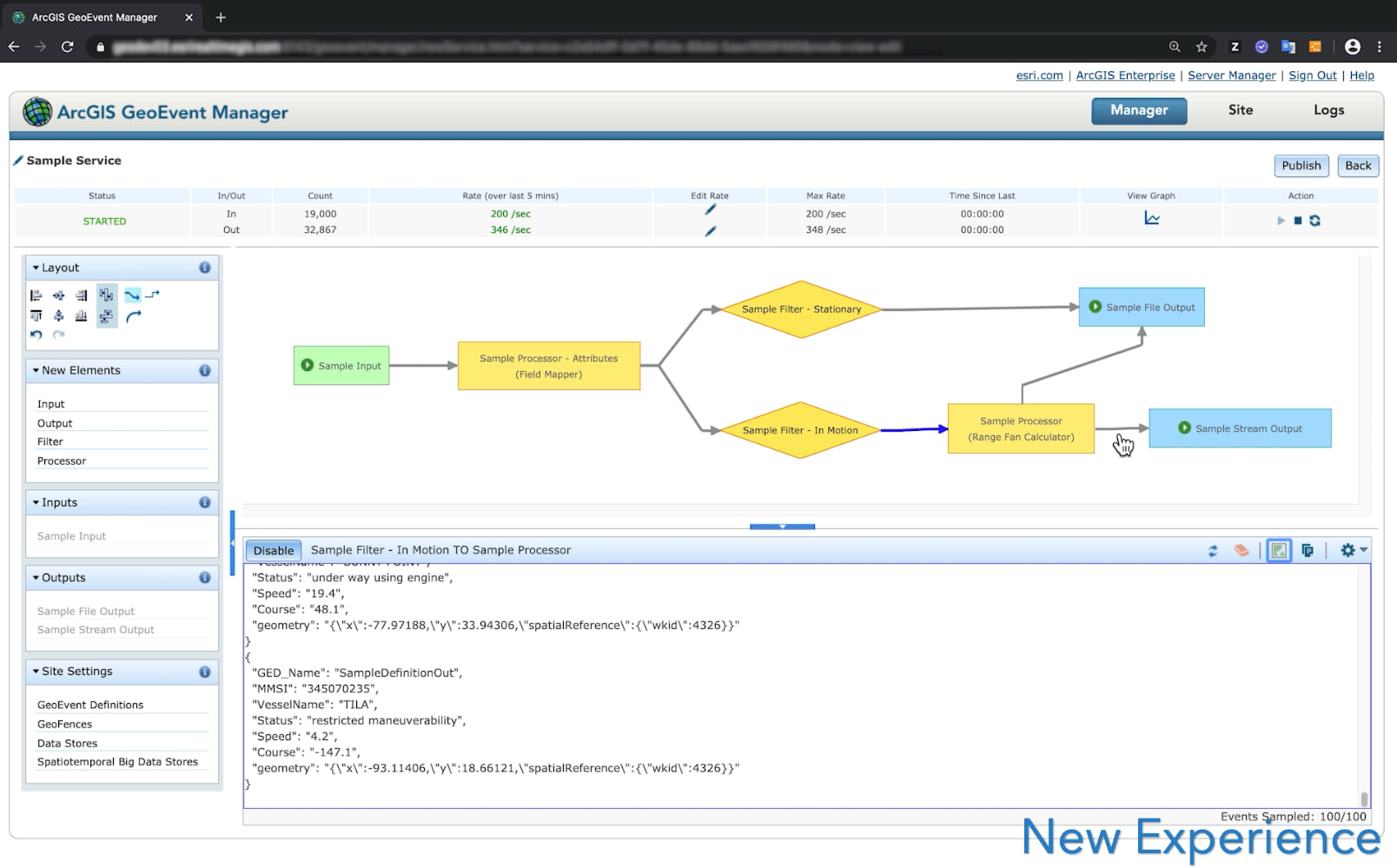 GeoEvent Manager
Users can now look forward to controlling all inputs and outputs without having to navigate multiple pages. The GeoEvent Manager's new monitoring page features simplified controls on a single monitoring page where the Monitor, Services, Inputs, and Outputs pages are now consolidated. Other improvements include:
Filtering by element state to show all items, those currently stopped or started, or those in an error state for faster identification.
New "Toast" style notifications for unobtrusive in-application messaging that replaces the green banner notification that shifted elements in the application down when messages appeared.
A sorted and searchable list of available connectors is now presented on a single page, instead of the previous multi-page listing of alphabetically sorted connectors.
Geofences
Users can now verify the geometry of their imported geofences against their choice of basemaps using the same integrated lightweight mapping client as the GeoEvent Sampler.
GeoEvent Sampler
At 10.8.1, users can expect some functionality improvements in GeoEvent Sampler. The GeoEvent Sampler, introduced in 10.8, is an embedded data sampling utility that offers a quick way to review and visualize processed event data. (To get a refresher or to learn more about using GeoEvent Sampler in different ways in your GeoEvent Services, check out this GeoNet post on the New Service Designer Capabilities in ArcGIS GeoEvent Server 10.8.)
The latest 10.8.1 updates to GeoEvent Sampler include:
Leveraging users' own published map services, including offline and custom basemaps.
Switching on-the-fly between a set of basemaps directly in the GeoEvent Sampler.
Synchronizing the map views between panels—when using the GeoEvent Sampler in comparison mode to display sampled data from two different nodes of a GeoEvent Service—for faster navigation and improved analysis.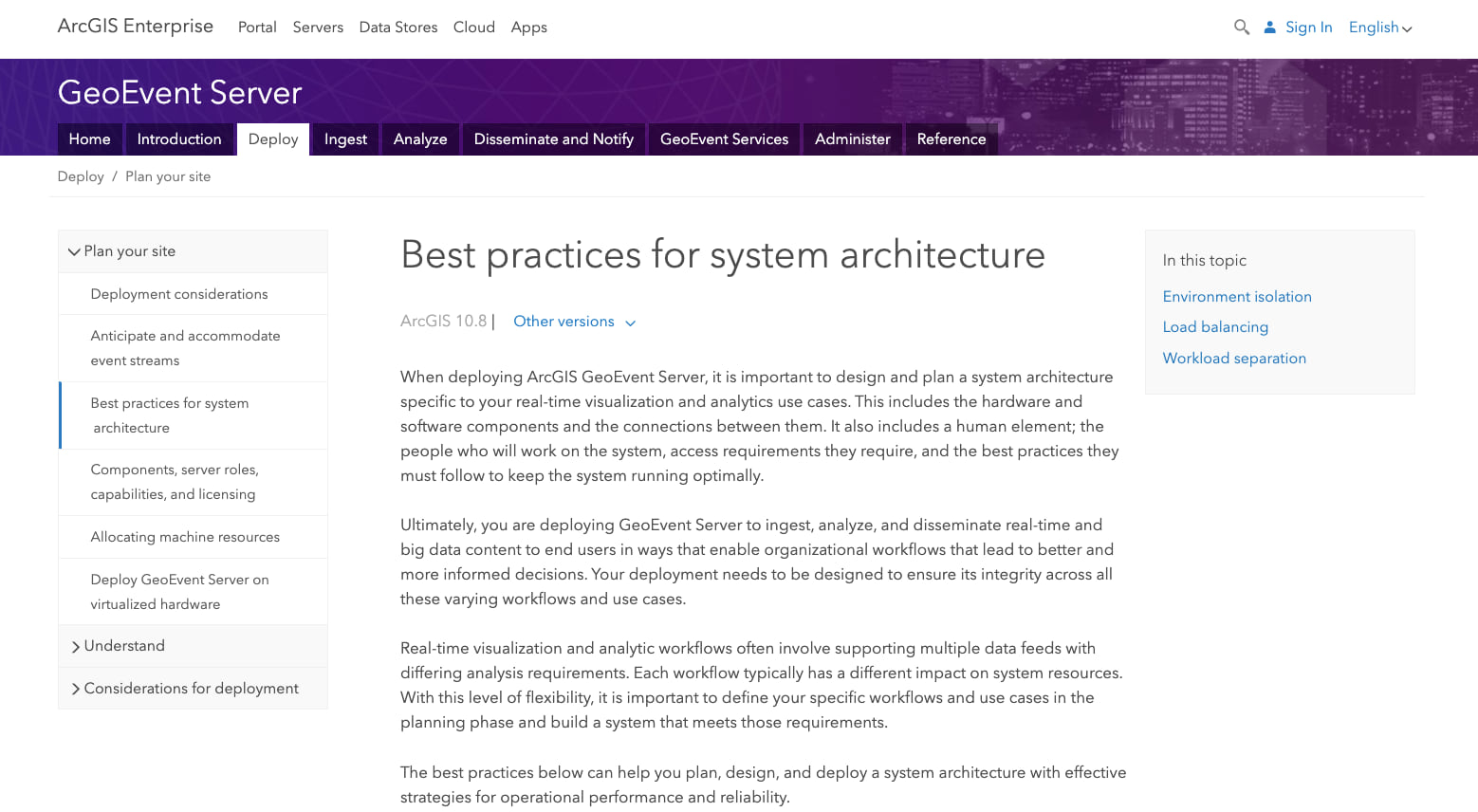 Documentation
Plan, deploy, and configure GeoEvent Server more efficiently with the expanded and updated documentation. Documentation has been restructured with a new Deploy section focusing on best practices for deployment, system architecture, machine resource allocation, virtualized hardware, advanced deployment scenarios, and more.
The updated documentation also includes tips for designing performant GeoEvent Services, new content on working with and managing GeoEvent Server system properties and GeoEvent Gateway system properties.
Check out our documentation to see what else is new in the ArcGIS GeoEvent Server 10.8.1 release. For a list of issues that were fixed at 10.8.1, see the 10.8.1 Issues Addressed List. If you have feedback on the new release or other features in GeoEvent Server, please go to the Real-Time GIS place in GeoNet's ArcGIS Ideas.