New to ArcGIS Field Maps or interested in simple ways of adding data and modelling workflows for the field quickly? Then this blog is for you!
Before we dive in, there are a few things to know, especially if you're brand new to ArcGIS:
To query and edit data in Field Maps, you'll need to put your data into feature layers. Feature layers allow you to view, query and edit data across the ArcGIS System. Field Maps Designer helps you easily create the layers you need.
Feature layers must be added to web maps to edit data in Field Maps. Web maps are interactive maps made up of layers of information. When using Field Maps Designer to create your workflow, your layers will automatically be added to a web map.
To create new feature layers and web maps, you will need to have a user type which supports creating new content in ArcGIS Online or ArcGIS Enterprise. Typically, this is either the Creator or GIS Professional user type. If you're using the Mobile Worker user type, you can view and edit data in Field Maps, but you won't be able to create new layers or web maps.
Whilst the above might be completely new to you, you don't need to be an expert to easily create new field workflows and add your data into Field Maps. In this blog post, we'll cover how to get started with new data in Field Maps, how to add existing data, and then end with some sample maps and workflows.
No Existing Data
Field Maps Designer
You don't need to have existing data in ArcGIS to get started with Field Maps. With Field Maps Designer, you can begin to model your workflows by creating the services and web maps you need to go out into the field. After creating these items in Field Maps Designer, they are stored in your content in either ArcGIS Online or ArcGIS Enterprise. If you're new to ArcGIS check out this intro video for Content Basics.
Let's take a look at this in action in these two quick videos. In this example, Field Maps Designer is being used to create a new map to conduct a site inspection. The focus is enabling field teams to capture potential hazard zones and identify safety equipment.
Create Map
Configure Form
Once we have the layers created we want to define the form our team out in the field will fill out as they are collecting data.
These two short videos show you how quickly you can model workflows for the field in Field Maps Designer. You can see how to model more advanced behavior in the form and other capabilities in our efficiency focused webinar which is a dive into the efficiency capabilities within Field Maps (p.s. the videos clips you've just seen are from the efficiency webinar).
Other options
There are lots of ways to create feature services and web maps in the ArcGIS System. Our recommendation is to use Field Maps Designer if you are brand new to ArcGIS and Field Maps. However, if you use ArcGIS Pro or are familiar with creating services and web maps in ArcGIS Online and ArcGIS Enterprise, you can absolutely use these same web maps and services in ArcGIS Field Maps. You can even open them in Field Maps Designer to configure them further. See our efficiency focused webinar to find out how Field Maps Designer can help with build efficiency into field workflows.
Add Existing Data
Your business data
There are a lot of ways to add data in ArcGIS so it can be used in Field Maps. If you're new to ArcGIS, your data may be stored in spreadsheets, CSVs or shapefiles.
To add these data formats into a new or existing map so they can be used in Field Maps, use Map Viewer.
In this example, I have a spreadsheet with the electric outlets for my job site:

To add this to my web map I need to do the following:
In Map Viewer, go to layers in the map and choose Add layer from file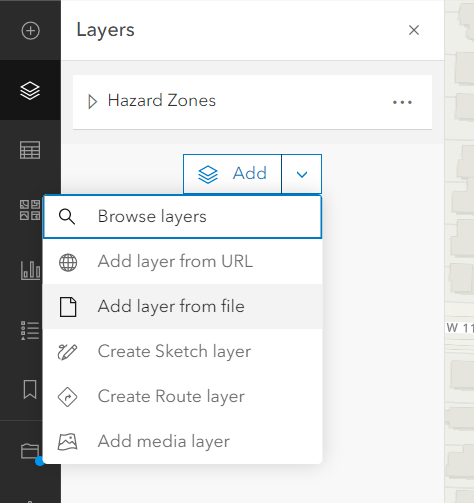 Drag and drop the Excel spreadsheet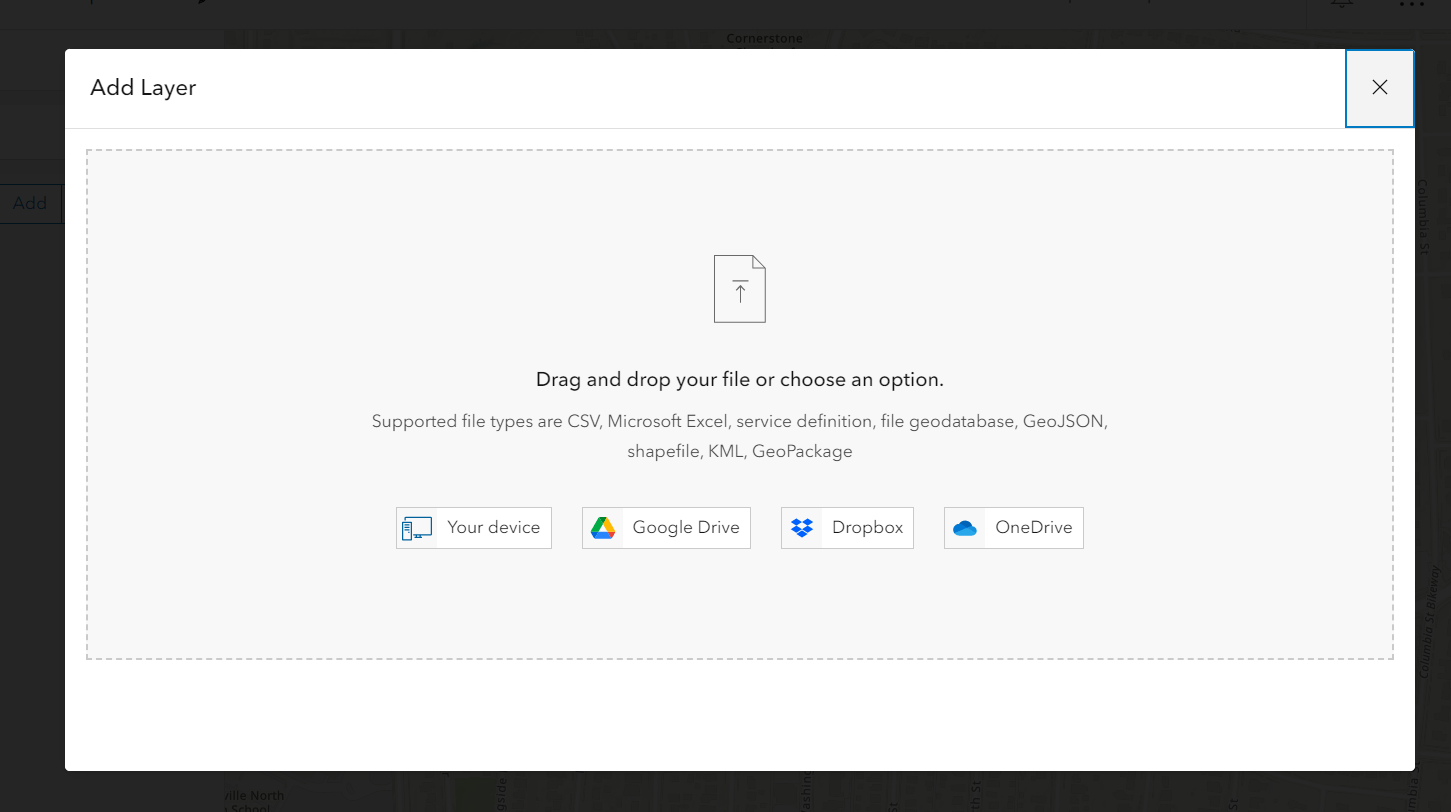 Choose the Display name for the fields and the type of field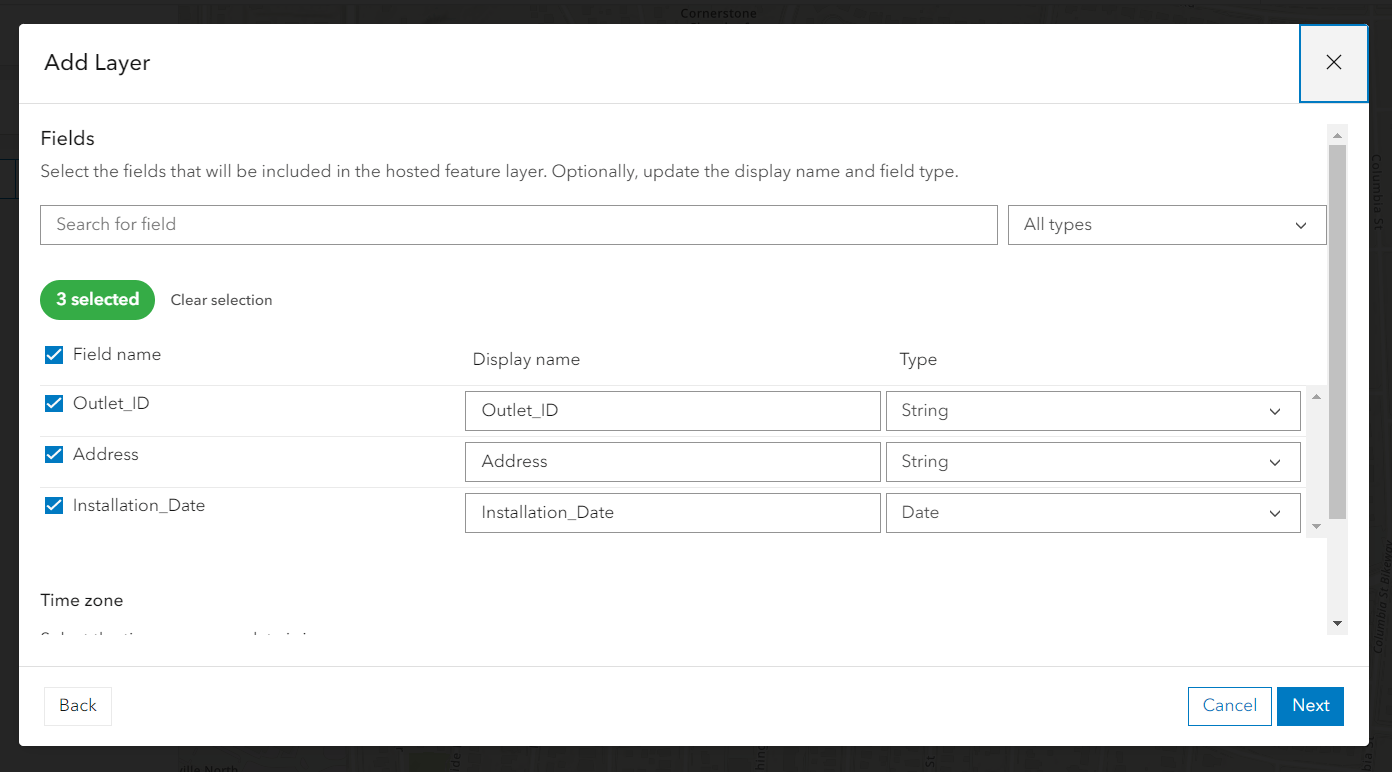 Choose where the location information is being stored on the spreadsheet. As this spreadsheet has addresses but not coordinates, we need to geocode this information so it can be displayed on the map. This is done by choosing Addresses or place names and it will use the World Geocoding Service. This does cost credits, however you can see how many credits it requires before you run the service.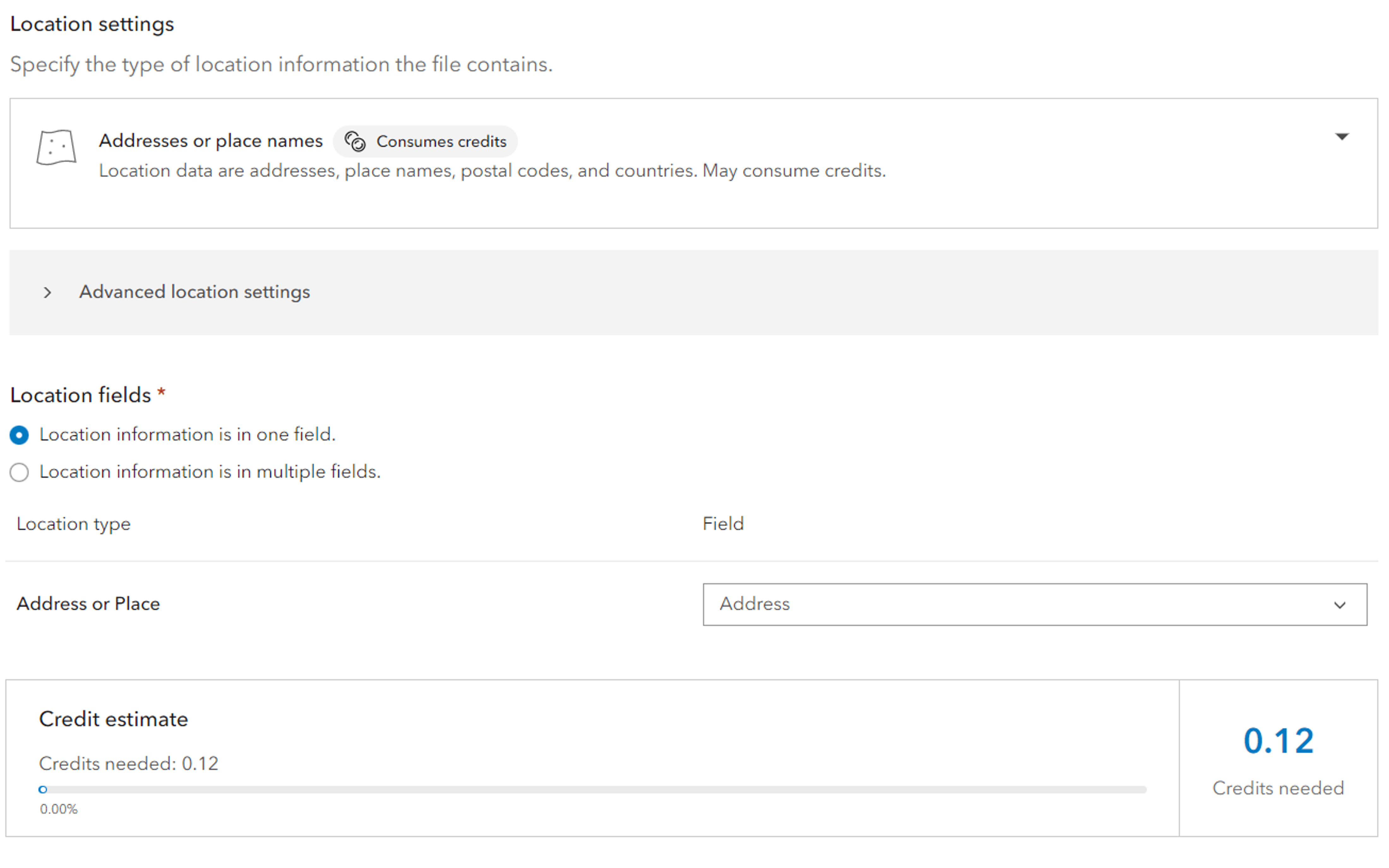 Provide a name and optionally include tags and a description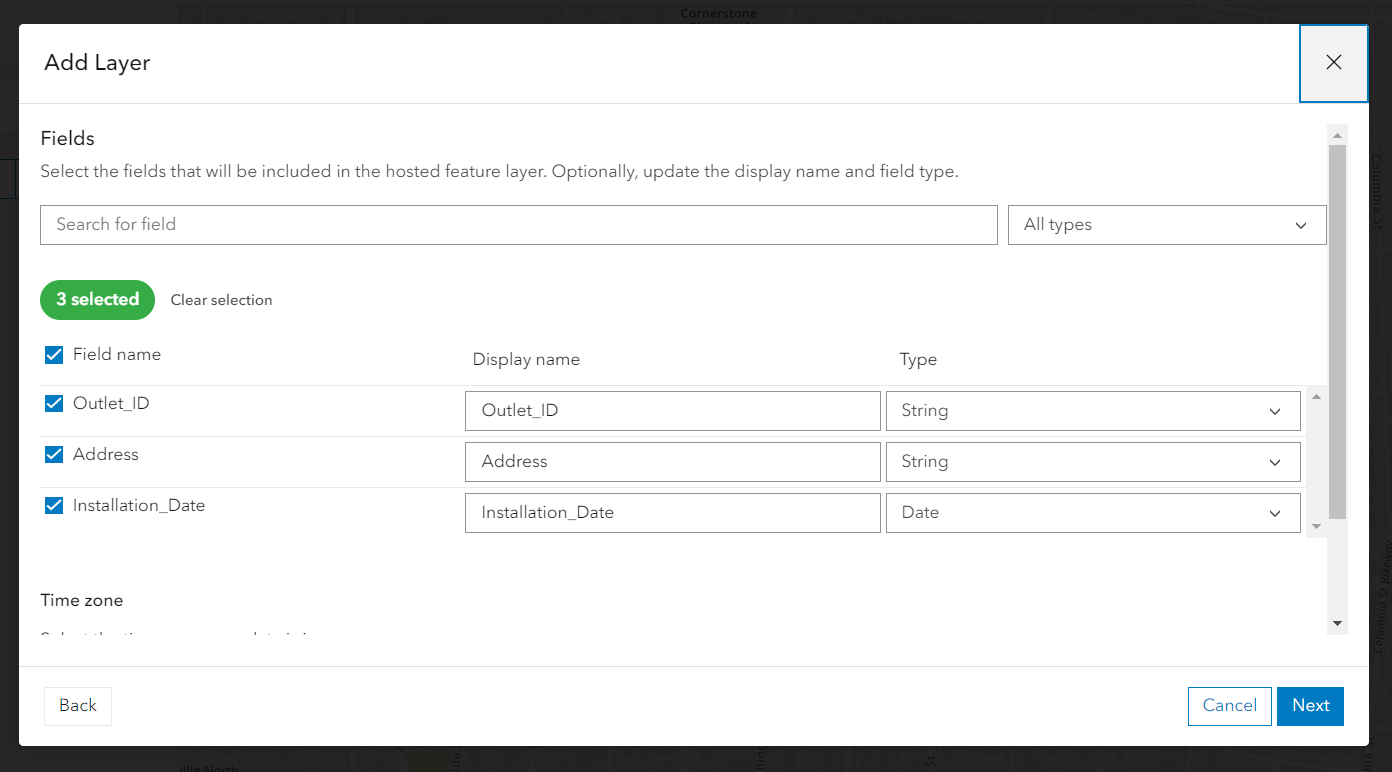 This will now display as a new layer in the map. Once saved, it can be viewed in Field Maps and in Field Maps Designer.
Additional Data
There are plenty of places to get additional data to augment your workflows. It's worth noting that some of these data sources aren't enabled to go offline but can still be used in a connected workflow in ArcGIS Field Maps.
ArcGIS Living Atlas of the World
ArcGIS Living Atlas is an ever-growing collection of curated and authoritative geographic information from around the globe. It includes maps, apps, and data layers you can use, adapt, and analyze in your projects. There are thousands of datasets from around the world that can be added to your map and taken into the field. You can add Living Atlas layers into your map using the Map Viewer.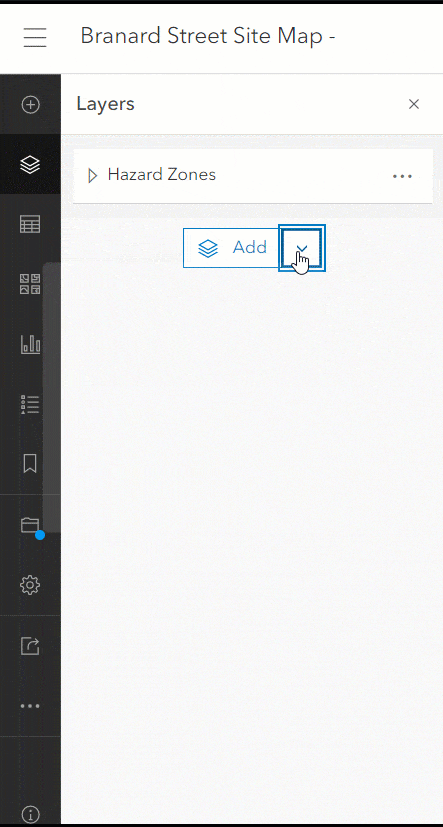 3rd Party Data
Lots of organizations make data services available which can be added to a web map and used within ArcGIS Field Maps. Check out the following help topic which goes through what layers can be added to ArcGIS Online.
Sample Maps and Workflows
Sample Maps
If you aren't quite ready to model workflows or add your own data, or maybe you don't have the user type or permissions to create content, you can still explore the capabilities of Field Maps on your device. Open the Field Maps mobile app and tap Skip on the sign-in screen to view the sample maps. Check out 5 things you can try with Field Maps using these sample maps.
ArcGIS Solutions
ArcGIS Solutions are industry-specific configurations for ArcGIS and a great place to start if you're new to ArcGIS. ArcGIS Solutions create the services, maps, and sample app configurations across all different workflows and industries. These serve as great bases to augment with your own business workflow needs. ArcGIS Field Maps will work with any of the maps created so even if the solution doesn't state it can work with Field Maps, the maps can still be opened and taken out into the field. You can start by searching for your industry and workflow or Field Maps in ArcGIS Solutions.
This blog is a whirlwind on how you can get started with your data and workflows in ArcGIS Field Maps if you're brand new to the ArcGIS system. There are plenty of other methods to add content and model workflows for use in ArcGIS Field Maps. To learn more, check out the Field Maps Resources page. To ask questions and continue the conversation, join us on the Field Maps Esri Community page.