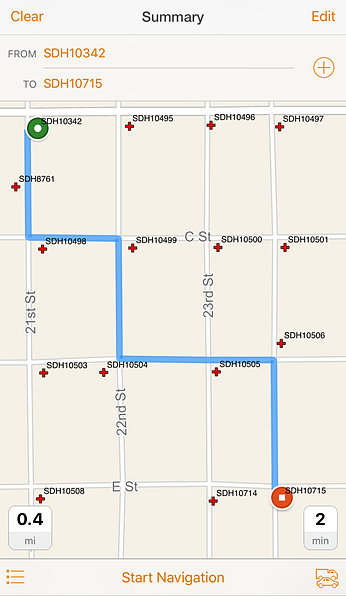 We have released Navigator for ArcGIS 2.0 on the iOS platform! This update includes several anticipated improvements, such as support for navigating with custom maps, optimizing multi-stop routes, writing custom URL schemes that pass addresses, navigating in new languages, and using Portal for ArcGIS 10.4 or later.
Navigate with custom maps
Now field workers can navigate with maps that contain their organization's assets, private roads, basemaps, or cartography. This means that field workers can search for company assets, see them on customized maps, and get directions to the assets on the road network their company uses. For example, in Navigator, utility workers can now search for, see, and get directions to specific power line supports that need maintenance on their organization's private roads. This can be done with custom navigation maps created in ArcGIS Pro 1.2 or later. See Navigator's help for details about how to make and share these maps with your field workers.
Write custom URL schemes that pass addresses
Custom URL schemes allow your users to launch Navigator from your app, website, or email, and navigate based on parameters you've provided. They have been supported since before this release, however, until now you could only include latitude and longitude coordinates in the schemes. Now you can write custom URL schemes that include addresses. This gives you more options to send destinations to Navigator. We have also made other changes to the URL scheme structure, which means that you may have to slightly revise your schemes, otherwise they may not work. Check out this documentation on GitHub for details.
Navigate in more languages
Navigator is now available in Arabic, Dutch, Hebrew, and Portuguese (Brazil). For the full list of supported languages, click here.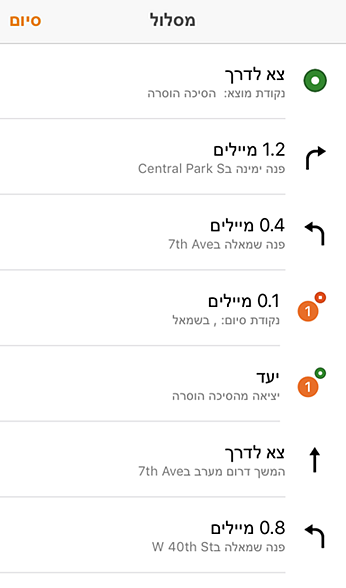 Use Portal for ArcGIS 10.4 or later
Navigator has actually been supporting Portal for ArcGIS 10.4 since this released, but since that was relatively recently, we just want to remind you again of this important update.
Test the Android beta
Testing for the beta of Navigator on the Android platform is still occurring. We've been getting useful feedback about how to make Navigator work for Android customers. If you are interested in playing with the beta click here.
We are happy to deliver eagerly awaited features in this release. For more details about these updates, check out Navigator's documentation.