Due to the success of the last livestream, and as you requested, we are going to repeat the experience!
This is an informal setting, in which we will walk through some of the new features of this release and answer your questions.  
Save the date on your calendar: Tuesday, June 28th at 9am PDT
⏰ Add it to Google Calendar | Microsoft Outlook | Office 365 
Or, turn on a notification on YouTube: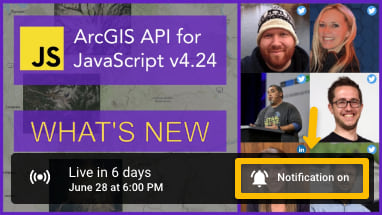 Please, share it if you are as excited as we are!! 😁:
Next Tuesday, June 28th, I'll be joining the livestream to learn about the updates included in v4.24 of the ArcGIS API for JavaScript.

Share:
Our guests this time will be Kristian, Julie, Rene, Yann, Anne, and Arno:
P.S: Here's a sneak peek of what you can expect! And, remember, you can also check out the feedback-js-api-next GitHub repo to try the new features of the API before it's released and give us early feedback.
After some tinkering with ffmpeg, the same content in 3D https://t.co/l5gql4rkI8 #esrijs https://t.co/GL3zvLtsxH pic.twitter.com/fqoId8f0wQ

— Yann Cabon (@yanncabon) June 1, 2022