With the release of ArcGIS Enterprise 10.9.1, the new version of ArcGIS Dashboards is now available for Enterprise portal users. This new version of Dashboards, built on the ArcGIS API for JavaScript 4.X, is now the default experience for your portal to access dashboards. The previous version of Dashboards is now ArcGIS Dashboards Classic. 
This blog will answer some of the questions you may have about the ArcGIS Dashboards experience in 10.9.1 and what you can expect. 
What is the new version of Dashboards?
Glad you asked! There are lots of great enhancements in the new version of ArcGIS Dashboards that you can start taking advantage of. Here are just some of the highlights. For a full list of what's new, see What's new in ArcGIS Dashboards. 
Arcade integration
You can now take advantage of ArcGIS Arcade in your dashboards in two ways, advanced formatting and data expressions. You can use Arcade expressions for advanced formatting of the list and indicator elements to customize how your data points render. Data-driven elements can use a data expression to create a feature set for use as a dashboard's data source.  
Selector redesign
Selectors have been redesigned and include new configuration options. Choose from new presentation modes, add icons, and more. Learn more about the new selector redesign. 
Selection-based display
You can now use selection-based display to configure an element to only render when a selection is made elsewhere on the dashboard. Learn more about selection-based display.  
What's going to happen to my existing dashboards?
In short, nothing. When you open an existing dashboard for viewing, it will automatically open in ArcGIS Dashboards. This means that any of the new stuff we've added will also be applied to your dashboards (like the redesign of selectors) automatically. 
A quick way to tell which version of Dashboards your dashboard is open in is to check the URL. 
Classic dashboard URL: /apps/opsdashboard/index.html#/<itemID> 
New dashboard URL: /apps/dashboards/<itemID> 
How do I edit my existing dashboards?
When you open your existing dashboard for editing in ArcGIS Dashboards, you can configure it as normal and hit save. This will save your edits and save your dashboard with the new version.  
If your dashboard was previously updated with ArcGIS Dashboards Classic, review your dashboard before saving. Once your dashboard is saved, it can no longer be edited using ArcGIS Dashboards Classic. If you are unsure whether your dashboard will be affected, save it as a new dashboard instead.
If you don't want to upgrade yet but you need to make changes to an existing dashboard, open your dashboard with ArcGIS Dashboards Classic to make your changes.  
How do I use the new Dashboards?
Dashboards created or viewed from the Content, Item Details pages, Map Viewer or Map Viewer Classic will use the new version. In the app launcher, you will now see two versions of ArcGIS Dashboards.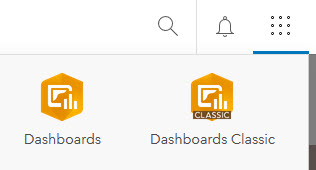 Click ArcGIS Dashboards and create and edit your dashboards as normal. To continue using ArcGIS Dashboards Classic, click ArcGIS Dashboards Classic.
Can I use the new Dashboards in previous versions of Enterprise?
The new version of Dashboards is only available starting in Enterprise version 10.9.1. Previous versions of Enterprise will still only list one version of ArcGIS Dashboards (the now Classic version).  
Where can I get help for ArcGIS Dashboards?
You can view all the documentation for the new ArcGIS Dashboards here.