The GIS of the future is 3D, a model of the real-world that provides an engaging and intuitive interface for visualization, analysis, monitoring, and sharing. Recent technology advances in data collection—such as "reality capture" from drones or airplanes, building information models (BIM), commercial "street view" equipment, 3D photogrammetry, and Internet of Things (IoT) sensors—are creating massive amounts of rich 3D data that can be transformed into useful, actionable information.
Next month at the 2018 Esri User Conference in San Diego (July 9th – 13th), connect with 3D GIS experts to learn about the latest 3D GIS software and experience how Esri's 3D GIS technology has transformed the way 3D information can be managed, utilized, and integrated with your enterprise GIS. 3D is a core GIS capability that's easier than ever to integrate into your current workflows.
At the 2018 Esri UC, visit the 3D GIS Showcase where you can:
Discover how Esri's Enterprise 3D GIS strategy can transform your work.
Learn best practices when creating 3D scenes and experiences.
Connect with Esri professionals to answer your questions and help you get started with 3D GIS.
The 3D GIS Showcase will be open:
Tuesday, July 10th 9:00 AM–6:00 PM
Wednesday, July 11th 9:00 AM–6:00 PM
Thursday, July 12th 9:00 AM–1:30 PM
Ground Level Exhibit Hall A, SDCC
Also, be sure to check out theater sessions to dive deep into 3D and see how it's all done. Esri staff will demonstrate the latest in 3D technology, from CityEngine to Web Scenes, and provide the audience with great tips & tricks to implement into current GIS workflows. The sessions highlighted below run the gamut of all things 3D.
If you'd like to meet one-on-one with a 3D GIS expert, email mschueren@esri.com to coordinate a time. 
Sunday, July 8-10 | Marriott Marquis San Diego Hotel & Marina
Learn how 3D GIS is transforming the A/E/C industry. Connect and collaborate with fellow industry users, attend focused presentations on specific challenges and lightning talk presentations providing new best practices with the latest technology.
Sunday, July 8-10 | Marriott Marquis San Diego Hotel & Marina
Get a detailed look at new imagery and remotely sensed data processing and analytical techniques in ArcGIS. Learn how to tell meaningful stories in 3D using enhanced imagery visualization and mensuration tools, artificial intelligence classification techniques, advanced raster analytics, and satellite, aerial, and drone imagery sensor data.
Esri Showcase
Pre-Conference Seminars
3D GIS Demo Theater
3D GIS Technical Workshops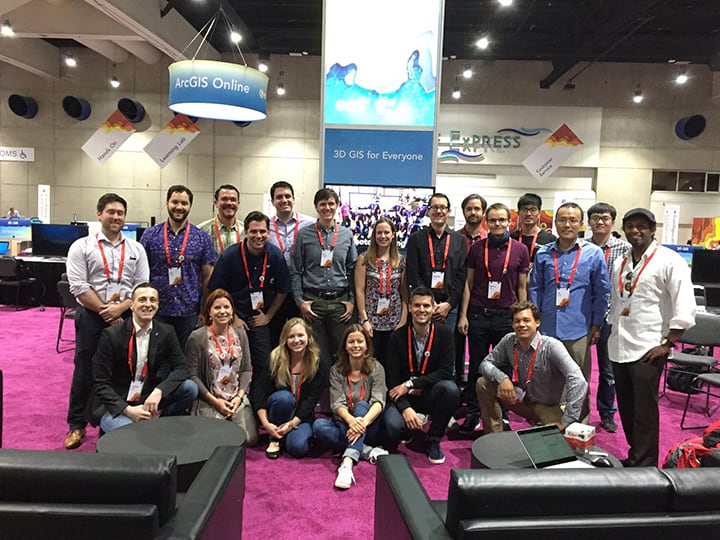 Harnessing the power of 3D has never been easier. Take advantage of 3D as a core GIS capability, allowing anyone to access 3D content and tools anywhere and in any environment. Use 3D GIS to deliver useful content and capabilities to anyone who needs them, in the way that's best suited to their work. We hope you'll stop by the 3D GIS Showcase to experience the latest and greatest – don't be a stranger!
-Madeline
PS – Follow Esri CityEngine & Geodesign on Facebook, Twitter, and Instagram.
Commenting is not enabled for this article.