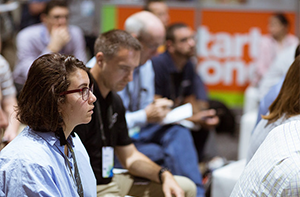 We're just a few weeks away from Esri User Conference (Esri UC), the world's premier GIS conference in San Diego, California from July 9-13, 2018. The UC is the largest global GIS event, attracting 17,000+ users, managers and developers and includes 1000+ moderated sessions, 450+ hours of training, and 300+ innovative software exhibitors. There will also be inspirational keynotes, one-on-one support sessions with Esri technical and professional staff, and more!
One area you won't want to miss is the Esri Startup Zone (SUZ) in Hall A of the expo showcase! This high energy and innovative area is hosted by the Esri Startup Program and features the work of 24 up-and-coming businesses that have integrated spatial capabilities within their product offerings and help Esri customers gain even more value from their investments in ArcGIS. SUZ exhibitors address a broad spectrum of industries such as public safety, local and federal government, utilities, natural resources, health, and commercial sectors. These companies are driving innovation across a wide array of themes that include mobile, Internet of Things (IoT), augmented reality, real-time analytics, and more. Join this passionate community for demos, explore partnerships, and to learn about their new offerings built to deliver value for the enterprise market.  Download the SUZ flier to help plan your visit.
Showcase Hours
Tuesday, July 10: 9:00 am–6:00 pm
Wednesday, July 11: 9:00 am–6:00 pm
Thursday, July 12: 9:00 am–1:30 pm
Startup Zone Exhibitors:
| | | | |
| --- | --- | --- | --- |
| Company | Description | Industry Focus | Booth |
| 2NDNATURE | Simplified stormwater compliance to empower communities and inform change. | Water/Wastewater/ Stormwater, Local/State/ Provincial Government | Z5 |
| Argis Solutions | Argis Solutions helps field crews overcome 2D mapping technology limitations of locating assets by providing Augmented Reality for ArcGIS. | Local/State/Provincial Government, Natural Resources, Pipeline | Z2 |
| DataCapable | Realize the power of GeoSocial. Transform your map into a social canvas. One that provides event detection and two-way customer messaging. | Electric & Gas, Government, Public Safety | Z14 |
| Downtown.AI | Downtown.AI uses machine learning and location data to predict the Human Landscape, assisting businesses to predict customer demand and cities to manage and plan. | Local/State/Provincial, Government, Commercial | Z23 |
| Easy2Hike | A platform to empower outdoor adventures by connecting nature park managers and visitors. Enabling park managers to take data driven decisions. | Local/State/Provincial Government, Conservation | Z6 |
| Esri Startup Program | A three-year program that gives emerging businesses the tools to build mapping and location analytics capabilities into their products, esri.com/startups. | All Industries | Z25 |
| FernLeaf Interactive | FernLeaf Interactive is a resilience decision support solutions firm that uses data to help communities prepare for and adapt to natural hazards. | Local/State/Provincial Government, Public Safety | Z1 |
| FishViews | We create 360-degree image maps of waterways to provide context to data and enhance analysis of aquatic data. | Water/Wastewater/ Stormwater, Local/State/ Provincial Government | Z10 |
| FlameMapper | Regain control of wildfires with predictive analysis, mitigation modelling and containment analysis and leverage informed decision making instantly. | Public Safety, Local/State Government, Fire/Rescue/EMS, Insurance | Z15 |
| Geollect | Geollect delivers world class geospatial-intelligence that provides decisive advantages to business executives, policy makers, and operators. | Non-U.S. National Security, Defense | Z3 |
| GIS Routes | We improve last mile logistics operations by providing a solution, to help our clients reduce costs, improve quality of service and use of resources. | Commercial, Transportation | Z21 |
| GIS WebTech | GIS WebTech offers innovative technology solutions engineered specifically for economic development and site selection. | Local/State/Provincial Government | Z11 |
| GroundVu | GroundVu ultra high definition aerial and street level imagery for ArcGIS. We can extract virtually any GIS feature layer from imagery. Learn more, ground.vu. | Electric & Gas, Local/State/ Provincial & National Government, Public Safety | Z20B |
| Hangar Technology | Hangar enables insightful, actionable intelligence created by an ecosystem empowered by autonomous mobile robotics. | AEC, Electric & Gas, Commercial, Government | Z19 |
| indoo.rs GmbH | indoo.rs is a leading provider of professional real-time Indoor Positioning and Mobile Wayfinding solutions for mobile apps. | Aviation, Transportation, Commercial | Z12 |
| IndoorVu | IndoorVu is an Indoor Mapping company that delivers GIS ready indoor data products with a high degree of precision and accuracy. | Commercial, Telco/Cable, AEC, Local/State/Provincial | Z20A |
| iSpatial Techno Solutions | iSpatialTec provides a decade of experience in the area of Information Technology Planning, program management, solutions and services. | Electric & Gas, Government | Z16 |
| Meemim | Meemim is a developer of vGIS, the most advanced AR/VR/MR visualization platform for ArcGIS. | Electric & Gas, Local/State/ Provincial Government, Natural Resources | Z9 |
| pathVu | pathVu is building a global database of pedestrian pathway data to improve accessibility, walkability, and safety for pedestrians of all abilities. | Local/State/Provincial Government, Transportation | Z22 |
| SafeGraph Inc | SafeGraph is focused on understanding how populations move in the physical world. We deliver high quality location data products to organizations. | Commercial, Local/State/ Provincial & National Government | Z17 |
| SkyMap Global | SkyMap Global's mission is to make data analytics from imagery available using automation and speed by working on satellites, UAV and aerial. | Imagery, Commercial, Government, Natural Resources | Z24 |
| Sparkgeo Consulting | Maptiks gives companies rich insights about their web maps, their audiences and potential customers. It's a powerful web map analytics tool. | Commercial, Local/State/Provincial Government | Z7 |
| StreenScan | StreetScan offers a fast, automated and objective asset inspection and management service to the public sector, maximizing the impact of repair budget. | Local/State/Provincial Government, Transportation | Z13 |
| TerraLoupe | Terraloupe applies AI on aerial imagery. We deliver localized insights fast and precise through the ArcGIS platform on a global scale. | Commercial, Insurance, Electric & Gas | Z4 |
| UtiliSync | Enhance your GIS-based forms with UtiliSync. Collect photos and signatures, automatically create and email PDF reports, and more. | Local/State/Provincial Government, Water/ Wastewater/ Stormwater | Z18 |
| Vricon | Vricon's mission is to build the Globe in 3D – a revolution in GEOINT tradecraft – offering decision makers the entire world in highly accurate, immersive 3D. | Defense, National Government | Z8 |
Startup Talk Schedule – Hall A, Startup Zone (SUZ)
Sessions & Special Interest Groups (SIGs) Featuring Startup Program Partners:
Today, startups do more than influence mainstream culture–they also change the way our organizations operate. With intense pressure on organizations to innovate and do more with less, Esri startups are delivering powerful solutions with intuitive interfaces that extend the ArcGIS platform. Take some time to see what is trending in the geospatial industry at the Startup Zone!
Want to learn more about the Esri Startup Program?