The Esri User Conference (Esri UC), July 10-14, 2017 in San Diego, California is the biggest GIS event globally. It attracts 16,000+ GIS users, managers and developers and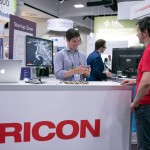 includes 1000+ moderated sessions, 450+ hours of training, and 300+ innovative software vendors/startups. There will also be inspirational keynotes, one-on-one support sessions with Esri technical and professional staff, and more!
One area you won't want to miss is the Esri Startup Zone (SUZ) on Tuesday, Wednesday, and Thursday in Hall A of the expo showcase! This high energy and innovative area is hosted by the Esri Startup Program and features the work of 22 up-and-coming businesses that have integrated spatial capabilities within their product offerings and help Esri customers gain even more value from their investments in ArcGIS. SUZ exhibitors address a broad spectrum of industries such as public safety, local and federal government, utilities, natural resources, health, and commercial sectors. These companies are driving innovation across a wide array of themes that include mobile, Internet of Things (IoT), augmented reality, real-time analytics, and more. Join this passionate community for demos, to explore partnerships, and to learn about their new offerings built to deliver value for the enterprise market.
You can download the SUZ flier to help plan your visit in the Showcase EXPO.
Startup Zone Exhibitors:
Company

Description

Industry Focus

Booth

Aerial Insights
Aerial Insights provides for the industrial operation through drone services and data analysis, integrating machine vision and cutting-edge AI.
Agriculture & Environmental/ Natural Resources
Z14
Argis Solutions
Argis Solutions will improve your work with Augmented Reality and the Argis® Framework, the most advanced tool available in the expanding AR world.
Water/Wastewater/Stormwater & Electric/Gas
Z15
Conias Risk Intelligence
Conias Risk Intelligence specializes in digitizing and assessing political risks. We offer visualized analyses based on georeferenced data.
Financial Services
Z17
Ctzen
Results driven government with real time city information.
City/Town Govt & Planning/ Economic Development
Z24
DataCapable
Calling a business is frustrating for a customer. Our Event Mapping and ArcGIS to Facebook adapter allow businesses to become the source of the news.
Electric/Gas & Public Safety
Z7
Echosec
Echosec is a social media discovery tool. Users leverage live, public intelligence by location to provide real-time insight that delivers results.
National Security /Law Enforcement & Commercial
Z21
FernLeaf Interactive
FernLeaf Interactive is a decision support solutions firm that uses data to help communities prepare for and adapt to natural hazards.
AEC & City/Town Government
Z5
FishViews
FishViews creates 360HD SmartMaps of waterways delivered to desktop, mobile, or VR devices. We get you on the water without putting you in the boat.
Water Resources & Environmental/Natural Resources
Z16
FlameMapper
FlameMapper's Fire Behavior Engine provides unmatched insight to wildfire risk at the drop of a pin: from fire prevention and maintenance, to downed utility infrastructure, know what's at risk. Intuitive visualizations are tailored to mathematically pinpoint high risk infrastructure, so prioritized action can be taken resulting in countless savings.
City/Town Government & Fire/Rescue/EMS
Z20
GIS Web Technologies
Our solutions help Economic Developers attract new business and retain and expand existing business within their community.
Community Planning/ Economic Development & Real Estate
Z13
GroundVu
GIS requires high quality, reliable, rapid delivery of ArcGIS ready data. At GroundVu, we fly and drive your assets, using cameras to create 3D GIS.
Imagery & Electric/Gas
Z8
indoo.rs
Indoo.rs is a technology development company that creates state of the art localization and routing technology as well as SDKs for app developers.
Aviation & Transportation
Z23
Indoor Reality
Our patented hardware and software platform provides a complete solution for ultrafast, automated 3D mapping and visual documentation of buildings.
Real Estate & Architecture, Engineering, Construction
Z18
Kinetic Analysis Corp
Real-time tropical cyclone hazard and impact information for informed emergency and risk management.
Emergency Management & Insurance
Z4
Mapillary
Mapillary is a street-level imagery platform powered by collaboration and computer vision.
Imagery & Public Works
Z3
Remote GeoSystems, Inc.
Turn key Geospatial Full Motion Video (FMV) Recorders & Integrated GIS Solutions for Energy, Transportation, Defense and other Critical Infrastructure.
Aviation & Law Enforcement
Z6
SafeGraph Inc
SafeGraph maintains the world's largest human movement dataset based on anonymous location data from mobile devices.
Financial Services & City/Town Government
Z22
setld
setld is a next generation "geospatial" data and service provider for O&G. We help customers efficiently transform data into actionable information.
Oil & Gas & Environmental/ Natural Resources
Z12
Sparkgeo
Sparkgeo fuses mapping with the web. We have also built Maptiks, the only advanced web map analytics on the market.
City/Town Government & Commercial
Z9
StreetScan
StreetScan provides an end-2-end asset inspection and management service to the public sector by using unique sensing and GIS technologies.
AEC & City/Town Government
Z1
Valarm
Valarm brings Industrial IoT, sensor telemetry, and remote monitoring to the Esri ArcGIS platform, GeoEvent, Operations Dashboard, and ArcGIS Online.
Environmental/ Natural Resources & Agriculture
Z2
Vricon
Vricon serves the global professional geospatial market with world-leading 3D geodata and 3D visualization solutions.
Defense/Intelligence & Imagery
Z10
Cisco
SUZ Lounge Sponsor: Cisco Systems designs and sells lines of products, provides services and delivers integrated solutions to develop and connect networks globally.
SUZ Lounge Sponsor
NVIDIA
SUZ Lounge Sponsor: Since our invention of the GPU in 1999, NVIDIA has transformed into a specialized platform company that targets four very large markets – Gaming, Enterprise Graphics, Datacenter and Automotive – where visual computing is essential and deeply valued. We are singularly focused on the field of visual computing with the ability to deliver our value through PC, mobile and cloud architectures. We bring together GPUs and software solutions to create unique value for the markets we serve.
SUZ Lounge Sponsor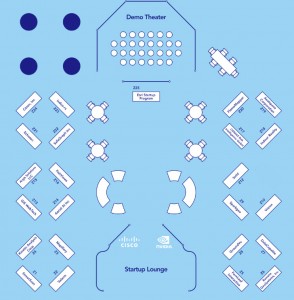 Startup Demo Theater Schedule – Hall A, Startup Zone
Esri Startup Zone Demo Theater Schedule
  Tuesday, July 11

9:30 am

Making Political Risk Predictable: Mapping, Analyzing & Forecasting Political Conflicts
CONIAS Risk Intelligence GmbH

10:00 am

NASA DEVELOP: Conducting Feasibility Projects using GIS & Remote Sensing
NASA DEVELOP National Program

10:30 am

Revolutionizing Smart City Roadway Inspections & Asset Management
StreetScan Inc.

11:30 am

Remotely Monitoring Water, Air, & Vehicles with Industrial IoT Sensors
Valarm

1:00 pm

GIS Solutions for Vulnerability, Risk, & Resilience
FernLeaf Interactive

2:00 pm

Pairing Social Media with Business Intelligence for Utilities: The 1st Facebook Adapter for ArcGIS
DataCapable

3:00 pm

Real-Time Tropical Cyclone Information for Informed Risk Management Globally
Kinetic Analysis Corp

4:00 pm

Gaining Insights from Real-Time Social Media Mapping Data
Echosec

5:00 pm

Drone, Map, Collaborate:  Interactive Drone Inspection Reports using Remote GeoSystems & ArcGIS
Remote GeoSystems
  Wednesday, July 12

9:30 AM

Create Your Own Street View in ArcGIS
Mapillary

10:30 AM

Crowdsourced Citizen Reporting, Improving Government Incident Response
Ctzen, Inc

11:30 AM

Indoor Mapping for Airports, Facilities & Retail
indoo.rs GmbH

1:00 PM

Immersive Earth Science: Exploring Data with Virtual Reality
NAVTECA

2:00 PM

Leveraging GroundVu for Imagery, 3D Point Clouds & Geo Data as a Service
GroundVu

3:00 PM

Stepping into the Map: One Call Augmented Reality (AR) Support
Argis Solutions

3:30 PM

Gaining Insights with Actionable Information Products in Oil & Gas
setld

4:30 PM

3D Analytics for the "Xbox Generation"
Vricon

5:00 PM

Big Data: Improve GIS Workflows Using Human Movement Data
SafeGraph
  Thursday, July 13

9:30 AM

Tracking Visitor Interactions to Build Better Web Maps
Sparkgeo

10:00 AM

Near-Real-Time Wildfire Mitigation Mapping & Fire Prediction
FlameMapper

10:30 AM

360 Panoramic Models & Analysis of Fish Distribution & Habitat in an Olympic National Park River
FishViews

11:00 AM

How Economic Developers Can Leverage the Latest in GIS
GIS WebTech

12:45 PM

Ultrafast 3D Mapping & Visual Documentation of Indoor Spaces
Indoor Reality
Industry Focused Moderated Paper Sessions Featuring Startup Program Partners:
Today, startups do more than influence mainstream culture–they also change the way our organizations operate. With intense pressure on organizations to innovate and do more with less, Esri startups are delivering powerful solutions with intuitive interfaces that extend the ArcGIS platform. Take some time to see what is trending in the geospatial industry at the Startup Zone!
Want to learn more about the Esri Startup Program?