by Ariel T. Doumbouya, NHD Team, United States Geological Survey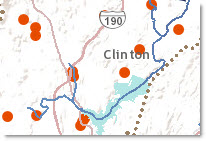 Fish sampling sites in the Nashua River Subbasin in Massachusetts are linked to the National Hydrography Dataset (NHD) as events using the Hydrography Event Management (HEM) Tools.  Events allow scientific information to be linked to the NHD which provides a powerful modeling framework that can be used to locate water related information on the network, establish up and/or downstream relationships, perform habitat and species modeling, and determine relationships between  other environmental factors.
There are many advantages to linking scientific data as events to the NHD using the HEM Tools. Some of these include: event synchronization, feature level metadata, & network locations (ReachCode and Measure). More importantly, using the NHD as the framework, scientists are able to perform scientific analysis of linked datasets for many purposes, such as fisheries management.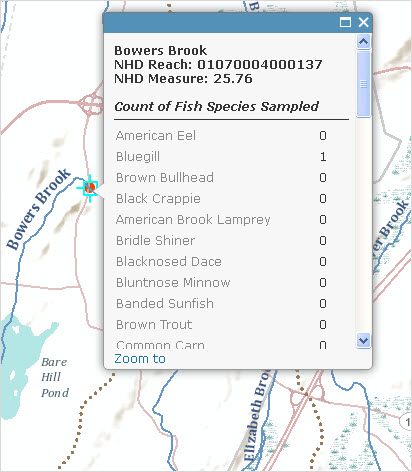 For these fish sampling sites, factors influencing riverine fish assemblages were examined. These include:
elevation,
percent sand and gravel in contributing areas,
channel slope,
basin slope,
precipitation,
maximum temperature,
strahler stream order,
shreve stream order,
d-link (Shreve stream order of the next downstream reach), and
the difference between Shreve stream order at the site and in the downstream reach.
Not only can statistical analysis be performed at these locations based on the linked datasets, but spatial relationships can also be determined. In addition, this information can be used for planning purposes such as the current impact of dams on riverine fish assemblages and the impact of additions or removals of additional dams can be modeled spatially.
For more specific information on these fish sampling sites and this study please view this Scientific Investigations Report.
Map Functionality:
By clicking on one of the fish sampling sites in the map, the type and counts of each species observed, the related NHD features and the total time of sampling can be viewed. Download this data to use network flags and/or barriers to perform network traces utilizing the HEM Tools and the Utility Network Analyst Toolbar.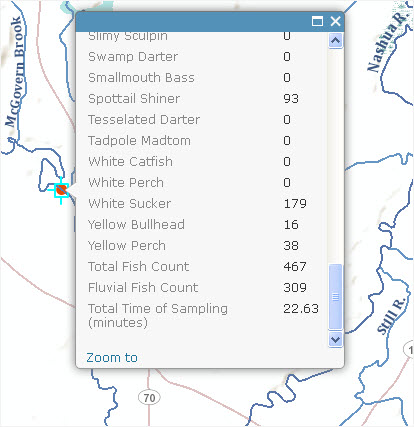 To re-create this map or another with your own data:
Download the HEM Tools from: http://nhd.usgs.gov/tools.html#hem
Download the associated NHD subbasin from:  http://viewer.nationalmap.gov/viewer/nhd.html?p=nhd
Create a point, line or area event feature class in ArcCatalog using the HEM Tools.
At a minimum add your NHDFlowline and NHDWaterbody to ArcMap. Add the data you would like to link to the NHD and the event feature class created above.
Use the ArcMap HEM Toolbar to "Import" your data to HEM events. This step attempts to attach each feature to an NHD ReachCode.
Perform HEM Import QA/QC. This step verifies that all features were snapped to the correct network location.
Once QC is complete, apply these changes to your event feature class created above.
You now have an event feature class which links your data to the NHD, you can use linking fields such as SourceFeatureID to relate or add additional attribute information. In addition you can take advantage of tools such as Event Synchronization which updates your event feature classes in a batch mode when updated hydrography is obtained.
More detailed information on using the HEM Tools can be found at: http://usgs-mrs.cr.usgs.gov/hemtool/HEMToolManual_v25/HEMToolManual_v25.html
Credits: Ariel T. Doumbouya, Peter A. Steeves, David S. Armstrong, Todd A. Richards, Sara B. Levin