by Caitlin Scopel, Cartographic Product Engineer, Esri
For tho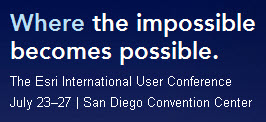 se craving hydro, the 2012 Esri International User Conference is bursting with water-related sessions, starting on Sunday with the GIS Hydro 2012 meeting, and continuing throughout the conference.
GIS Hydro is a FREE Preconference meeting on Sunday, July 22nd, 2012.
Team Water Resources Meeting Agenda
(GIS HYDRO 2012 – Water Resources Workshop)
Sunday, July 22, 2012  •  8:00am – 5:00pm
San Diego Convention Center  •  Room 29 C
8:30 – 10:00
ArcGIS Online and Hydro Resource Center

Available Data, Maps, Apps and Templates

University of Texas

Esri

Esri

Esri

Esri

Esri

Esri

David Maidment

Caitlin Scopel

Erika Boghici

Michael Dangermond

Rich Nauman

Daniel Siegel

Gonzalo Espinoza

10:00 – 10:15
Break
10:15 – 11:00
New ArcGIS Hydrologic Analysis Workflows and Geoprocessing Services
Esri

Esri

Steve Kopp

Dean Djokic

11:00 – 12:00
Water Observations

Regional, National, Global
How to work with Hydrological time series

?

Esri

Stefan Fuest

Daniel Siegel

12:00 – 1:30
Lunch on your own
1:30 – 3:15
Monitoring and Modeling for Drought and Water Supply
University of Texas

Brigham Young University

David Maidment

Norm Jones

3:15 – 3:30
Break
3:30 – 5:00
Spotlight Presentations of Water Resource Application Projects

Hydrologic Modeling for Hydropower Applications
Global Rivers Monitoring and Analysis
Flood Mapping Information Systems

?

Woods Hole Research Center

?

Eok Ngo

Greg Fiske

Nick Estes

5:30 –
Dinner  (Sevilla)
This all day preconference meeting is FREE.
If you would like to be on the meeting invite list, please contact Christa Campbell (CCampbell@esri.com).
During the main conference, follow the Water Resources Session topic to attend these Moderated Paper sessions:
In addition, find these Tech Workshops and Demo Theater Presentations:
The 2012 Esri International User Conference is less than 2 weeks away!
We hope to see you at all these great sessions.

Commenting is not enabled for this article.