The ArcGIS QuickCapture mobile app has just been updated in the Apple, Google Play and Microsoft app stores.  Highlights include:
Do you want a quick overview? Check this 3 minute video. If you want more details, read below!
Enhanced location tracking capabilities
Location tracking is an organization-wide extension. It allows you to record where users are and where they have been. In 2021 we added support for location tracking in ArcGIS QuickCapture. It is also available today in Field Maps, and soon in ArcGIS Survey123.  Whatever ArcGIS mobile app people use, we want to make sure you can leverage location tracking!
This release includes a couple of key enhancements:
Collect the last known location only
Ordinarily, location tracking will allow you to monitor the last known location of users, as well as log where they have been. In some workflows, you just need to know where people are. With this update, you can now configure your QuickCapture project to collect just the last known location.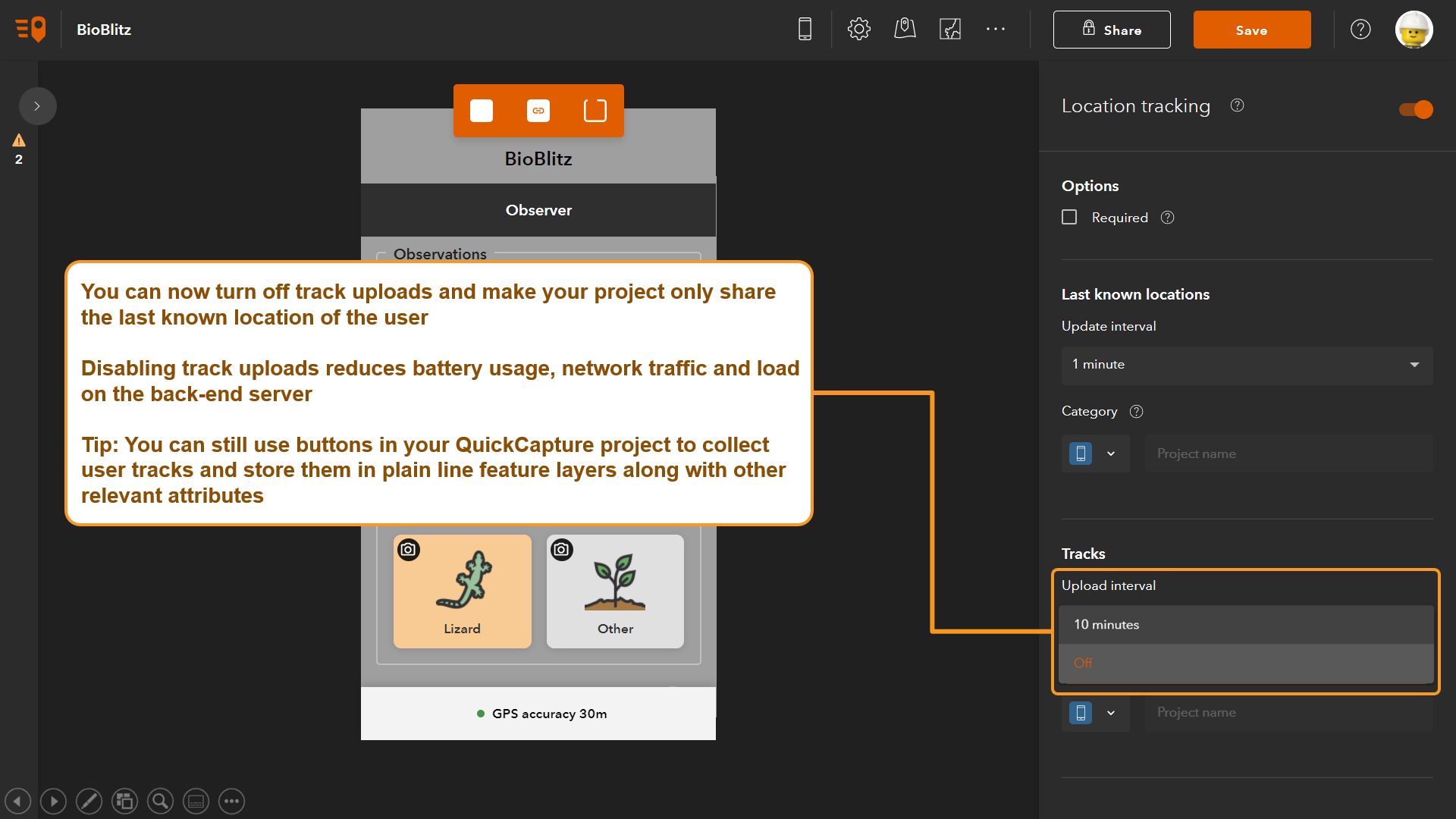 Why would you want to disable the collection of location tracks? As a general rule, you should not collect more information than you need. In many workflows collecting location tracks is of great value, but sometimes you just need to monitor last known locations.  By disabling location tracks you will reduce network bandwidth requirements and lower load on the back-end infrastructure.
Thematically render your location tracking data
Did you know that location tracking layers include a category field?  With this update, you can choose what information to store in it. This is useful because the category field can help you thematically render your location tracking data.  For example, you can use different colors to represent tracks based on team, or activity.
In the QuickCapture designer, you will now find a new option to specify what value should go into the category field. Select between a fixed value, device variable or project user input.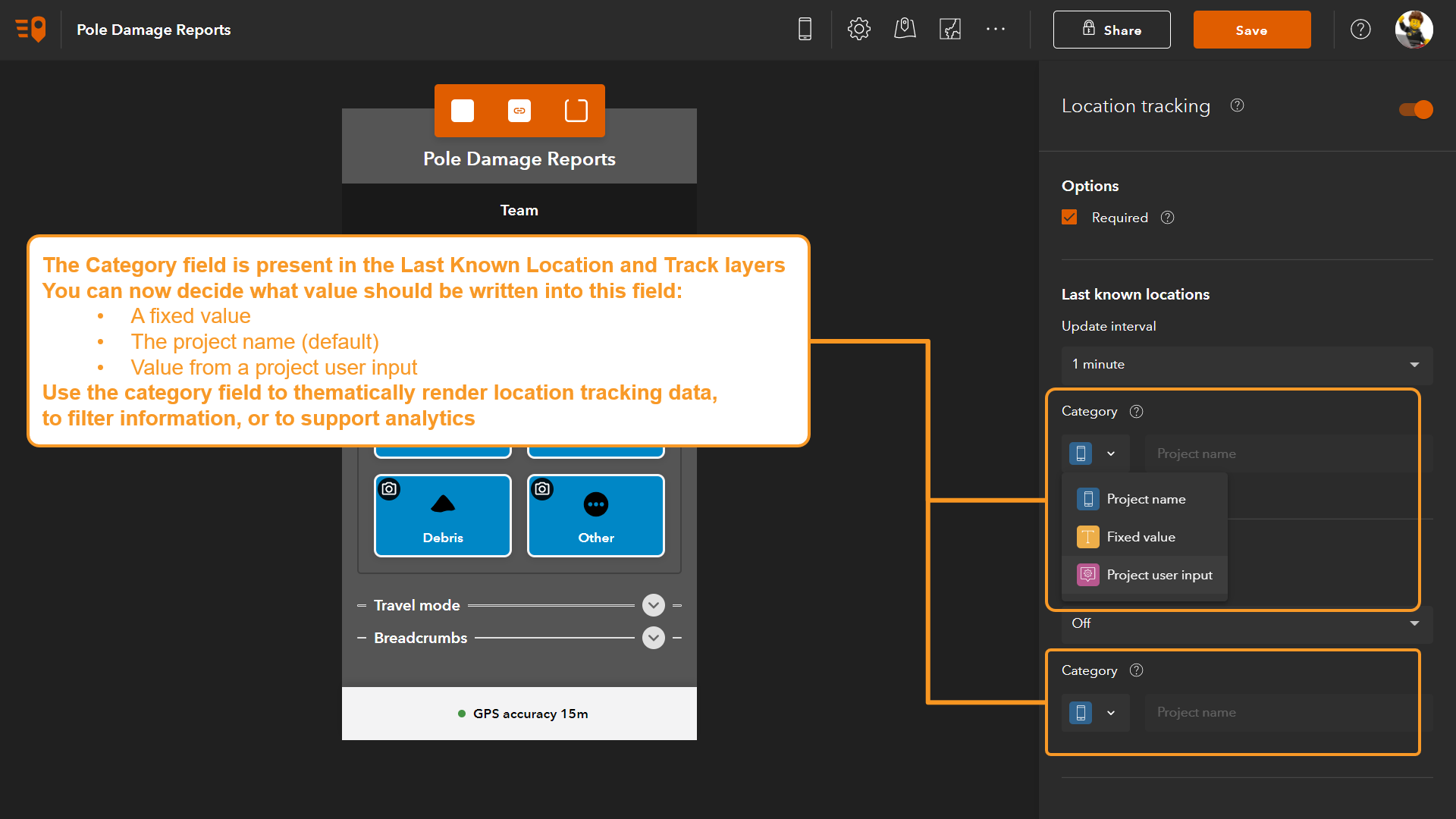 Show map immediately after data capture
It is not news that within QuickCapture you can use a map to adjust the location of any observations you made. Right after a feature is collected, QuickCapture temporarily shows a toolbar so you can delete or update your last observation.
In this release you can have the map appear immediately after a feature is collected, and without user intervention. This is useful because in some workflows the features you collect may not be be located exactly where you are.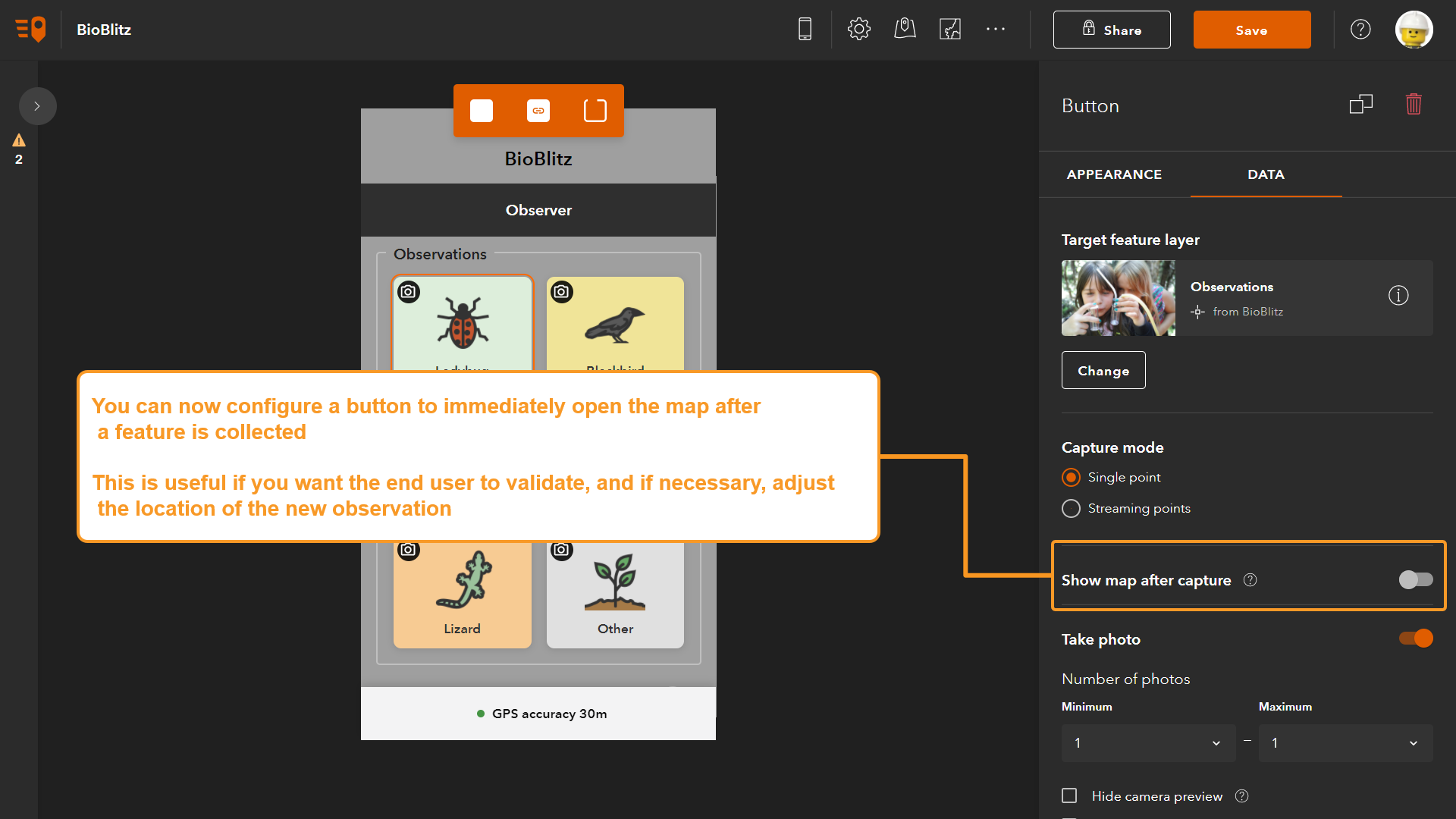 You can choose what buttons within your project will always open a map. Similarly, you can also choose what specific instructions will be presented to the end user when the map opens. For example, 'Use this map to locate your observation exactly on top of the building'.
Share location coordinates (including USNG)
Of course you can always use location tracking to share with others where you are, but sometimes, you need to share your coordinates over the radio, or over a text message. This is of particular importance to emergency response teams, for example.
Starting with this release, as shown below, you can share your location coordinates with others by simply tapping on the bottom of the app.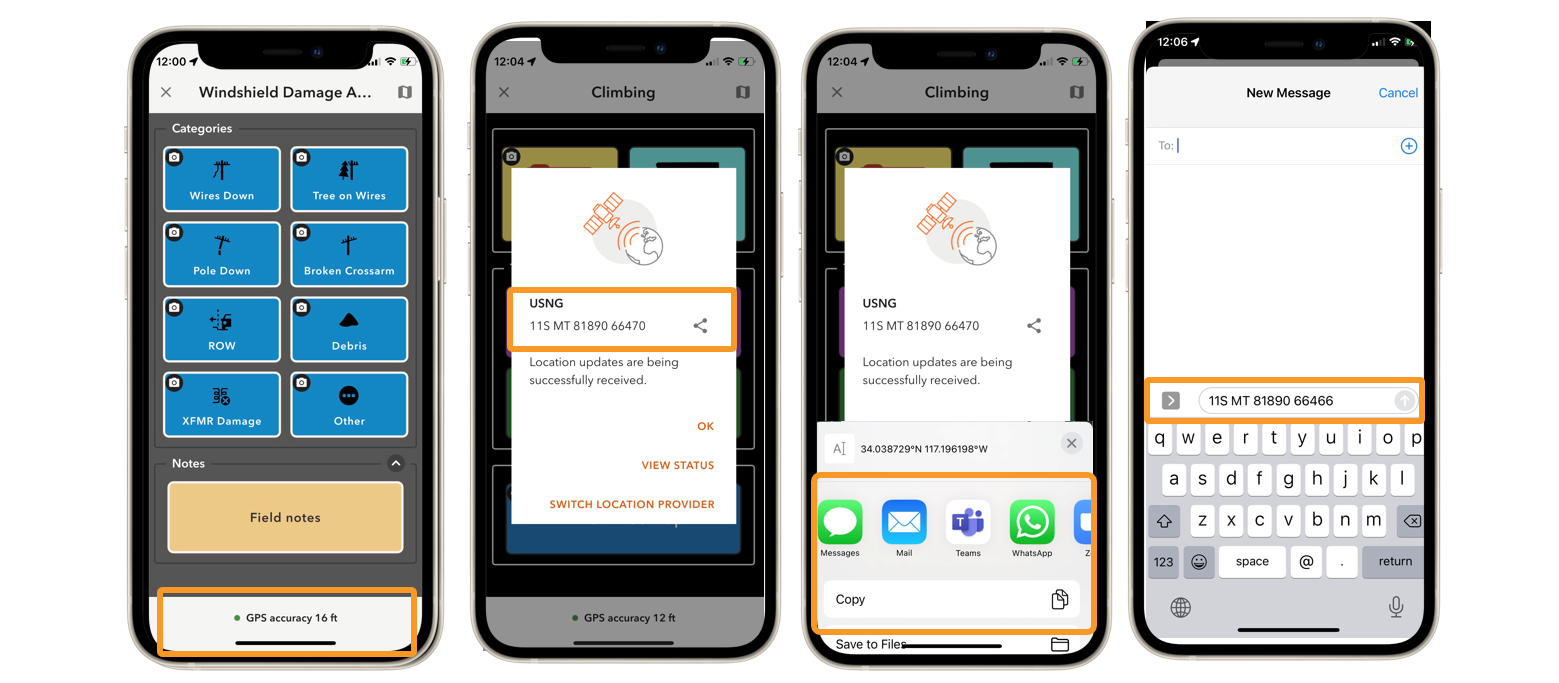 As the author of the QuickCapture project you can configure what coordinate notation should be used. You may want to choose USNG, or MGRS, decimal degrees, etc. All these options are available in QuickCapture designer. Simply go to the project settings dialog.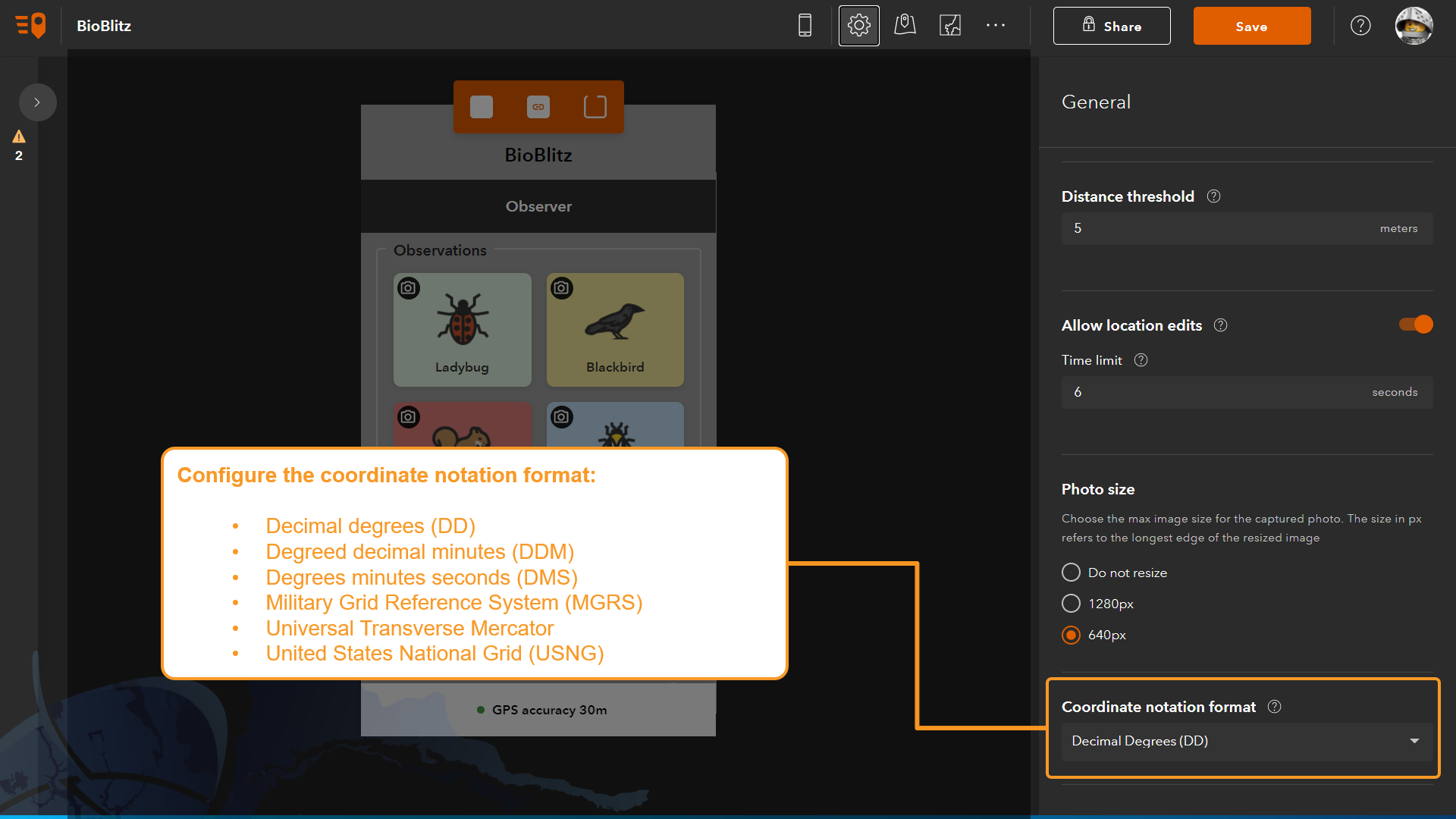 Other enhancements
When working in side by side view, you can now adjust the size of the map and data collection button dialog
New device variables: activity type (stationary, walking, cycling, driving…) , logged-in user information (first name, last name, full name and email)
More icons in the designer gallery
Various performance and stability improvements
Commenting is not enabled for this article.