Introduction
The Site Scan for ArcGIS flight app automates tasks required to capture accurate, repeatable drone flights. When planning a flight, all the user has to do is define the region of interest they want to map, and Site Scan will define the overlap, sidelap, flight speed, and flight path automatically. However, it isn't necessarily easy to know where it is legal to fly and where it isn't.
That's where Esri's partnership with Airspace Link comes in. Airspace Link is a provider of many FAA services, but the ones we're going to be focusing on today are the FAA airspace overlays and the LAANC authorization capabilities.
What is LAANC
LAANC, or Low Altitude Authorization and Notification Capability, is a capability developed by the United States Federal Aviation Administration (FAA) to streamline airspace authorizations for commercial drone flights. Before LAANC, when a commercial drone operator wanted to fly in controlled airspace, they would have to submit a waiver request to the FAA where an authorized person would examine the flight profile and choose whether or not to approve the flight and issue the waiver.
LAANC changed this by allowing each air traffic control tower to define a "LAANC Grid" of areas where they decide that drone flights can be safely carried out within their controlled airspace. Each grid has an altitude value assigned to it. Flights carried at or below this altitude can be automatically approved by the LAANC system.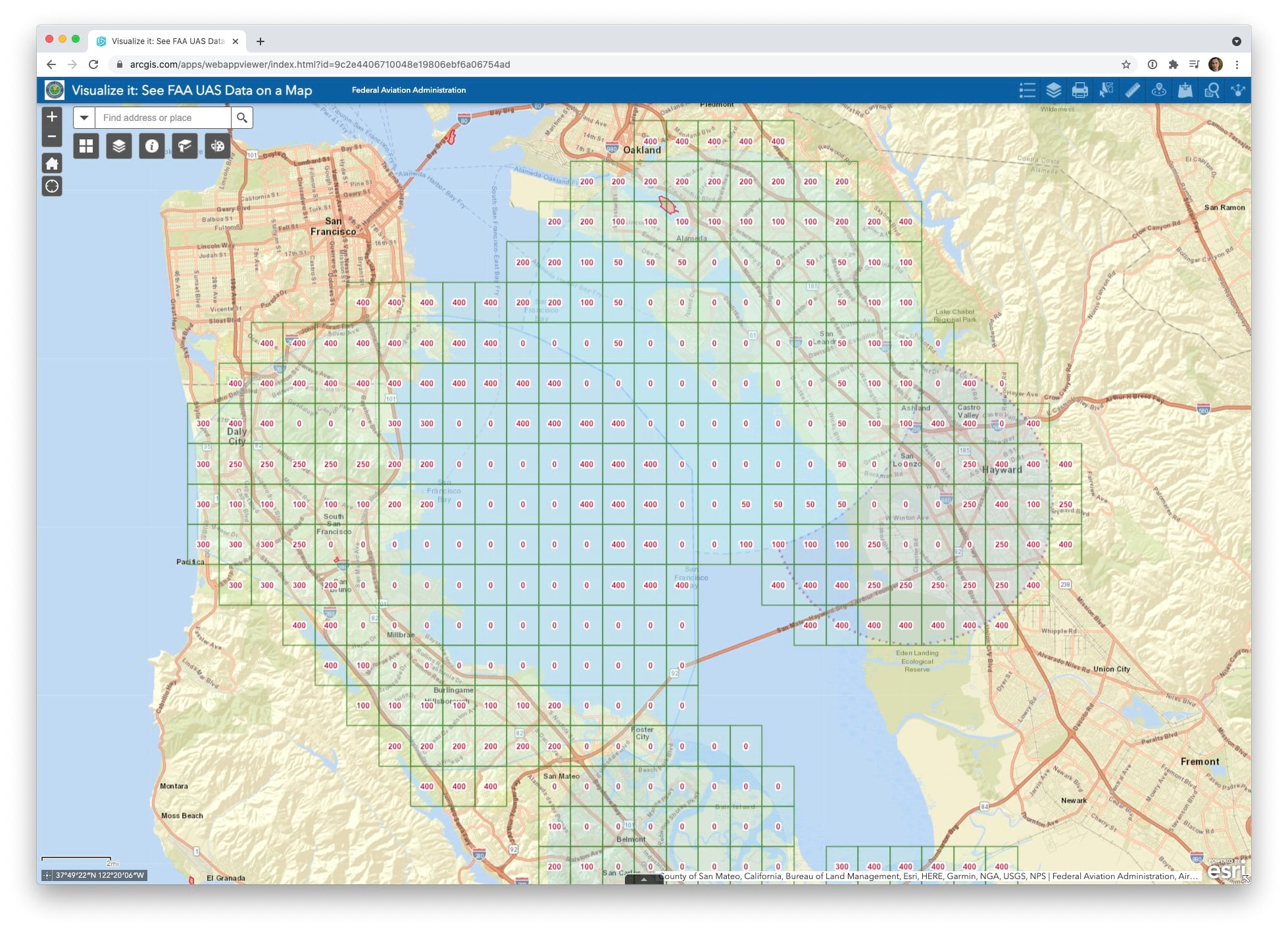 When developing LAANC, the FAA chose private entities whose technology was vetted and approved to submit and approve these LAANC requests. Airspace Link is one of these companies. With an Airspace Link account, certified remote pilots can submit LAANC requests to fly in controlled airspace through the Airspace Link AirHub app, and now, within Site Scan for ArcGIS leveraging the Airspace Link integration.
Planning a Flight
In order to use the Airspace Link integration, you must first create an Airspace Link pilot profile. All you need to create the account is your email and phone number. You create an account using any web browser at https://airspacelink.com/pilots/.
Once you have created an account, go into the Site Scan flight app on an iPad and select any of the flight plan templates. If the flight created falls within controlled airspace, you will see the surrounding airspace overlaid on the map giving you an idea as to where within the airspace you will be flying and a notification in the sidebar will appear to alert you. Clicking the alert will bring up a list of airspace categories that the flight plan intersects. If the flight plan falls into a LAANC area, you will see the option to  request LAANC authorization.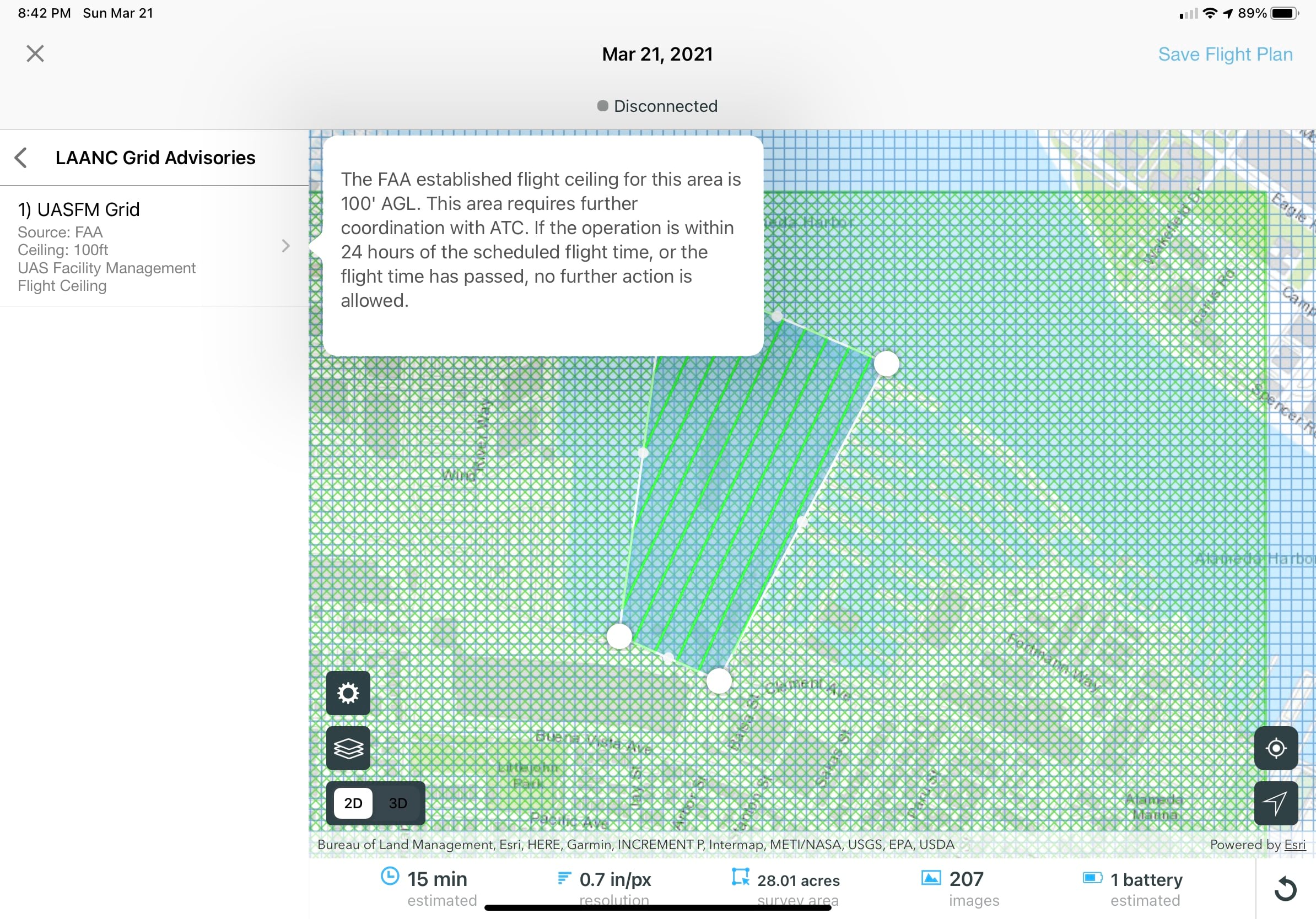 Submitting a LAANC Request
Once you are ready to submit a request to the FAA to fly, there is an option to submit the area and flight information through Airspace Link via the airspace details on the flight planning sidebar. If in an area where LAANC is available, there will be a button to begin the Airspace Link submission process. Clicking this will open the Airspace Link modal, allowing you to log in and enter more information about the specific flight. Note that the flight date/time and bounding box have been entered in for you by the Site Scan app.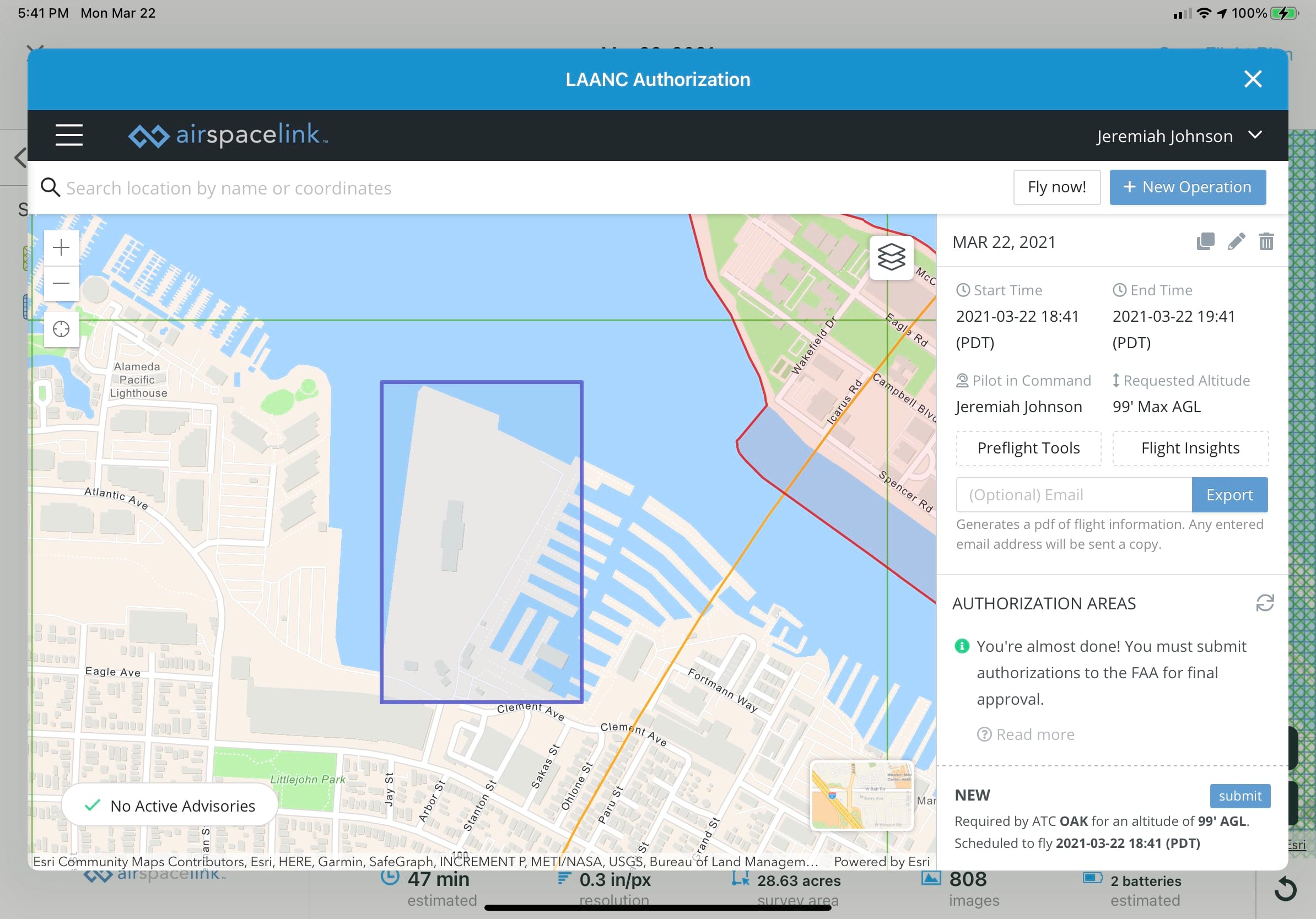 Once the details are entered, submit the request. Shortly thereafter, you will receive a notification within the Airspace Link modal as well as an email with the FAA approval number detailing the approval to fly in controlled airspace.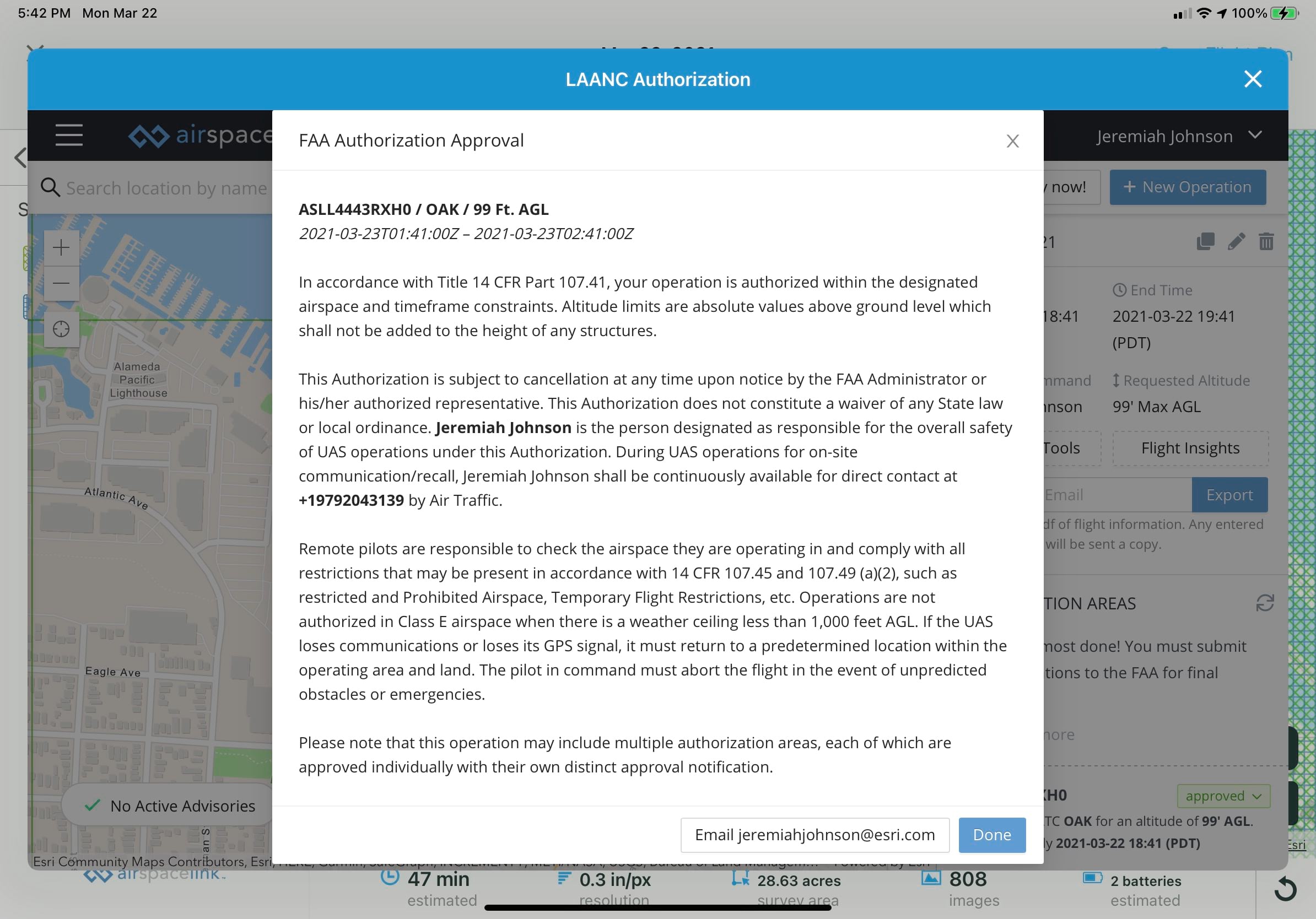 Conclusion
Knowing where a commercial drone flight can take place legally can be daunting when first getting started. This is why Esri's partnership with Airspace Link is so important. Site Scan provides its users the ability to be confident in where they are flying within the US national airspace and gives them the ability to submit official requests to fly in controlled airspace when needed.
Give it a try yourself! Create an Airspace Link pilot account here, then download the Site Scan flight app from the iPad app store here. If you don't have a Site Scan subscription, that's ok! ArcGIS users can download the free and disconnected Site Scan LE flight planning app here.