Site Scan (now Site Scan for ArcGIS) is part of the ArcGIS platform. Site Scan for ArcGIS is a complete end-to-end drone data acquisition and cloud processing platform. In this release of the Site Scan Flight Planning app, our development team has incorporated ArcGIS workflows customers have been requesting. The team also continues to enhance features that empower the Operator to plan complex flights with ease, increase situational awareness during the flight, and allow for greater safety of acquisition. Read on for more details!
ArcGIS Overlays and Offline Support
Display content stored in your ArcGIS Online or ArcGIS Enterprise organization. Overlay layers onto the map to create more accurate and safer flight plans. Simply log into your ArcGIS account within the Flight Planning app and access a list of compatible layers, maps, and scenes in the overlays tab. Tap on one of these layers to load the data into the Flight Planning map.
For many users, drone flights are performed in locations with limited or no connection to the internet. With this new release, we have added the ability to save maps and layers offline for use in the field. To save a new offline map, zoom and pan the map to the area of interest and tap "Create". Give the map a nickname and the download will begin.  When disconnected, to use the maps you've saved, open the basemap picker and select "Offline". A list of previously saved maps can be viewed here.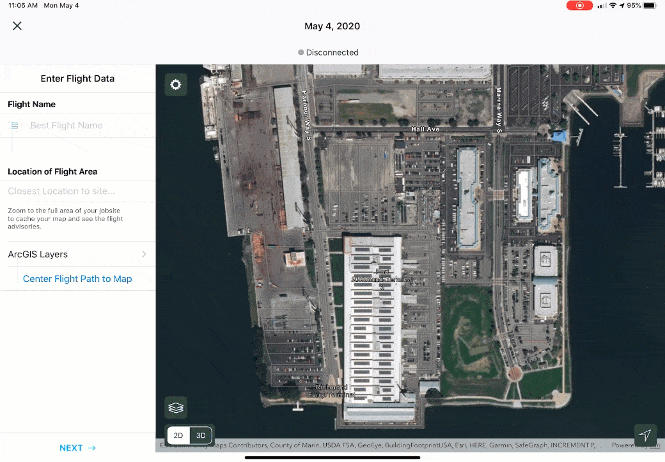 3D Flight Planning
Planning flights in 3D just got easier. Plan, view, and execute flights using the three-dimensional view mode. Define the region of interest in 2D , then enable 3D mode to see the flight paths and camera trigger locations. When creating flight plans using modes like Perimeter Scan or Vertical Scan, multiple flight altitudes are often required.  The ability to see the tiered flight paths from different perspectives, and move the view interactively, makes it clear exactly where the drone will be traveling for each flightline.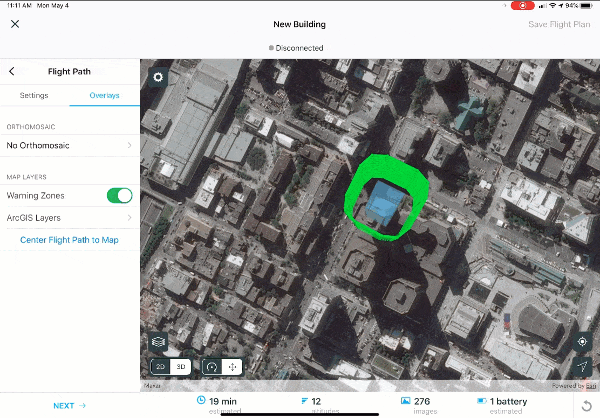 In addition to 2D overlays from ArcGIS Online, the Site Scan Flight Planning application also supports 3D scenes. Point clouds and textured mesh features shared as 3D web scenes from ArcGIS Online/ArcGIS Enterprise, are shown in the Flight Planning 3D scene view. Add more context to a flight plan, and ensure safety margins are met by visualizing flight paths relative to potential obstacles.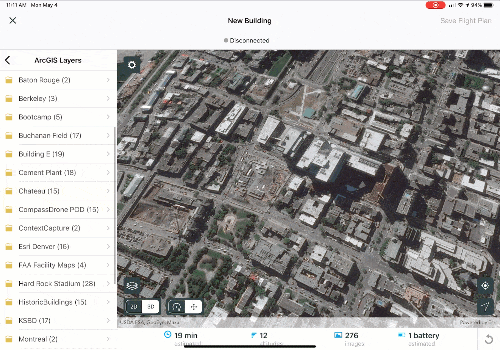 3D visualization does not stop with the flight planning step.  After completing the preflight checklist and initiating the flight, the pilot can view the drone ascent, photo acquisition runs, and return to home live in 3D. This one-of-a-kind capability, allowing users to visualize their mission while the flight is being conducted, increases the situational awareness for the drone operator.  This is of critical importance both for safety and also to ensure acquisition of high-quality imagery.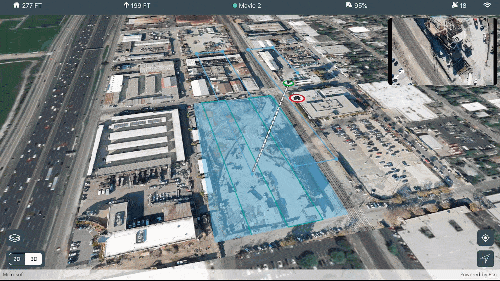 Corridor Scan Flight Mode
We're excited to announce the launch of a new flight mode, Corridor Scan. Like the name suggests, this flight mode allows for quick and intuitive flight planning over linear areas of interest such as roads, rivers, coastlines, pipelines, or electric transmission lines.  Corridor Scan provides a setting which allows the path to be drawn directly over the corridor or off to the sides, adjacent to the corridor.  It is common that flight regulations prevent the drone from flying directly over a site which may include people, moving vehicles, or critical infrastructure such as a powerline. Operators can choose to leverage this exclusive capability to fly on either side of the corridor. This option is also important in scenarios such as inspection of electric transmission lines which require oblique photos of the structures.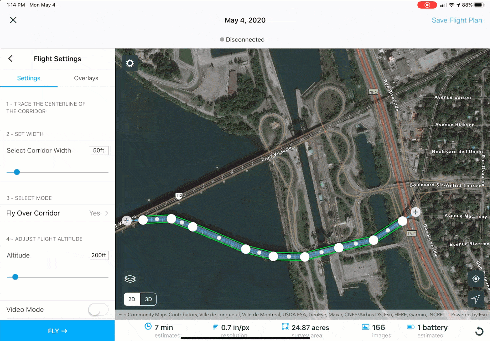 Vertical Scan V2
We launched Vertical Scan last year to help our customers capture imagery of tall structures such as buildings, hydroelectric dams, and more. Based on feedback from these customers, we have enhanced the Vertical Scan flight mode to now include an option to add a slope to the vertical region of interest. This functionality can be useful in workflows such as mapping the sloped walls of a mine or capturing imagery of the side of a hill for landslide analysis. This mode enables operators to define a fixed slope for areas of a constant slope angle or to define the top and bottom of the region of interest by applying the variable slope.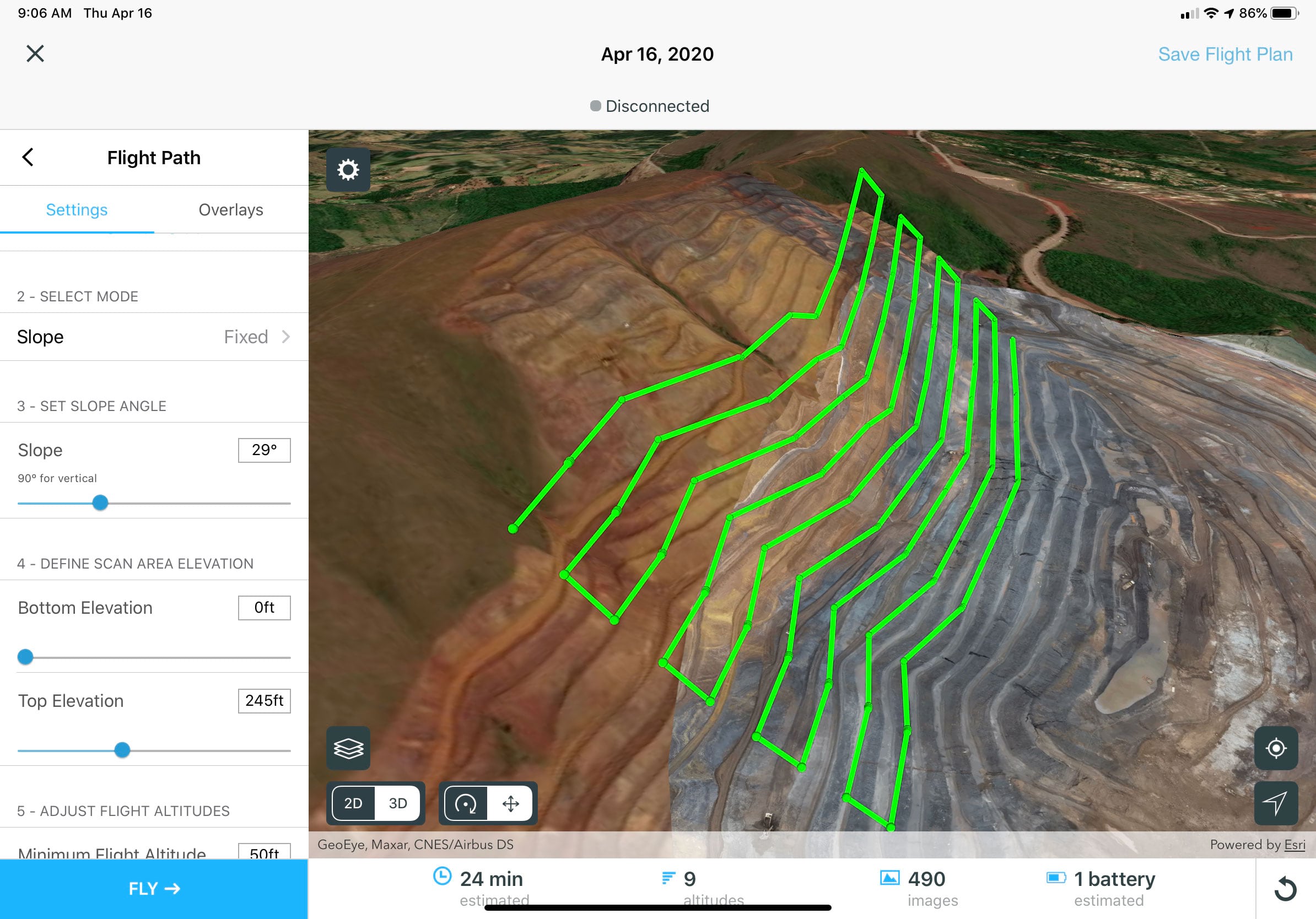 Flight Plan Geofencing
There are situations when the pilot must ensure the drone will not "cut the corner" of an irregular flight area, even if that means a longer flight time. When defining a region of interest, there is now an option to enable a "Geofence" that will force the flight path to stay within the defined polygon. This option is perfect for instances where the drone needs to avoid an obstacle or stay outside a no-fly-zone.

Take Action
Already a Site Scan customer? Start using the latest capabilities today. Download the Flight Planning app to your iPad.
New to ArcGIS? Learn more about ArcGIS Drone Collections, a collection of ArcGIS products specifically tailored for your drone projects.
Have questions regarding Site Scan for ArcGIS? Checkout our FAQ blog and our Imagery Workflows resource page.