In today's fast-paced world, effective communication is the key to success, especially when it comes to sharing and presenting critical information within organizations. That's why we're excited to introduce a groundbreaking feature in Esri's ArcGIS StoryMaps — briefings. Whether you're a seasoned GIS professional or someone looking to present complex information in a visually engaging manner, briefings in ArcGIS StoryMaps are designed to help you captivate your audience, make informed decisions, and tell your story like never before.
ArcGIS StoryMaps: Where Stories Unfold
Before we delve into the innovative world of briefings, let's take a quick look at ArcGIS StoryMaps. This powerful platform has been a favorite among users for crafting compelling narratives by seamlessly integrating maps, images, videos, and text. It's the perfect tool for creating interactive stories and collections that allow you to take your audience on a journey of discovery, education, and inspiration. And now, with the introduction of briefings, ArcGIS StoryMaps is about to become even more versatile and impactful.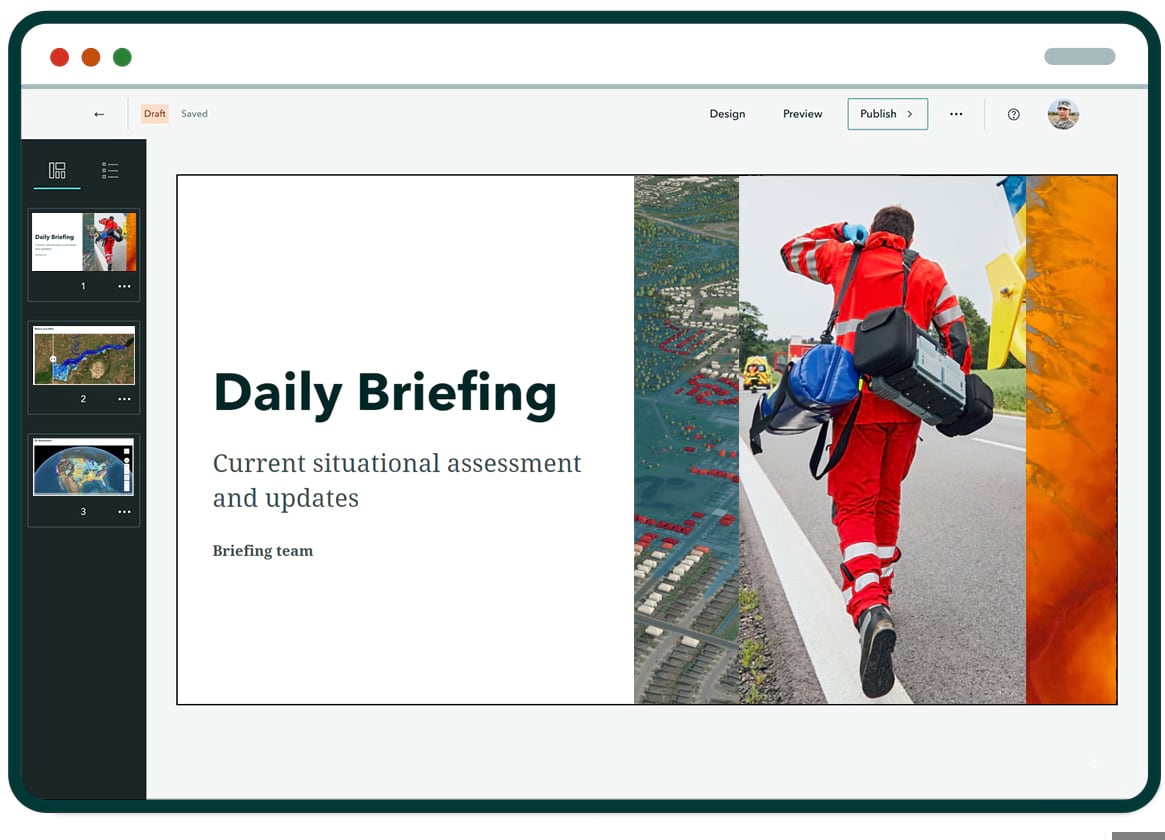 Enter Briefings: Elevate Your Communication
So, what exactly are briefings? Briefings are a brand-new content type within ArcGIS StoryMaps, offering a presentation-style output that's ideal for conveying information in a structured, visually captivating way. Just like creating stories or collections, you can use the ArcGIS StoryMaps builder to craft briefings that are tailored to your organization's needs. Whether you're presenting internally or externally, briefings provide a powerful platform to integrate live maps and real-time data seamlessly.
You can think of briefings as a dynamic shorter-form storytelling tool with a distinct focus on presentations. While stories are designed for readers to immerse themselves in narratives, briefings offer a horizontal, slide-based format that aligns with the structure of a presentation. This format is ideal for those moments when you need to deliver concise, impactful information quickly.
Benefits of Briefings
In a world where information is constantly evolving, having a tool that enables you to present real-time data, maps, and content is a game-changer. Briefings empower decision-makers to synthesize information quickly, facilitating meaningful discussions and more informed choices.
Multimedia Mastery: Briefings allow you to unify maps, apps, images, and videos all within a single, cohesive space. This multimedia approach ensures your audience receives a comprehensive view of the information you're presenting.
Branded Brilliance: Leverage the power of themes and custom layouts to align your briefings with your organization's branding requirements. Your presentations will not only be informative but also carry a touch of your unique identity.
Access Securely and Share with Ease: Share your briefings internally or externally via links. Coming soon, you'll also be able to export briefings as PDFs and access them on the tablet app. This versatility ensures your content reaches the right people, in the right way. With Esri's robust security framework, your shared content remains secure.
Effortless Navigation: Finding the information you need has never been easier. Briefings offer navigation via a table of contents, ensuring your audience can quickly access the specific content they're looking for.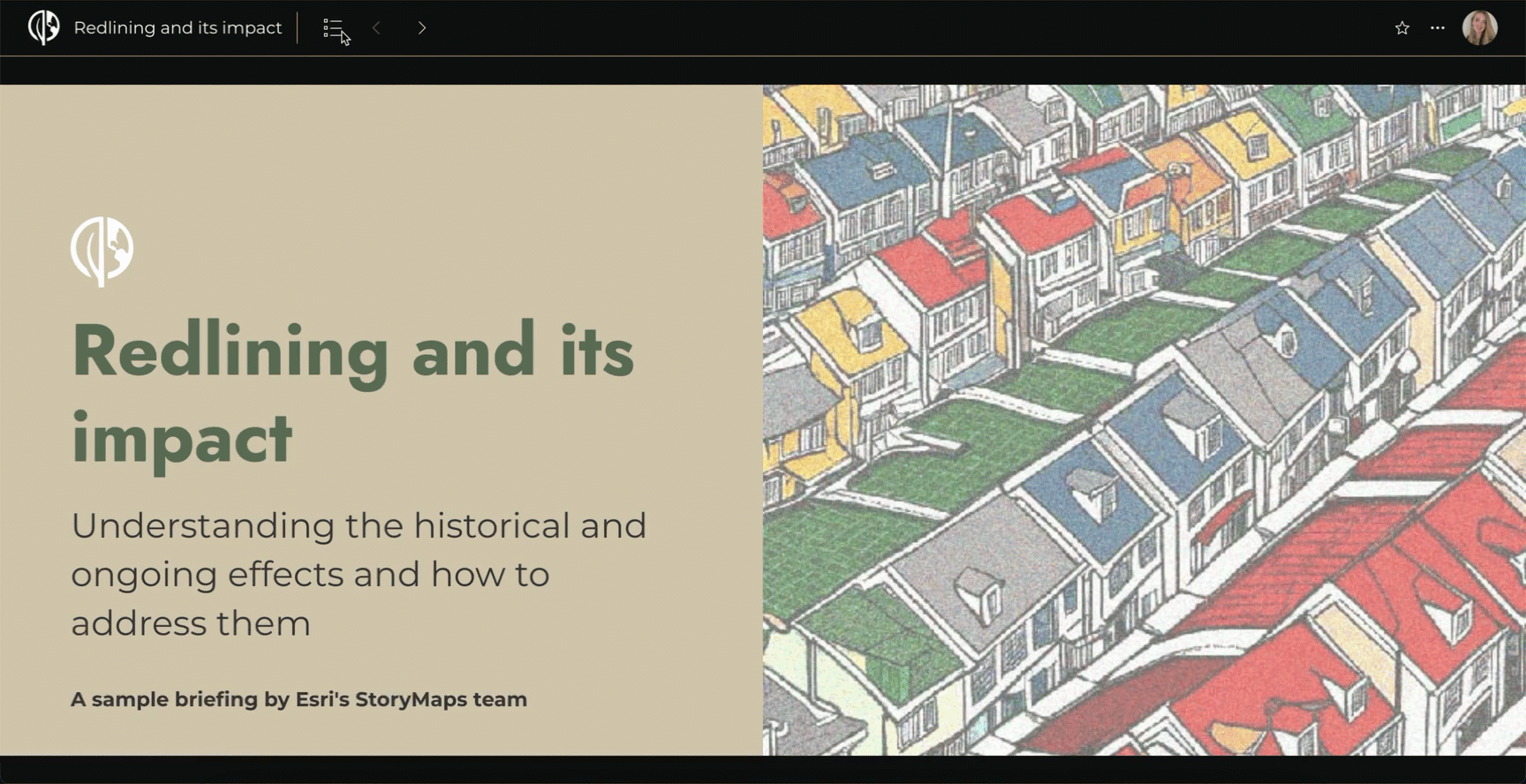 How to Access Briefings
Getting started with briefings is as easy as creating a story or collection in ArcGIS StoryMaps. If you're part of an ArcGIS Online organization, you can access briefings through your account. Simply log in, navigate to the ArcGIS StoryMaps application, and start crafting engaging presentations that will captivate your audience and drive impactful decision-making.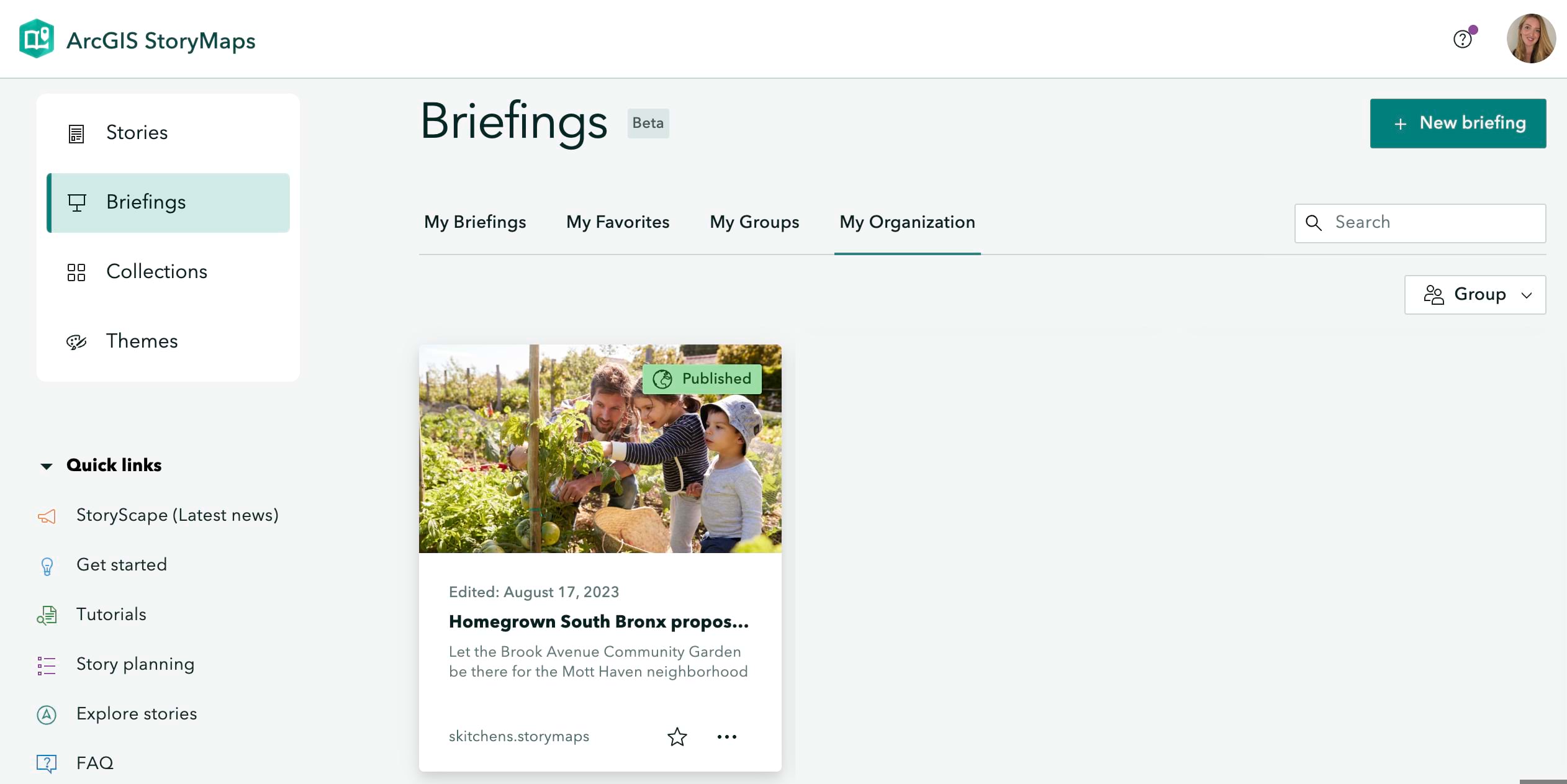 Stay Tuned for More
We're thrilled to announce the beta release of briefings in ArcGIS StoryMaps in ArcGIS Online as of August 16 and in ArcGIS Enterprise 11.2 later this year. This marks the beginning of a new era in communication and presentation. Stay tuned for updates, tutorials, and success stories as we dive deeper into the world of briefings and explore how this feature can revolutionize the way you share information within your organization.
Whether you're a business professional, government official, executive, or simply someone who values impactful communication, briefings in ArcGIS StoryMaps are here to help you convey your message with clarity, creativity, and confidence. Get ready to tell your story like never before.
Tutorial on creating a briefing