case study
Technical University of Denmark: Sustainable Growth
Sustainability is often thought of as a zero-sum game—either you're green or you grow. In Europe, where shrinking one's carbon footprint is increasingly required by law, ambitious companies often fear that they will have to compromise on growth.

Ramboll, a consulting engineering group recognized as one of the world's top 10 design firms, consistently proves to its clients that it is possible to achieve both growth and sustainability with the help of geographic information system (GIS) technology. A prime example is how Ramboll partnered with Technical University of Denmark (DTU) in order to expand the DTU campus while staying compliant with DGNB sustainability certification requirements.
Used by over 35 countries across the world, the DGNB system is recognized as a global benchmark for sustainability. With ecological, economic, and sociological evaluations throughout each stage of development, it is also one of the most demanding. Ramboll and DTU used GIS tools to manage data requirements, and ArcGIS CityEngine to visualize how different expansion scenarios would or would not meet certification requirements.

In CityEngine, you can create dashboards that instantly calculate key performance indicators (KPIs) every time you make a change to your model. For Ramboll and DTU, this meant having the ability to check how even the smallest adjustments would affect maintaining the DGNB certification requirements. CityEngine incorporates real GIS data and takes into account the built and living environments that already exist where your development is planned. As for accuracy, its models are so realistic that they have been used in flight simulators to train helicopter pilots flying over cities.

Whatever your country, certification processes are increasingly being enforced. ArcGIS CityEngine allows you to accurately gauge your progress throughout development so that you can go into evaluations with confidence.
In addition to balancing growth and sustainability, Ramboll recognized the expansion of the DTU campus as a project in which the company's work would be evaluated by a variety of stakeholders. Students would judge according to how conducive the environment was to their studies. Financiers would evaluate the design according to the return on their investment. For the municipality, success depended on how the city's environment was developed.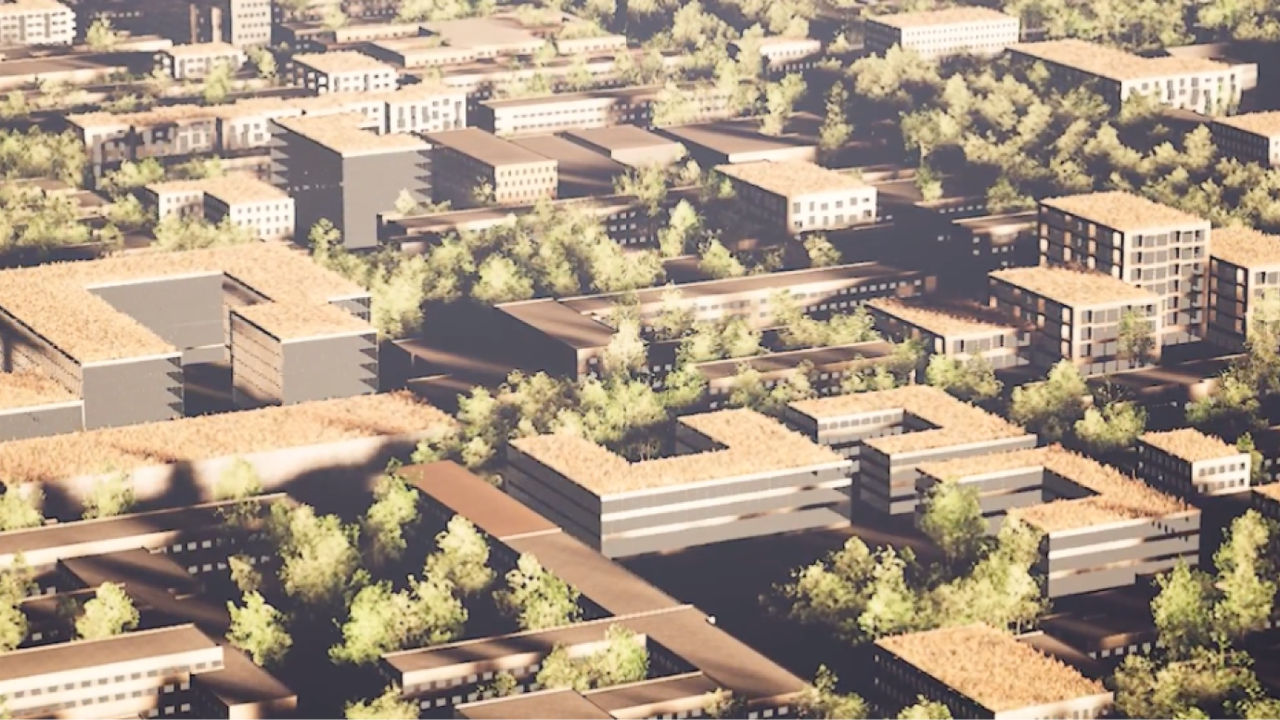 Expansion of DTU Modeled in ArcGIS CityEngine
ArcGIS CityEngine allowed Ramboll to bring stakeholders into the development process–literally. CityEngine can be integrated into popular 3D software like Rhino, Maya, and Unreal Engine, and models can be exported to the web, geodatabases, and even VR experiences.

Whatever your stakeholders' preferred method of evaluation, CityEngine makes it easy for them to envision themselves in built environments long before construction has even begun.
Visualize what matters most to your organization and learn what else you can see in advance with ArcGIS CityEngine, then visit the Esri in Europe page to view more success stories.