Outdoor adventures

Redlands is about an hour away from beaches, mountains, and deserts. Camp in Big Bear one night and go hiking in Joshua Tree the next day!

Local community

Redlands favorites include a weekly market night, free performances at the Redlands Bowl, breweries, coffee shops, and gourmet eateries.

Surrounding attractions

Find attractions and nightlife in Los Angeles, Orange County, San Diego, and Palm Springs. Las Vegas is an easy drive just a few hours away.
Apply for an internship
Each year we hire interns to work in our Southern California headquarters and regional offices across the US. We offer full-time, paid internships, and our program is open to third- and fourth-year students as well as those graduating in the spring semester. 
We generally accept applications from September 1 through December 31 each year. Positions are filled as qualified candidates are identified, so apply early. 
Internships are listed in Esri's job search when available. 
1-week assistantship
---
Volunteer at an Esri conference
Be part of an event's success
Work alongside Esri staff to help with attendee registration, technical session monitoring, conference logistics, and the Esri Store.
Hear from industry experts
Whether on the Plenary Session stage or at technical sessions, you'll be among the first to hear from Esri staff about product advancements.
Connect with like-minded individuals
Network with industry professionals and fellow students from around the world who share a passion for technology.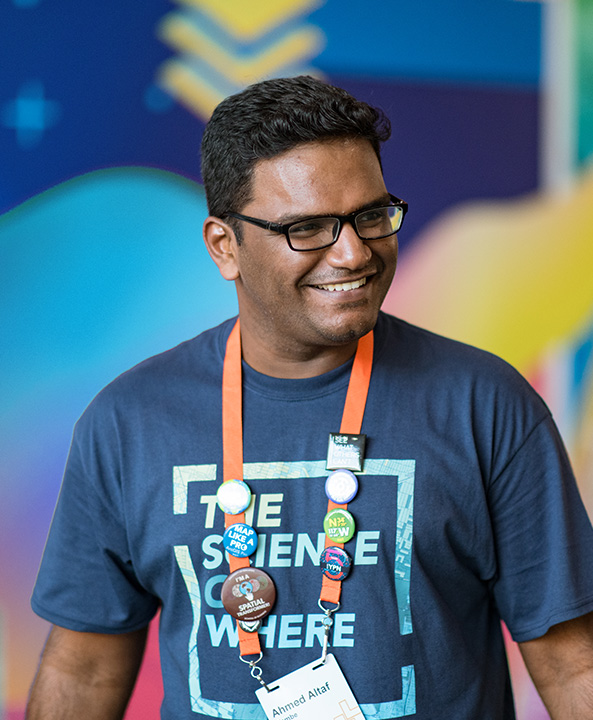 Esri User Conference
Esri User Conference

Learn about the conference

Esri Federal GIS Conference

Learn about the conference

Esri Petroleum GIS Conference

Learn about the conference
Apply for an assistantship
We offer event volunteer assistantships at events across the country, all year round.
February: Esri Federal GIS Conference
March: Esri Developer Summit
May: Esri Petroleum GIS Conference
July: Esri User Conference
To be eligible, you must be a graduate student, fourth-year undergrad, or an advanced GIS program student at a two-year college. All students should have an interest in applying geospatial applications and concepts to their studies.
The application process for event volunteer assistantships opens in the fall. Positions are listed in Esri's job search when available.
0:00
VIDEO
Creating software that makes a difference
---
Varun Shah, a student at North Carolina State University, shares his #esriexperience and what makes a software engineering internship at Esri unique.
Testimonial
Weekend of Innovation Hackathon
I was able to apply what I'd been learning in my internship to my team's efforts in creating an app. I learned about GIS and app development and had the chance to build a brand completely on my own.
---
Natalie Kahn
University of Pennsylvania
0:00
Testimonial
Esri User Conference
---
Hear why attending the Esri User Conference was an internship highlight for Jennifer Blanks, a student at Texas A&M University.
Testimonial
Something for everyone in Redlands
From market night downtown and trivia nights at local restaurants to weekends in Joshua Tree National Park, Sequoia National Forest, and beaches, we were never bored! We even made a trip to Las Vegas.
---
Rich Simpson
West Chester University of Pennsylvania
Testimonial
Foundation for career growth
My internship was a unique opportunity to build my professional skills and network by learning from industry leaders. This was crucial in leading to my current role as a technical consultant at Esri.
---
Amy Leung
Esri Professional Services
Do you offer internships at any time other than summer?
We occasionally seek exceptional students for fall or spring internships. Interested students should submit their résumé to university@esri.com and note the dates they are available in their cover letter.
Do I have to be a US citizen?
No, but if you are not a citizen and are selected for an internship, you will need to obtain a valid work visa through your university. Esri does not pay for students' work visas for internships, although we can help with any documentation your university might need from us.
What should be in my cover letter?
Our program is extremely competitive. Setting yourself apart with a strong cover letter can help differentiate you from other applicants. It should outline the following:
Why you would like to spend the summer with Esri
The department at Esri in which you'd like to work
What distinguishes you from other candidates
It is not necessary to address your cover letter to a specific individual. Addressing your letter to Dear Hiring Manager or Dear Human Resources is sufficient.
I've applied online. What's next?
If we feel your qualifications make you a good candidate, we will send your application to relevant hiring managers. If they are interested in learning more about you, they will contact you to set up a phone interview, which typically takes place in December and January. This process can span several weeks.
Why haven't I heard from a hiring manager at Esri?
The timing of your application does factor into being considered for an internship. Positions are closed once a student accepts an offer, so it is better to apply early. Many internships are filled before we receive applications from other students who want to work in the same department.
How can I check the status of my application?
Log in to the account you created when you applied online.
About Esri
---
Learn more about us and our technology