Since late February, air travel worldwide has essentially collapsed. The Transportation Security Administration estimates that the number of air passengers in the US has fallen by 95% year over year, and pictures of empty airports are part of the daily news stories. The Airports Council International estimates that US airports are likely to see a 50% reduction in revenues by year end, and that could well go higher depending on the shape of the recovery curve.
The normal reaction of most government agencies is to focus on financial survival and retrenchment. In the short term, there is little airports can do to bring back passenger traffic to anything approaching normal. But rather than focusing only on the bleak outlook, downturns also present opportunities, as any number of successful companies have shown in past recessions. While investing in new initiatives in a downturn is not easy, smart airports could emerge from the current crisis stronger and healthier based on their investments in technology and innovation and improving their business operations.
Rather than cutting back, airports can take advantage of the lull to speed up their digital transformation and focus on streamlining inefficient workflows and creating a smarter and more information driven airport. Now would be the time step back and analyze airport operations, and to identify process and technology improvements. 
As an example, a few years ago the Geneva International Airport (GVA) was faced with a looming crisis: increasing passenger volumes in the context of constrained space. The airport could not add another runway but needed to accommodate rapid growth in air travel demand. That led Thomas Romig, head of the Airport Operations Center to rethink airport operations. Romig together with the airport's IT staff designed a centralized GIS based command center bringing together data from airside and landside operations, baggage and security control into a single integrated dashboard that allows managers to monitor airport activity in real time. So if a delayed flight keeps a plane parked at a gate that an incoming flight is scheduled to use, the dashboard registers an alarm. Immediately, all team members know about the conflict and can respond.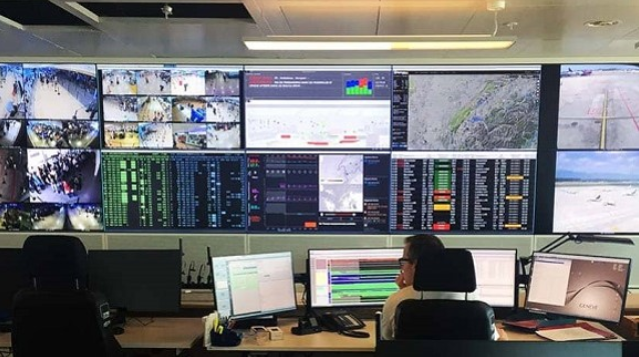 The dashboard allows operational managers to see and respond to issues in real time, driving significant efficiencies at Geneva International. As Romig said: "… we're more efficient, we're responding quicker, and … we're basically optimizing our resources through the fact that we have all these different entities . . . sitting together in a single location." https://bit.ly/3d4hnK8
Similarly Tampa International (TPA) wanted to implement innovative solutions to give the airport greater resiliency to unforeseen events. As Jerry Freeman, the Director of Enterprise Applications put it "Predicting and proactively correcting situations before they occur improves our ability to provide our travelers with an experience that is both timely and safe." So the airport looked at not only all of their traditional assets, but also all of the mission critical elements to keep an airport running at full efficiency and being able to recover quickly from large unforeseen events like hurricanes. https://bit.ly/2z7eDgk
Following smart IT strategies to partner with proven technologies that can integrate with their core systems, Tampa international utilized off the shelf technology as much as possible and put an emphasis on agile delivery of their applications, as they transformed work processes. Tampa is now moving to their indoor space, and mapping their terminal with ArcGIS Indoors, to devise innovative strategies to safely handle passengers in a Covid-19 world.  Passengers will be safely guided through their airport journey, all while monitoring passenger densities to ensure social distancing.
A final example comes from Reno-Tahoe International Airport (RNO). As Reno-Tahoe International Airport (RNO) staff planned their future expansion, they also needed to comply with the Federal Aviation Administration's (FAA's) Airports GIS program requirements. They quickly realized that the data needed for the FAA program could also provide the foundation for their airport management GIS system. Using the latest cloud technology from Esri, they were able to accomplish their plan with minimal staffing, infrastructure and IT support, and even delivered under their original budget. In fact, the data and GIS helped them design their plans to make Reno-Tahoe a regional hub and propel their economic development strategy. 
Commenting on the success of the project at Reno-Tahoe, Marily Mora the President and CEO of RNO pointed to the easy access to information and the business improvements, and remarked "Ultimately, this will allow us to serve our customers and stakeholders better than ever before." https://bit.ly/3bTziD2
Each of these airports were driven by a desire to improve their operations, their business continuity in the face of uncertainty, and provide a better passenger experience. And each of these airports focused on how they could apply innovative technology solutions to help them improve their business performance.  Innovation and agility are becoming prerequisites of navigating through uncertain times, and that can prepare airports to emerge stronger and healthier in the future. And then they can return to offering outstanding service to their customers and stakeholders when we do return to normal.