I'm excited to be attending three significant events in the AEC industry this week, where I'll be sharing my insights on the latest developments.
First, I'll be attending the Digital Twin Consortium (DTC) Q1 Member Meeting in Washington DC, where I'll be representing the National Institute of Building Sciences (NIBS) Digital Twin Integration Subcommittee (DTIS). As a subcommittee of NIBS, DTIS is a national group of AEC experts working towards developing an authoritative understanding of how BIM and digital twins are related. BIM is a critical tool used in the AEC industry to design, construct, and manage buildings and infrastructure. Digital twins take BIM to the next level by creating a digital replica of the physical asset, which allows for real-time monitoring, simulation, and optimization of the asset's performance throughout its lifecycle. By leveraging digital twins, we can unlock the full potential of BIM and improve the efficiency and effectiveness of the AEC industry.

The Digital Twin Consortium is a global organization that promotes the use of digital twin technology for industries such as construction, manufacturing, and healthcare. The mission of the DTC is to drive the adoption, development, and advancement of digital twins across industries. By bringing together industry experts, researchers, and technology providers, the DTC provides a collaborative platform for advancing the development and deployment of digital twin technology.
Next, I'll be presenting at the Artificial Intelligence in Architecture, Engineering and Construction virtual conference, which is organized through the Finnish Association of Civil Engineers, on the topic of AI in AEC through the RIL. During my presentation, I'll be sharing my insights on how AI is transforming the AEC industry and how we can leverage it to improve project outcomes, reduce costs, and increase efficiency.

There are four main topics which I'll be delving into, related to AI in AEC during the RIL event: Beyond BIM, Exploit your Imagery, Large-Scale Simulation, and Augmenting Designs.
Beyond BIM refers to the use of digital twins to extend the capabilities of BIM. Digital twins enable the real-time monitoring and simulation of a physical asset, allowing for the optimization of its performance throughout its lifecycle. By creating a digital twin of a building or infrastructure asset, stakeholders can gain a deeper understanding of how the asset operates and identify opportunities to improve its performance.
Exploit your Imagery involves using AI to analyze and extract insights from images and video. This technology has the potential to revolutionize the AEC industry by providing stakeholders with a more detailed understanding of the built environment. For example, AI can be used to analyze drone footage of a construction site to identify potential safety hazards or to monitor the progress of a project.
Large-Scale Simulation involves using AI to simulate complex systems and processes. For example, AI can be used to simulate the behavior of a building during an earthquake to identify potential structural weaknesses. Large-scale simulation can help stakeholders better understand how different systems and components interact, and enable them to make more informed decisions.
Augmenting Designs refers to the use of AI to assist in the design process. For example, AI can be used to generate multiple design options based on a set of input parameters, allowing stakeholders to explore different design options quickly. This technology can help designers and engineers to optimize designs and identify potential issues early in the design process.
Finally, I'll be attending the buildingSMART International (bSI) Spring Summit in Rome, which will mark my first visit to Italy. bSI is an international organization that promotes the development and implementation of open, international standards for the built environment. The organization's mission is to improve the built environment by enabling better collaboration and communication between stakeholders using open, interoperable data standards. Interoperability is critical for achieving the full benefits of BIM and digital twins. By creating open standards for data exchange, we can break down data silos and improve collaboration across the entire AEC industry.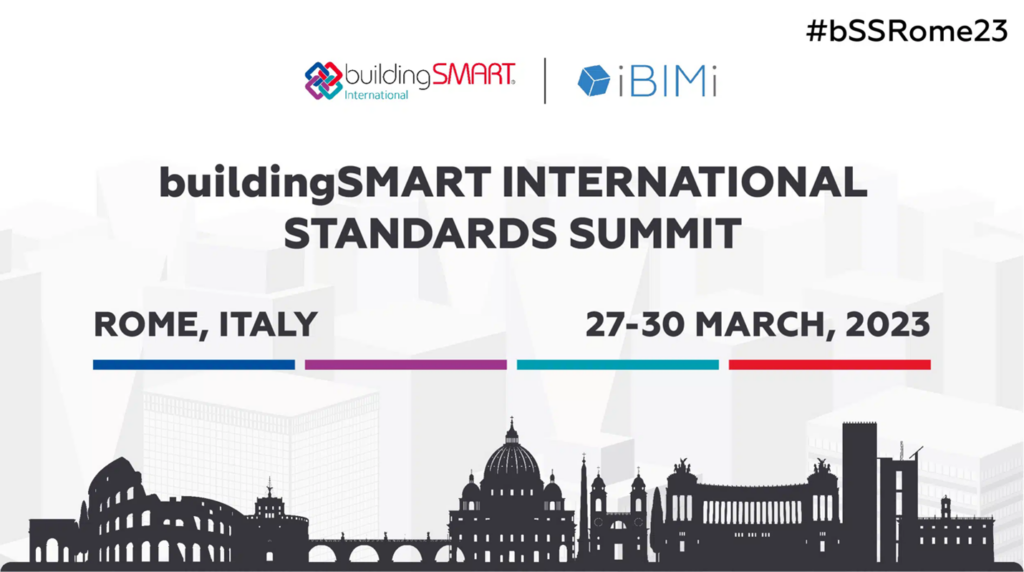 Interoperability is a critical factor in leveraging AI's full potential in the AEC industry. For instance, when data can be seamlessly exchanged between different software platforms, it enables designers and engineers to automate repetitive tasks, make more informed decisions, and streamline workflows.
GIS can provide additional context to BIM models by incorporating spatial data such as topography, land use, and transportation networks. This integration can enable stakeholders to better understand how a building or infrastructure asset fits into its surroundings and identify potential issues related to accessibility or environmental impact. By combining GIS and BIM, stakeholders can gain a more comprehensive understanding of the built environment and make more informed decisions. At the bSI Spring Summit, participants will discuss the many topics, including the latest developments in interoperability between GIS and BIM and explore opportunities for collaboration to advance the built environment.
I'm excited to share my experiences at these events, meeting with a broad range of industry leaders, and to continue collaborating to advance the AEC industry!
PS: Learn how GIS is helping architecture, engineering, and construction firms build smart communities and assets for the future