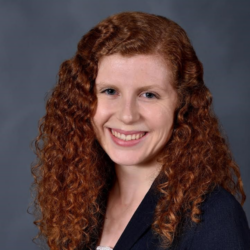 Esri has a legacy of young professionals winning the USGIF Golden Ticket, and 2022 was no exception. This year Esri's Hannah Shumway was added to the winner's circle. She shared a brief experience of her time as a special guest at the US Geospatial Intelligence Foundation (USGIF) GEOINT Symposium.

Each year, USGIF offers the Young Professionals Group Golden Ticket Program as an opportunity for those 35 years old or younger to win an exclusive opportunity to attend the GEOINT Symposium to meet and hear from senior leaders and innovators in the geospatial intelligence (GEOINT) world in a personal setting.


Q: What was a memorable experience at the GEOINT Symposium as a Golden Ticket Winner?
A: Meeting people from around the GEOINT community—government, academia, and industry alike—was the highlight of the Golden Ticket Program for me. Not only did I get the chance to develop relationships with other young professional Golden Ticket winners from around the country, but we also were given the opportunity to network with GEOINT leaders in both formal and informal settings. Perhaps my favorite of those opportunities was the mentoring sessions our Golden Ticket cohort had with the Honorable Sue Gordon and National Counterterrorism Center (NCTC) Director Christy Abizaid. Each of them provided tips and wisdom from their time in the workforce and answered the battery of questions from our group; I'm grateful that they made time in their schedules to have an open, honest conversation with the Golden Ticket winners.
Q: What advice would you pass along for anyone wanting to participate?
A: Follow your passions wherever they take you in the GEOINT realm! People in the Golden Ticket cohort this year came from all across the spectrum of the community. You don't have to fit into a particular box to be able to win the Golden Ticket. If you're a young professional interested in the field and willing to wholeheartedly embrace the GEOINT Symposium experience (and able to articulate how you'll do so on the application), there's a spot for you.
Q: Was this a meaningful experience for you? If so, why?
A: Yes! From the main stage presentations to the panels at the YPG Hub, I learned a ton and benefited from hearing the varied perspectives on display. I'll be able to bring those insights—on everything from new modalities of GEOINT collection to enabling diversity, equity, inclusion, and belonging in the workplace—back into my everyday work at Esri. I've also forged relationships with other Golden Ticket winners, past and present, that I know will last far beyond the conference.
Q: Esri has had a winner every year for the past six years; what would you attribute to the winning streak?

A: At Esri, we bring a geographic approach to everything that we do, and I think that resonates with the mission of the USGIF and the GEOINT Symposium more generally. It's in our 'DNA' to look at a problem knowing that everything happens in space and time. That, coupled with the talented young people that we're able to retain on our staff to support different facets of the GEOINT community and a culture of constant improvement and innovation, and we have a perfect recipe for consistent Golden Ticket success.